The Battle for Pakistan Screening at T2F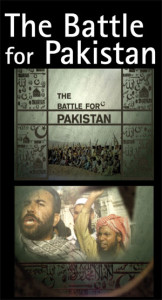 An Eye-Opener
The Battle for Pakistan, a Newsline Films/SAMAA TV co-production, was screened in Karachi at T2F last month, at the launch of Travelling Film South Asia 2011.
The film has the distinction of being the only documentary from Pakistan to be included among the top 12 films from Film South Asia 2009 that make up the repertoire of TFSA. The other films in the travelling festival were from Nepal, Bangladesh, Sri Lanka, India and Ladakh.
While it had aired earlier on SAMAA TV, this was the first time that the documentary was screened to a live audience in Karachi. It has featured at festival venues in India, Nepal, Bangladesh, Italy, the UK and the USA.
The film examines the nexus between madrassas and extremism and the political currents and undercurrents that have led to the situation in which we find ourselves today. It was shot on location at madrassas in Karachi, Lahore, Islamabad and Khyber Pakhtunkhwa.
Director Maheen Zia and Producer Tehmina Ahmed of Newsline Films were on hand to answer questions and take part in the animated discussion that followed the screening.
The filmmakers shared their experience of exploring the ambience of the madrassas and engaging in a dialogue with their administrators. Maheen, who was cameraperson as well as director, said she had no problems with donning a big chaddor if it helped her to handle the camera herself. Only in the super-conservative Darul Uloom Haqqania was Salik Sheikh, the production coordinator, asked to take over the camera for one segment of the shoot.
Madrassa reform and the resistance to it were other topics that came up for discussion, and some members of the audience voiced the need for a follow-up that would look into the whole dilemma of education in a wider context.
Related:

The Battle for Pakistan in the News

On May 23, The Express Tribune reported on the screening of The Battle for Pakistan. In her report, Saadia Qamar wrote:

"Do the ideology of religious extremism, and the teachings at various madrassas across the country truly converge at some point? A thin line separates the two, but a closer look needs to be taken. This was beautifully brought forward through a film screening on the evening of May 20, at the Travelling Film South Asia festival at the T2F."

Here's what Tehmina Ahmed said about making the film:

"Four years ago, when we made the film, it was a great learning experience for us. We travelled to various other areas and felt that we ourselves got our own prejudices examined."

And here is a quote from the director, Maheen Zia:

"I was surprised by the use of technology. Young children in one such madrassa would use microphones and reply to a teacher's query, who was sitting in the other room. It seemed more of a helpless situation than a hopeful one."
Next