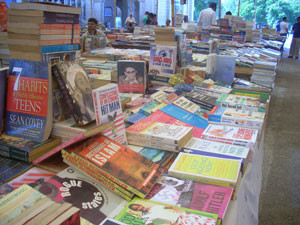 Frere Hall, also known as Bagh-e-Jinnah, opened its gates to the public after eight long years when the book fair — that was a regular feature every Sunday before security concerns forced it to shut down — commenced last month. Organised by the Community Development Department, City District Government, the fair hosts more than a dozen book stalls every Sunday from 8am to 10pm.
The shamianas provided book lovers and families who flocked to the venue respite from the heat. Books on history, art, English literature, comics, fiction for adults and children, cookery, healing sciences, crafts and photography were all readily available. One of the stalls even catered solely to Urdu literature, including a collection of Manto's stories.
The books were affordable, with the price ranging from Rs75 to Rs500, depending on the title. This wonderful addition to the public space will hopefully draw in more crowds as the word spreads.
Next