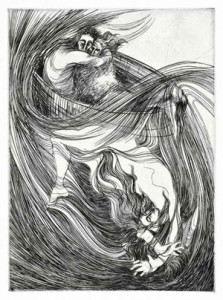 "Distinct Voices, Diverse Impressions," a group exhibition at Koel by artists, Laila Rahman, Mohammad Atif Khan, Afshar Malik, Naiza Khan, Sophiya Khwaja, Lali Khalid, Anwar Saeed and the late Usman Ghauri, curated by Naazish Ata-Ullah, was a potpourri of different perspectives which, though interesting, worked better at an individual level than a collective one.
'The Court of the Lord,' comprising etchings by Laila Rahman was a reminder that everything on earth comes from the same source, and is thus equal in that it is God's creation. Her work suggests that racism, sexism, religious conflict, social hierarchy, cruelty to animals and destroying nature are all sins against God. Her prints are titled and inspired by verses from the Bible's chapter 'Genesis,' and repeatedly depict a verse from Surah Rahman: 'Which of your Lord's blessings would you deny?' This powerful verse and the work resonates with the viewer.
Juxtaposing East and West, Mohammad Atif Khan's kitschy, quirky work has the potential to go from one-off-artwork to become a staple poster in the dorm rooms and homes of students and yuppies all over the world. Khan's photo-etchings lay out western pop art with eastern, Mughal and Islamic art. The piece, 'Ours, Yours' is an illustrated example of how the subjects of Khan's work interact with each other: it depicts a South Asian ox staring at an English dairy cow, the dimensions of a bridge above them and a chain made up of the words 'Coca Cola' and 'Rooh Afza' framing the scene. 'Pathar ke Sanam' depicts a Mughal emperor from a miniature painting, wooing the sculpted bust of Queen Elizabeth. The subjects of his work also include barcode branded oxen and maps inspired by Moenjodaro artwork, antique guns and Italian cypress trees lined up against our local trees, angels from Christian art and ISBN numbers.
Afshar Malik's photo-etchings are detailed compositions of the textures created in photos. His work hints at Rumi's poetry, India under the Raj, Islamic and Mughal art, the age of the computer and Internet, photos of ultrasounds, and rocky terrain. Malik's work is a study in collage technique.
Naiza Khan's copper engravings titled 'Wave' are textured flowing prints about the healing, liberating and purifying nature of water. Her work is a journey of casting the rhythm, ebb and flow of water in copper. Her work is inspired by Michel Foucault excerpts, The Rime of the Ancient Mariner by Samuel Coleridge and Katsushika Hokusai's classic 100 Views of Mount Fuji. Khan remains honest about her art, in that her work casts her reaction to the feelings and thoughts inspired by her muses.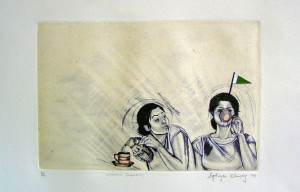 Some of Lali Khalid's photography was touching. Her frames, as she contends do "not try to manipulate, or define the world. They only isolate parts of it," so the viewer can see things the way she does. Khalid's better photos were the ones that represented her movement through weather, time and space as she resided in different cities and homes. The dimensions and content of Khalid's work speak of her youth, her insecurities and of how she copes with the knowledge that she lives in a world that she cannot possess, no matter how hard she tries to capture it in boxes and photographs. Her work 'Beach Courts, Michigan' is beautiful in its simplicity and 'Defence 2, Karachi' seems to be the cry of the burger youth, feeling helpless and melancholic in air-conditioned quarters. There is a developing wisdom in Khalid's lens, and once she escapes from reflecting on her own very personal struggle, chances are she will truly shine.
Anwar Saeed's thoughts are rooted in his land: the Punjab. His work touches upon subjects of disparity, politics, religion, creation, beautiful women, dholwalas, mystics, Sufi-inspired truck art and hearts bearing all they hold. His work is like a poem that can be read from top to bottom; it invokes Saeed's feelings towards his nation. This series, titled, 'Tender Burdens' is about Saeed's mixed feelings of guilt, awe and ecstasy towards the land he is in love with.
The work that stood out most in the group belonged to the late Usman Ghauri who suddently passed away this April. The skill, thought and fluidity of a learned hand was apparent in his work. The pieces were retrieved from a personal collection and displayed different periods of his career. The series of 'Untitled' intaglio prints of faces, plants, clouds, Christian art-influenced halos and his continuous subject, fish, all looked as if they were drenched with water. In his layers of print, one was pleasantly surprised to spot a tiny cherub reminiscent of a Raffaello Sanzio angel. Although printed in dark metallic and earthy tones, his work is nonetheless imbued with hope, and bears witness to the talent in the hand and mind of the artist that created it. Two works, from another period, were built up with layers of text and numbers, enveloping a tree in one print and a fish in the other. Both these motifs symbolise endurance and achievement. Ghauri's work speaks in length about his positive disposition and his passion for art. We have lost a valued artist long before his time.
Next