Music Review: Coke Studio, Season 4, Episode 2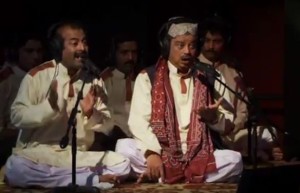 While the first episode of Coke Studio was fairly hit-and-miss for me, the second episode's previews suggested a return to form. Whatever the eventual reactions to the show, the night promised to be interesting due to an eclectic list of performers.
Sajjad Ali opens with Kirkir Kirkir, an earthy, humorous song intent on entertaining. And it is, as intended, enormously fun. It was vital for the arrangement of the song to be right, since tongue-in-cheek, up-beat songs are usually burdened with loud, garish instrumentation, especially in Pakistan. The musicians at Coke Studio get it spot-on, and this is, in large part, the reason the whole thing works so well. Sajjad Ali's distinctive voice is agile and skilled as ever, and the song displays his characteristic subversive wit as he playfully casts aspersions on his own artistic integrity. His performance is hugely entertaining to watch as he grins and gesticulates his way through the song. This is definitely a different look for Coke Studio, and one it pulls off splendidly.
The second song, 'Senraan Ra Baariya', cannot be described without sounding a little maudlin. It is almost gratuitously beautiful, if there is such a thing. One has to be truly dead inside not to be moved by something this fine-spun and enchanting. The instrumentation is low-key and ethereal without being aggressively sentimental, while the backing vocals by Zoe Viccaji are perfect. Meanwhile, it's a struggle to try and assign adjectives to the kind of vocal performance that Asif Hussain Samraat delivers. What he achieves is more than a display of technical prowess — he breathes life into the story of a girl waiting for her prince, invests in it a guileless, naïve beauty that the same words on paper could never convey. Mr Samraat is not as well known as some of the other musicians in the episode, but he proves that he is every bit as talented with this phenomenal performance (see video below).
The legendary Attaullah Khan Esakhelvi performs the third song of the night, 'Ni Oothaan Waale'. His performance is energetic, masterful and predictably brilliant. The onus was on the Coke Studio musicians to complement his performance, which they do. For a song such as this one, a significant part of its joy lies in the words, and although an English/Urdu translation is a poor substitute, it definitely makes the performance even more compelling. The outro is another small triumph, with the haunting conclusion to the story wrapped in a beautiful melody carried by the backing vocals.
'Nindiya Re' by Kaavish is described by the artists as a "loree" (lullaby). As a result, the song possesses a simple, soporific charm, and rather than seeming cloyingly sentimental it feels like a bare-bones evocation of a fixture of many of our childhoods. A gently picked, circular guitar riff is at the centre of the song's minimal instrumentation, and Jaffer Zaidi's restrained vocal performance lends the song its air of unforced nostalgia. 'Nindya Re' is austere, genuine and excellent.
The night comes to an end with 'Kangna' by Fareed Ayaz and Abu Muhammad. This is as indelible and monumental a performance as any Coke Studio has ever delivered. Featuring the wild, impassioned performances that define Qawwali, 'Kangna' bowled me over. It is a lengthy, devilishly complex epic that showcases one of the subcontinent's greatest art forms at its peak. The vocal acrobatics build towards the mighty climax, which is violent in its force. Fareed Ayaz and Abu Muhammad are a joy to behold, both possessing the kind of electric vehemence that colours all the potent gestures and glances found in Qawwali. The Coke Studio musicians prove that they are some of the best working in the region, and special mention must be made of Gumby's brilliant drumming. Everyone should watch this staggering performance because it is a reminder of the heights our art forms can achieve.
Coke Studio's second episode of the season is the kind of success that has made it a Pakistani institution. The artists involved are still taking chances and offering the stage to gifted musicians, both known and unknown. It is heartening to know that four years on, Coke Studio is still thinking original thoughts and playing great songs.
Click play to watch "Senraan Ra Baariya" by Asif Hussain Samraat and Zoe Viccaji:

[youtube]http://www.youtube.com/watch?v=9h7p4-15ZNU[/youtube]
And below is the video performance of "Kangna" by Fareed Ayaz and Abu Muhammad:

[youtube]http://www.youtube.com/watch?v=BXmIpbBOSvI[/youtube]
Next