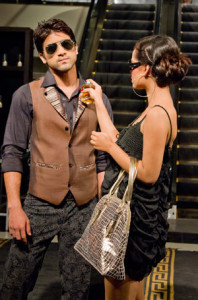 Two mega launches took place in one night at Karachi's Emerald Towers on June 30, 2011: the opening of a new branch of Scentsation, a well-known fragrance retail outlet in Pakistan, and the launch of Dunhill's new fragrance for men, Dunhill Custom.
The launch event featured a fashion show, but not of the usual walk-down-the-ramp variety. Models, dressed in Kaash Hussain's designs and styled by Saba Ansari of Sabs, descended from the escalators spritzing themselves with the newly launched fragrance. According to PR Manager Tehmina Khaled of Take II, "Perfumes are fashion accessories and should be connected to fashion. Mohsin Feroze (the owner of Scentsation) always launches his fragrances in a unique way." The event was attended by several celebrities, socialites and journalists.
Though primarily a fragrance store, the outlet also sells make-up and skincare products by Clarins and Karaja. It has 10 stores in Pakistan, three in Lahore and seven in Karachi. Feroze revealed that they plan on expanding and are in the process of opening mega stores at the Dolmen and Atrium malls as well.
Raisa Vayani is an Editorial Assistant at Newsline
Next