Developing Rural Education in Pakistan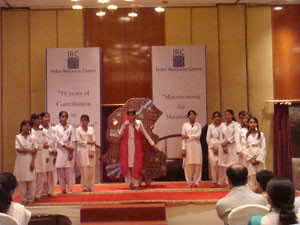 After 10 years of working towards developing rural education, the Indus Resource Centre (IRC) held their first event ever at the Avari Towers Karachi on July 25. The event comprised speeches by members of the IRC, presentations on what they have already done and what the future holds, an interactive session with the students and teachers at the IRC schools and a small skit staged by the students.
The NGO has reopened what were once ghost schools in areas like Khairpur, Dadu and Sukkur, and provides students with uniforms, transport and books. Now, the IRC "plans to expand the schools (to the secondary level) in some areas," shares Sadiqa Salahuddin, founder and executive director of IRC.
Among the IRC's numerous innovative ideas is a plan to encourage female literacy by offering incentives like admitting two boys if a girl in the family is sent to school.
The highlight of the event was a 15-minute skit presented by female students of IRC's school in Khanot. The awe-inspiring stage performance masterfully highlighted critical social problems. In the middle of the stage a map of Sindh was created. As various tragic scenarios unfolded in the performance, one of the girls lamented the loss of the wonders of Sindh. A mother heard that her only son, the repository of her hopes and dreams, was killed in a bomb blast. A child's hopes of becoming a teacher were shattered because of her gender. After each scenario the girls would gather and chant "Allah Hu," pleading for divine intervention.
However, the skit ended on a positive note, with a musical performance written and composed by the students that highlighted the beauties of Sindh and emphasised the need to live and let live.
The attendance of personalities such as MPA Aisha Khoso, writer and activist Amar Sindhu, Secretary Education Muhammad Siddique Memon, Dr Kaiser Bengali and Dr Qazi Masood helped raise the profile of this otherwise modest event.
Next