Tee Party: T-shirts as 'Wearable Art'
Gulabo by Maheen Khan. Photo: Humayun M
Today's graphic tees are cool, casual and comfortable.
Fashion is wearable art, a means of expression. And today's tees are the latest expression of that.
Previous
Next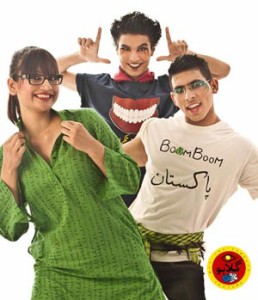 A new wave has swept the Pakistani fashion scene: T-shirts that are fun, artsy and have some element of Pakistani culture on or about them.
"Not everyone can afford photographs or paintings on their walls; these are generally inaccessible to the youth. I decided to put the same photographs that I was selling in a gallery on T-shirts and make them more enjoyable. The whole idea was to make wearable pieces of art," says Tapu Javeri about his line Tapu Tees (a collaboration with Maheen Khan's Gulabo).
Fashion is wearable art, a means of expression, and T-shirts with witty quips on them have become the latest trend. They're cool, casual and comfortable. What is even better is that they represent Pakistan in a positive light, and with all the negative press the country has been getting this may be just what the fashion police ordered.
One of the first few brands to start this T-shirts trend was Maheen Khan's Gulabo, back in 2005. Maheen was inspired to start this line when she read about a Pakistani truck that was parked as a permanent exhibit in the Smithsonian Museum in Washington in 2002. "I remember thinking, why not a truck art-inspired fashion brand for the whole family," she remarks. Tapu Tees by Tapu Javeri and Gulabo by Maheen have both launched their own lines , collaborating to promote truck art. According to Javeri, "Truck art is one of the popular art forms in Pakistan. Truck art is pop art for us, it's our forte. Had Andy Warhol been born here, he would have been a truck art painter." Gulabo tees are available in different colors with different designs, motifs and messages on them. According to Maheen, "Gulabo is not just a message to Pakistanis, but to the world: This is us, this is who we are. We are artists, poets, designers and musicians. This is Pakistan and we are proud Pakistanis."
Pakistani art is an inspiration to artists locally and globally, and Gulabo together with Tapu Tees is doing a fantastic job of allowing people to appreciate Pakistan's talent for what it really is.
Uth Oye! is another T-shirt brand and tries to better Pakistan's image and aims to "change mindsets." The brand was launched in 2009 and has a flagship store in Lahore. Additionally, some of their merchandise is available at The Second Floor (T2F) in Karachi and they also deliver outside of Pakistan. This initiative plays its part in breaking the stereotypical thinking about Pakistanis around the globe. One of their T-shirts features Quaid-e-Azam saying , 'Dude! Where's my country?' " The biggest ego boost by far comes when people order our T-shirts from abroad and have no qualms about paying almost double the amount for shipping," says Babar Rashid Khan (co-owner and founder of Uth Oye!). Uth Oye! is all about sending out a message. The T-shirts have funny slogans such as 'Don't Jealous' and a desi version of The Simpsons family on them related to Pakistan, its people and culture.
Uth Oye! also aims to promote sustainable philanthropy. "Instead of spending money on traditional marketing, we fund sustainable causes of top notch organisations," says Babar. "Collectively, maybe all of these initiatives can start projecting Pakistan in a positive global light," he adds. The brand has contributed towards intellectual poverty alleviation by promoting and donating to T2F, helped Insaaf Sasta Tandoor provide a bowl of daal and two rotis for Rs5 to the poor and installed a computer lab for underprivileged girls in the Mohammadiya School for Girls.
Also designing tees aimed at improving Pakistan's image overseas is the company called Sarak Chaap. It has only been six months since the brand was launched and even though it has no retail outlet, it is doing rather well, especially among the youth. Sarak Chaap is currently an online clothing store with a very active Facebook page (God bless Mark Zuckerberg) where you can view the pictures of the clothes as well as place orders. However, some of their merchandise is stocked at Studio S in Karachi and they deliver free of cost all over Pakistan since they don't have a retail outlet, taking only two to three days!
The theme is a fusion of English and Urdu slogans such as 'Booth' and they mainly target the local market, so their T-shirts have rickshaws, crows and public messages, and they even design hoodies and shorts. "Our T-shirts are designed randomly and are funny and scary. We just go with the flow. Recently, a lot of buses were burned so we designed a tee with a burning bus on it, with the slogan 'Ab Bus Karo,' says Sadiq Kamdar (one of the co-owners of Sarak Chaap). The brand donated profits from sales to flood victims two months ago, though they are not really a cause-oriented brand.
Sarak Chaap's T-shirts are a tribute to the country. They showcase the culture, humour and passion of Pakistani citizens. Not only are the proceeds used for a good cause but patriotism is also being instilled within their customers. Be a proud Pakistani, look good and make Pakistan look good!
Raisa Vayani is an Editorial Assistant at Newsline
Next