Interview: Mohammed Hanif
"I usually have a flash of brilliance twice a year.Otherwise, it's a hard slog"
– Mohammed Hanif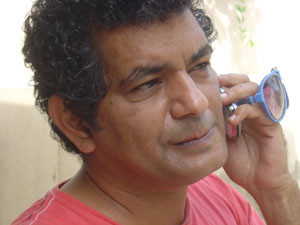 Q: A Case of Exploding Mangoes was a political satire based on a real-life incident.  What is the theme of your second book?
A: It's a love story about a girl who has a troubled past and is trying to resume her life. She looks for a job, finds one and then falls in love and like it happens in real life, she falls for the wrong guy. It's their story.
Q: With Hanif as the author, it can't be just another love story. So what is the twist?
A: Well, the main character turns out to be a lesbian vampire who wants to save the world from evil mushrooms. Just kidding. Look, if you have loved you know every moment is a twist, so I think you'll have to read and find out.
Q: The title is rather intriguing. Whose brainwave was it?
A: Thank you. It is my own. It was inspired by a novel called Our Lady of the Assassins. Also, some Bhattis have influenced my life a lot, including the founding editor of Newsline, Razia Bhatti.
Q: How does this novel compare with the earlier one? Do you think you've outdone yourself?
A: Well, I hope I have done better. I definitely feel that it's a better-written novel, but I also know that a better-written novel is not always a better novel. Also, making comparisons in this case is like comparing mangoes with…
Q: Have you revisited/or plan to revisit Mangoes or has it been put to rest forever?
A: I don't really know how I could revisit it. I just get happy when I see someone selling or buying a pirated copy. I have thought of doing a sequel, but that's my pension plan.
Q: Did you ever consider another work of political fiction (after Exploding Mangoes) speculating on the political murders in the Bhutto family?
A: Not for a moment. It was too depressing and too tragic. I didn't think there was any room to fictionalise, because the reality was horrendous.
Q: To what extent does your research as a journalist culminate in your novels?
A: Well, I do try to research, which usually means I read a lot of stuff on the subject I am writing about, and visit certain places. But I have realised that that is usually a way of putting off the writing, a way of procrastinating. Sometimes I just do the research so I can tell myself, "Look, your research is done now, and you better get down to writing."
Q: Does the plot come to you first or the characters?
A: It's usually a voice, a character, not even a fully formed character, a glimmer of a character, a shade of a character, or a voice. If it sticks around for some time then you kind of hope that there is something there and you start working on that character. Through writing you get to know that character, their story and somewhere along the line, you discover that story and it becomes your plot.
Q: When are you at your creative best?
A: Well, not very often. I usually have a flash of brilliance twice a year. Otherwise, it's a hard slog. I like writing on trains and I have taken long train journeys but, thanks to Pak Railways, that's soon going to be a thing of the past.
Q: Your friends describe you as "a man of few words." Does the tongue-in-cheek humour in your novels reflect who you are in person?
A: Who are these friends? Some of my friends say I talk nonstop and mostly don't make any sense.
Q: So how do you make so much sense in your novel and articles?
A: Well, I guess sometimes I shut up and think and try to write. The very act of writing is sometimes a struggle to make sense of things. Maybe [it's that] I am not easily impressed with so-called experts, because I still have a peasant's sensibility and try to make things simpler.
Q: Your first novel was hugely popular. Have you considered the reasons behind its success?  What were some of the most interesting observations on it?
A: What surprised me most was that I thought that it was a historical novel and only people who either knew that period or lived through it, or political junkies [would read it]. But, surprisingly, a lot of people who read it are very young. I've met teenagers who read it and people in their early 20s — people who have no idea what the '80s were like and who General Zia was. Sometimes they read this stuff and go on Wikipedia and find out more. That was a pleasant surprise. A marketing professional told me that it benefitted from the bandwagon effect, that kids on campuses decided it was cool to be seen with a copy. Recently, a woman sent me a message saying her 11-year-old son was reading it. Now that's a bit scary.
Q: Did Mangoes' success bog you down when working on the second novel? Are you nervous that it may not measure up to your debut novel?
A: Yes, many people read it here and abroad. [But] I generally find writing to be a very painful process. I find it quite difficult to get going even when I have to do a short piece for Newsline.
So, even without this pressure, it is difficult to conceive an idea and stick with it year after year after year. You are alone and you have no idea whether it is working or not. So you are caught up in the mechanics of writing and, really, I didn't think about the first novel. The only thing that helps is that you have done it once before, so you know it can be done. It was a struggle but I have no idea if I was trying to measure up to something or just trying to fill a page.
Q: What are your reading habits like?
A: Quite erratic. I read a lot of pulp, increasingly in Urdu. Recently, I have also been rereading Manto and Chekov. And obviously the real literature of our times is all those Facebook status updates and smart Tweets.
Q: Authors like Mohsin Hamid, Daniyal Mueenuddin and yourself have all moved back to Pakistan in recent years. Does it have to do with the fact that there is never a dull moment here — present-day Pakistan is a fertile breeding ground for plenty of action and authors?
A: Well, I didn't really move back! I moved [to London] for a job. I moved back for personal reasons. I was constantly homesick. I hated the weather. There were lots of other reasons for moving back, like [the fact that] my son was at an age where it was still possible to move.
Volatility breeds journalists, not writers. And there are lots and lots of dull moments here, unless you find loadshedding and five-day weddings very exciting. I don't. I used to say I'd settle for a Norway type dullness even if it meant being deprived of all these supposedly exciting stories. Now see what the Norwegian has gone and done.
Q: In your observation where is Pakistan headed? Do you see the glass as being half-full or half-empty?
A: Show me the glass first.
Q: Is there any politician you would root for in the next elections or spoof in your next novel?
A: Politicians are really difficult to spoof, many of them are already spoofs of spoofs of spoofs. Sometimes I am tempted to say something nice about Imran Khan, but then he opens his mouth…
Q: During your stint with Newsline you did several stories on Karachi and the MQM. Do you have any solutions for the Karachi situation — or is it a hopeless case?
A: I have been hanging out with old friends who were around in the '90s and everybody's saying it is like déjà  vu. Same characters, same people, same rhetoric. We seem to be stuck in this nightmare which refuses to go away.
I am not a solutions type person. My job is to criticise, to question and to destroy all false hope. Arif Hasan who ran OPP (the Orangi Pilot Project) has lots of workable solutions. We should listen to him more often.
Q: The media scene has become very vibrant since you left for London to join the BBC. A hundred plus channels have now started transmission. What do you make of this media scene?
A: Well, I have been back for three years and it has changed a lot since then. I think it has been good for journalists, maybe not so great for journalism. I think it will get a lot worse. TV is basically a race to the bottom. Sometimes I get invited on these TV talk shows and find myself screaming within the first few minutes. I guess it's in the nature of the medium. Generally, I stick to watching Madni Channel or FTV — helps me through bad days.
More on Mohammed Hanif:

Interview with Mohammed Hanif: The writer talks about his first novel before it was released in Pakistan

Another Day, Another Honour: More awards for Hanif and his first novel

Interview with Mohammed Hanif: The author talks about his love for Urdu literature

Books to Behold: Mohammed Hanif and other Pakistani authors talk about their favourite books of 2010
Maheen Bashir Adamjee is an APNS award-winning journalist. She was an editorial assistant at Newsline from 2010-2011.
Next