Movie Review: Zindagi Na Milegi Dobara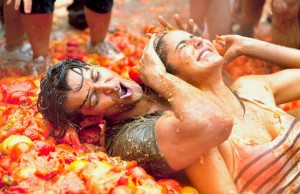 High on Hype
Zoya Akhtar's film Luck by Chance, despite its cheesy title, was a very promising debut. The multi-layered story was a rich exploration of how the film industry works. Her second film, Zindagi Na Milegi Dobara, is a long and, at times, silly film about a very simple idea: live life to the fullest while you can.
Kabir (Abhay Deol), Imraan (Farhan Akhtar) and Arjun (Hrithik Roshan) are three friends from school who have had their share of ups and downs — in life and with each other — and are reuniting after many years for Kabir's bachelor trip to Spain before he ties the knot in two months time. There they meet Laila (Katrina Kaif), their diving instructor, who instantly gels with the group and becomes a part of it. But Laila's inclusion irks Kabir's fiancee Natasha (Kalki Koechlin), who pays them a surprise visit, making a dash from London to Spain, despite Kabir's assurances that Laila is a close friend of Arjun's.
While for Imraan the trip has a greater significance — he is out on a search for his father who lives in Spain and about whom he found out only recently — the trip is really an exploration of the lighter side of life: that there is more to it than serious pursuits, such as work and marriage, and that sometimes you should just "let yourself go."
The performances by the five main characters are nicely done. The three boys have a dynamic chemistry and the dialogue, written by Farhan Akhtar, is fresh and funny. Naseeruddin Shah as Imraan's father is a class act, but his part in the movie seems forced, and the baggage Imraan carries doesn't really add to his character or develops it. On the contrary, it is Arjun and Kabir's characters that one sees changing over the course of the movie.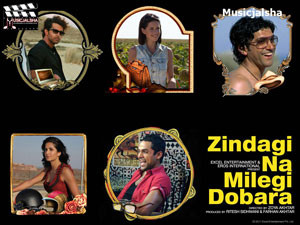 There was a lot of hype surrounding the film due to the cast and the locale — the hitherto unexplored environment of Spain in Bollywood. Spain is picturesque and the cinematography captures that aspect of it well, be it under the water or up in the air when the trio are out and about on their excursions (i.e. sky-diving or deep sea diving), or even the Tomatina festival (the famous tomato-throwing street party in Bunol), which is shown in all its splendour. But the film fails to live up to expectations.
The movie works in parts, but is not cohesive. Zoya Akhtar is a talented director and she knows her craft well, but this time round she is let down by a patchy script which, incidentally, she has co-written. And even though the producers, Excel Entertainment, have stressed the fact that this film is not another Dil Chahta Hai or a sequel to that film, one cannot ignore the fact that after Dil Chahta Hai and Rock On, Zindagi Na Milegi Dobara completes the 'trilogy of friendship.' This film, however, is by far the weakest in terms of story.
This movie review was originally published in the August 2011 issue of Newsline under the headline "High on Hype."
Schayan Riaz is a film critic based in Germany
Next