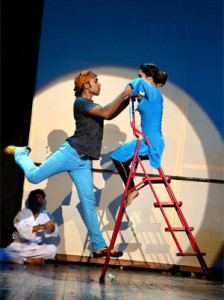 Upbeatables by BZ productions staged at the Arts Council, Karachi between June 23-29. Brekhna and Zarmeena Yousuf, of Moulin Rouge and Bombay Dreams fame, came up with the idea of a play that encompasses all dance forms.
The play takes off with the introduction of Aman (Wahab Shah) and Saphora (Brekhna Yousuf), two talented dancers from Karachi's lower middle class. They are in love and dream of making it big, but they are unable to do so because of their circumstances.
Their story is communicated more through a monologue by an old man rather than by dialogue or live action. A skit follows which goes off on a tangent about some YouTube video and manages to client some forced laughter from the audience. Suddenly the story switches to a dance competition.
Enter Bilal (Hasan Rizvi) and Aliza (Zarmeena Yousuf), the villainous producers of the dance contest who, for some inexplicable reason, also seem to be participating in the contest.
From this point onwards, we witness various dance routines interspersed with random comedic skits, until the play reaches its they-all-lived-happily-ever-after end.
The play works with a scant narrative and mainly comes across as a medley of dance routines. Upbeatables' playwright and director Abdul Aleem Sheikhani fails to communicate the story effectively, and any turning points that he may have imagined are lost upon audiences. Wahab Shah and Hasan Rizvi are two very talented choreographers and dancers who lend support to an otherwise weak production. Wahab's movements were a delight to watch; this young man from Australia has really taken the dance scene by storm since his debut performance in Pakistan in 2006. Zarmina was equally impressive with her nimble footwork and sharp hand movements.
The actors in the comedic skits provided some relief between the excessive dance performances, which seemed more like wedding numbers than part of a play. The new kid on the block, Adi Adeal Amjad, showed promise, with his perfect comedic timing and a raw energy that draws spontaneous laughter.
But the skits were unconnected to the play and seemed to drag. Since the only dialogue in the play were those contained in the skits, the director should have used them to fill in the gaping holes in the storyline instead of indulging in some ill-timed sexual innuendoes.
The lighting, with its continuous and uncalled-for changes, was unnecessarily distracting. The team that had done an excellent job on the lighting of Moulin Rouge this time round missed the mark. The saving grace of the show was the enormous talent and skill displayed by the dancers. Although some pieces clearly exhibited a lack of coordination, it was heartening to see the passion for dance amongst the youth.
It is also commendable that with few avenues for training and, in some instances, harsh disapproval for dance among family and in society, these young kids managed to persevere and put together a production of this scale in these trying times.
This was BZ productions first venture, but one hopes to see them mature into a theatre company with a more discerning eye for content and greater command over their craft so that they are able to overcome the shortcomings of their debut performance.
Next