Azra Syed Launches Book on Pakistani Cooking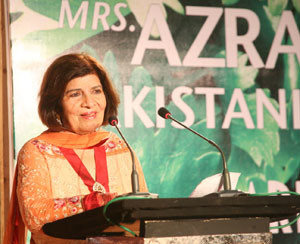 After 35 years of experience in the culinary arts, Azra Syed launched her first book, Mrs Azra Syed's Pakistani Cooking, last month. The launch was held at a lawn in DHA Phase 5, which was tastefully decked out with lime green decorations, candle-holders and huge, blown-up pictures of mouth-watering dishes by photographer Kohi Marri.
The host of the cooking show "Azra's Kitchen" on ARY Zauq, Mrs Syed has been conducting cooking classes for all age groups for several years now. "It's an art and it's open to all ages," she says. She's imparted that art to a whole generation of youngsters including Kiran Aman, the publisher of her book.
"Mrs Syed ranks among Pakistan's oldest cooking veteran chefs," says Aman. "And she is someone who believes in what our company (Markings) believes in — to produce something that is artful and traditional and yet appeals to a wider audience. Her book appeals to the professional cook, and yet it draws the attention of beginners too."
Mrs Syed began working on her cookbook on the insistence of her granddaughter, Emmy award-winning documentary filmmaker Sharmeen Obaid Chinoy. The idea behind the venture was to simplify Pakistani cooking for a beginner chef. "Girls [today] shrug off the idea of cooking Pakistani food because they think it's difficult, with so many masalas and all," says Mrs Syed.
Besides some yummy recipes, the book also includes English translations of most ingredients used in Pakistani dishes. Interestingly, even the desserts and snacks featured in the book are purely Pakistani.
The book launch was a memorable event, enriched by the presence of Mrs Syed's students, friends and family, as well as various noted chefs and celebrities.
Next