Adding a New Dimension to Home Furniture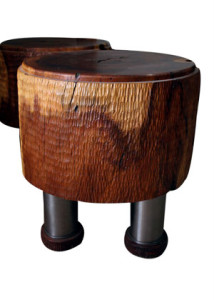 Furniture design company VADA held an exhibition at Karachi's Canvas Gallery on June 22, displaying some of the finest furniture Karachi has to offer. A collaboration between two brothers, the exhibition focused on the theme of organic and geometric art. Pure innovation coupled with practical sensibilities added aesthetic value and a new dimension to home furniture.
Abdul Jabbar Gull, the head of VADA, explained that his work is inspired mainly by the art of sculpture and involves brilliant sheesham layering that complements systematic cuts piercing through pure seasoned wood. One striking example of Gull's work is an unconventional structured dark wooden table: cylindrical blocks of wood join together two ruggedly cut planks standing on a stong sheesham base. Another notable from Gull's collection was his wooden twist on the traditional plastic foldable chair, which was designed with seasoned wooden panels that adorned a portable, mobile frame. These two works show critical elements of Gull's creative work ethic.
He states that his work is put together by "random ideas stemming from aesthetic insight." It truly is the "combination of art and craft," where one can enjoy the "developed artistic style" and find the "craft to be one of no compromise."
Next