Rebels Move into Tripoli, but What Happens Next: Peace or Chaos?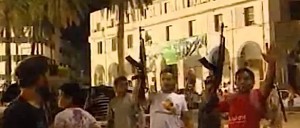 Rebel forces swept into Tripoli on Sunday. There was little resistance by Muammar Gaddafi's forces. The armed forces and supporters of Gaddafi seem to have instantly collapsed. The speed at which Tripoli has fallen is something that very few people saw coming. While it was seen as inevitable, it was a very quick capitulation that has surprised people inside and outside of Libya. Of course, it was a long time coming: Gaddafi had controlled Tripoli since September 1, 1969 (just a few days shy of 42 years). But now it is clear that the days are numbered for the leader that declared war on his own people, people who he had been calling thugs and Al-Qaeda members since February this year. After more than six months of struggling and watching neighbours topple their governments in the Arab Spring, the people of Libya are shouting that the capital now belongs to them.
There were incredible scenes of celebration in Tripoli and vivid images of jubilant anti-government supporters in Green Square, the public space that has been controlled by pro-Gaddafi supporters for months. Revellers tore down posters of Gaddafi, danced on his printed face and shot bullets into his image. Men, brandishing AK-47s, held their weapons high in the air with one arm and let off celebratory rounds as people danced and chanted "Allah-o-Akbar."
And the celebrations were not restricted to Tripoli. Similar scenes unfolded around Libya, including major centres like Misrata and Benghazi.
However, the civil war is not over. Early on Monday morning, there remained pockets of resistance by government-controlled armed forces. How much resistance still exists is unclear and how long Gaddafi's men will hold out is unknown. And given that Gaddafi has not yet surrendered or been captured means that for all intents and purposes the conflict continues.
So while the direction of events is clear, the fact is the situation remains fluid and much uncertainty remains.
Part of that uncertainty involves two of Gaddafi's sons (Muhammad Gaddafi and Saif al-Islam) who are now in the custody of rebel forces. What will happen to them in the hands of angry Libyans who have seen so much spilled blood? Will the two brothers be handed over to the International Criminal Court or will there be too much pressure to seek revenge and execute them at home to ensure speedy 'justice'? [Editor's note: Both Muhammad and Saif al-Islam were no longer in the custody of rebel forces shortly after the initial reports of the arrests. In fact, it is unclear whether they were ever captured. The details around the events remain murky with different versions emerging from both sides].
Gaddafi's eldest son, Muhammad, spoke to Al-Jazeera over the telephone early on Monday morning. He said he was under house arrest after rebel forces had surrounded his house. He said he had been treated well. But then while talking about his long-standing commitment to peace and his sadness over so many deaths (and all the killing of Muslims by Muslims) in the war, gunfire erupted in his house. He described the scene, concern rising in his voice. Firing has started, he said. The firing was not outside, he claimed. "They're inside my house." The gunshots continued. And then the phone went dead. Though Al-Jazeera later reported that Muhammad had not been hurt, the uncontrolled emotions and lack of law and order witnessed in that scene are elements that keep everything very unstable in Tripoli for now.
In fact, uncertainty extends throughout the whole country.
Who will lead any interim government? The National Transitional Council, or NTC, was recognised as the legitimate governing authority in Libya weeks ago by the 30-plus nations that comprise the "Contact Group on Libya." The NTC's authority was deemed valid until an official interim government could be formed. But now as that day approaches, who will emerge from the NTC as the eventual leader?
Will free and fair elections be held? Will democracy take hold? Are the people of Libya really free? There is no guarantee of anything at this point.
In fact there is real worry that peace is far from secure. Why did Tripoli fall so fast? Are forces retreating and exiting the city, or are they preparing a counter attack? A caller to Al Jazeera English said it all seemed to happen too easily and stated that mercenaries hired by Gaddafi had been spotted roaming the streets.
Meanwhile, firing was taking place outside the Rixos hotel in Tripoli where international journalists stay. Here is what journalists inside the hotel were tweeting: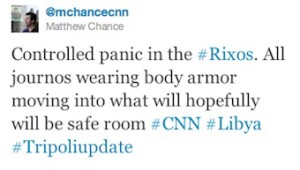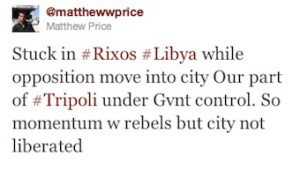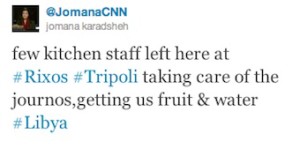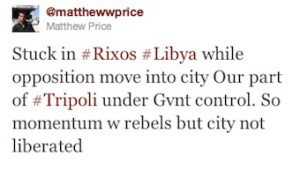 So what's next? In the next few days and weeks, who will be in control? Who will maintain law and order? Remember Baghdad and Iraq after the fall of Saddam Hussein? Afghanistan after the fall of the Taliban?
Celebrations across Libya seem to be both warranted and premature.
Click here to listen to Muhammad Gaddafi's conversation with Al Jazeera.
Next