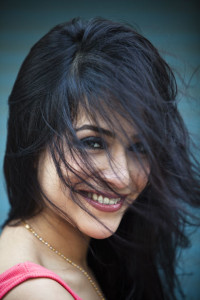 "The ring of the phone jolted me out of my reverie," she says. With a yawn and a lazy stretch of her arms, she said hello. The voice at the other end said, "Main Shoaib Mansoor bol raha hoon." Humaima was stunned into silence by the words she had just heard. Then the voice began again: "Khatoon, main nay aap ko disturb to nahi kiya," and finally came the words she had been holding her breath for: "Aap say movie main kaam karwana hai."
This was the phone call that turned Humaima Malick from a star into a superstar.
It isn't hard to figure out why the elusive director, who is generally known to keep a low profile, was drawn to her. In an industry bursting with beautiful women, Humaima has that hard-to-define and often hard-to-find characteristic: presence. Sitting at Butlers Chocolate Café, she had waiters hovering around her like flies, flashing their 32-watt smiles at the mere toss of her brunette mane or a lift of her chin.
"There is this amazing sense of self in Humaima Malick," says designer Tena Durrani, who recently worked on a cover-shoot with the actor for Women's Own. "Whether she is modelling or hanging out casually at a café, she has this ability to become the focus of attention. In fashion shoots, she comes across as a powerful force to reckon with."
It was this ability to create a stir when she walks into a room that led to Humaima's first-ever modelling assignment. An eager 14-year-old, she came across an advertisement on apnakarachi.com placed by designer Nadya Mistry, who was looking for models for her 'Lolita' show, a regular feature at her Park Towers outlet.
Since she was 12, Humaima — who belongs to a family of doctors, engineers and business executives — had her eyes set on beauty pageants such as Miss World and Miss Universe. She would stand in front of the TV screen copying the way the statuesque models stood on the ramp, hands placed on their hips, shoulders pushed back and postures erect. She was the quintessential adolescent, swept away by the sparkle and glitter of what she saw on screen. And soon enough the teenage love affair with glamour became her life's calling.
"When I saw the Nadya Mistry ad, I begged my elder sister to take me to Park Towers just to see what it would be like," she recalls, laughing about the excitement she experienced when going for her first-ever audition. "The minute I concluded my walk — learnt from the fashion shows I had watched on TV — Zurain Imam screamed out, 'Brilliant.' And Nadya immediately said, 'I want you.'"
Her parents, conservative business people, laughed at her enthusiasm and consented to let her do the show as a one-off. Soon after, she was asked by Saqib Malik to audition for the Fair & Lovely commercial: "I never do auditions," she remarks in a haughty tone. "Fair & Lovely was my first and last audition." Signed on to do the commercial, the teenaged Humaima and her mother flew to Lahore and filmed at Bagh-e-Jinnah. "The first cheque I received for my work was for Rs 80,000 for the Fair & Lovely commercial," she says.
Her first fashion show followed soon after, an Interflow production styled by Tariq Amin. "I love Tariq Amin," she gushes. "He is a genius."
Humaima Malick pursued a path that was a stark contrast to those of her family members. "One of my brothers is a doctor. The other one is studying at a university in the UK and one sister is in Manchester," she reveals.
Though initially her family was hesitant to accept her choice of career, soon fame and fan-following convinced them to accept it. "When my mom saw Bol, she couldn't stop crying and said she was so proud of me," she says.
Initially Mansoor had wanted to cast Humaima in the role of the courtesan, Meena, who enters Bol in the second half of the movie. Meena is sexy, seductive and has a dance number — three good reasons why Mansoor wanted to sign her for the role. She had even flown to Lahore, where her wardrobe for Meena was almost ready, and she had rehearsed the script for the part when one day Shoaib Mansoor walked onto the set and said: "Humaima, I am going to put more responsibility on your shoulders," and that's how she went on to do the most talked about role in Bol: that of Zainab, the gutsy daughter of the hakim's family.
"To be honest, I would have done any role because no one in their senses would turn down anything Mansoor offers," she exclaims, her eyes widening enthusiastically as she recalls her big break.
She wisely chooses to avoid delving into any of the controversies surrounding the switch of roles, and only says: "Iman Ali was never considered for the role of Zainab. Shoaib sahib wanted a formidable actress for this role, and there were other candidates, but not her."
Some of Humaima's fondest memories of the showbiz world in Pakistan are from the sets of Bol and of Shoaib Mansoor's style of working. "He takes such care of details that it is almost unbelievable. He had asked me to grow my eyebrows but even after six weeks of not getting them threaded, they were still not bushy enough." The solution: Maram and Abroo, the make-up artists for the shoot, took her eyelashes and glued them to her eyebrows. "It would take an entire hour to glue my lashes to my brows, but Shoaib sahib was determined; he said if it appeared that Zainab had got her brows threaded, it would spoil the look."
On the sets of Bol, there were no rehearsals. "Shoaib Mansoor would just sit me down and do lots of readings with me," says Humaima. "Since I am not great at reading Urdu, he had the complete script typed out in Roman and would read with me every day. He is very particular about his dialogues and doesn't let an actor move even a word from here to there."
The one grim spot in Humaima's sparkling life was her marriage to actor Shamoon Abbasi. "I was in love and made a big mistake," she says, a cautious glimmer in her eyes, as if afraid of revealing too much. "He was a psycho and I guess not listening to my parents served me right." But with a lift of her chin and a shrug of her shoulders, she waves away the dark cloud from her head and smiles softly: "That's all behind me and, for now, I am living the life of a star."
This article was originally published in the August 2011 issue of Newsline under the headline "Shooting Superstar."
Next