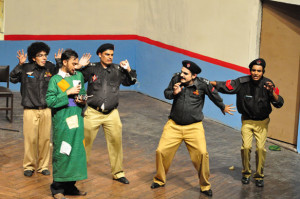 People make their way through this world using different masks in order to confront changing situations and circumstances, but few confess to it. For some, though, this is a consciously chosen way of life. Behropia — The Musical, a comedy directed and produced by the students of Beaconhouse National University (BNU) and staged at the Alhamra Arts Council in Lahore last month, is about just such a character — a man of many faces.
The musical, set in a police station, is divided into four acts. It got off to an energetic start, with the behropia on the run and the police chasing him to fast-paced music. The sub-inspector and Station House Officer (SHO) finally apprehend him and take him to the police station. The ensuing conversation reveals the protagonist, the behropia, to be a bhand (a man who entertains people).
Act 2 opens with the behropia disguised as a judge. He fools the sub-inspector and the SHO into believing that he was assigned to investigate a suicide, but his true aim is to steal the FIR against him. The play begins to drag here, with the monotony only being broken for a short period by the entry of a new character, the rather short and effeminate DSP. A female journalist, the third character who is investigating the suicide, introduces a romantic element to the tale and the act ends with a dance number choreographed by Fayyaz Ahmed.
In Act 3, the behropia appears in the disguise of a malang baba, but the SHO recognises him and pulls out a bomb to threaten him. All the characters seem convinced of the behropia's death when he flings himself out of a window. Soon afterwards, a lawyer appears to investigate the death.
The play ended here with an abruptness that disappointed many in the audience. But Fahad Nur, the art director of the play, says, "We left it to the audience to decide whether the lawyer in Act 4 was the behropia or someone else."
An adaptation of the play Accidental Death of an Anarchist, Behropia is, on the face of it, a play about the police department's corruption, says its director Hira Farrukh. The prime example of this was the suicide the behropia ostensibly comes to investigate, a death engineered by conniving cops. But the production takes a slightly sympathetic view of cops by depicting that it is individuals, not the department, that corrupt the police force.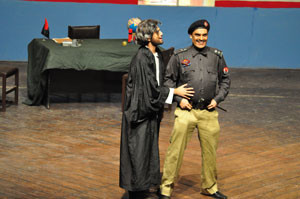 The actors' humour was a critical part of the play's success. Notably funny were the popular Butt sahab, the SHO with a bulging tummy whose passion is food, and the hilarious behropia himself. The play also pokes fun at the stereotypical prevalence of homosexuality among certain ethnic groups.
Perhaps the most noteworthy aspect of Behropia was its subject matter. In a country like Pakistan, staging a play that pokes fun at the police and the judiciary is a bold step indeed.
Next