Karachi: A Mess of a Metropolis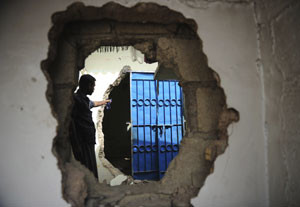 Karachi pulled to a not-so-grinding halt on Tuesday following a Muttahida Qaumi Movement call for a "day of mourning." But after weeks of steadily thinning traffic, this was not a shock as much as a slowing down of an already subdued metropolis. With over 300 dead in July and the death toll for August rising daily, grieving is all many Karachiites can do.
A late-June split between the MQM and the Pakistan Peoples Party over power-sharing in the federal government and some poisonous words by a prominent PPP leader were the most basic and immediate causes of the summer violence in Karachi.
Since then, armed groups, defined largely by their ethnicity but also by their links to powerful mafia groups, have taken to murders and gun battles to assert control over various parts of the city. 'Possessing' neighbourhoods has become a critical part of making a statement about who truly controls Pakistan's most populous city.
Being seen to do something about the Karachi violence has become a pressing political necessity for any and all national figures. However, politicians have generally, instead of getting to the grassroots proliferation of weapons and the poor policing that are enabling this breakdown of order, chosen the fastest way to show they are aware of what is going on: point their fingers and blame someone else.
The most recent tension between the MQM and the governing PPP has to do with accusations on both sides. The former claims that Mohajirs are being specifically targeted by the PPP-linked People's Amn Committee, a group that is rumoured to be heavily armed and based in the PPP stronghold of Lyari, in what it calls a "genocide." Muttahida leaders also point to the land and drug mafias' role in the killings. They feel that the government has not done enough to reduce the bloodshed and, as their refusal to see Prime Minister Gilani on Monday and their day-of-mourning declaration evince, they seem unwilling to negotiate with the PPP until some steps are taken. Meanwhile, various factions of the PPP pin the blame on different factors. Gilani generally refers to vague "criminal elements" when arguing for action. Lower down the food chain, Sindh Information Minister Sharjil Memon almost blatantly blamed the MQM for the violence on Monday. Paralysing Karachi via strikes or violence has, some argue, been a tactic the MQM has often used to remind the PPP and other rivals of its relevance. The MQM's track record of demanding protection money and intimidating citizens helps back up such allegations.
Gilani arrived in Karachi on Monday for what was hoped would be discussions with the entire provincial cabinet, including leaders from the MQM and the Awami National Party. Leaders sitting down in this way and agreeing to rein in the situation using whatever influence and means they have is essential at this point. But what Gilani – and Karachi – got instead was an MQM refusal to see him and a half-hearted visit from ANP leader Shahi Syed. Meanwhile, 27 people died within the time taken for discussions.
Indeed, little progress seems to have been made on the political reconciliation front. The PPP presented a plan to strike at criminals using a "surgical" method. Without the exact specifications about what this would mean logistically, it has been generally assumed that it merely involves more direct deployment of the police and Rangers, not a major shift in policy. Indeed, the big news following Monday's discussions had to do with dissension within the PPP, not ground-breaking anti-violence strategies. Sindh minister Zulfiqar Mirza allegedly got into a verbal tussle with Interior Minister Rehman Malik. Mirza, whose controversial statements in July have earned him party censure and, sources claim, instructions to limit his brashness, was summoned to Islamabad on Tuesday.
What happens in Islamabad or party councils resonates little in troubled Karachi. A testament to how serious the situation has become is the fact that the current major topic of discussion among politicians and analysts alike is whether the Army should be sent in to the troubled metropolis. Numerous Karachi business owners have been calling for this step for weeks. On Monday, Sindh Home Minister Manzoor Wassan confirmed that calling in the Army is a back-up option. And even Gilani, often leery about extending the Army's influence, seemed to hint at a possibility for military intervention Monday, stating,"We need to take action now…otherwise…someone else would come to play the role."
Confusion about the Army's potential role persists, however. Minister for Information Firdous Awan exemplified this lack of clarity on Wednesday, telling reporters that previous army operations failed to provide results in Karachi in the same breath as she reminded the press that sending in the military remains a potential short-term solution.
The PPP could face strong opposition over such a move. The PML-N's Chaudhry Nisar Ali Khan, leader of the opposition in the National Assembly, has been vocal about his party's views on the matter. The PML-N seems to, in this matter, represent the section of the political-civil world that fears that an overextension of Army influence could tempt the military to perform a coup to 'save the country.' Publicly, however, what Khan claims is that the Army would be "trapped" in Sindh (a province not generally known for quicksand) and would be left unable to leave the region.
For now, the police and Rangers continue to be, news reports duly show, deployed within the city's most crime-ridden areas. Some posit that the problem with these law enforcement agencies lies in their numbers, not their lack of Army training. Politicians who believe this and are nervy about inviting in the Army thus favour boosting the presence of such law enforcers. They tell whoever will listen that an Army presence would boost both panic and violence.
Yet, even the once-popular Rangers do not seem to be causing significant improvements. And this has taken a toll on their image. A stand-off ensued early on Wednesday morning, when protesters in Lyari blocked off the entry to Rangers sent in for one of the "surgical operations" PPP leaders have been speaking of. Cowed, the paramilitary forces withdrew after 4 hours. The operations have so far yielded minimal success; in Home Minister Wassan's own words, "The police…detained 70 people out of [whom] 11 are genuine target killers." Different sources provide varying figures for the number of proven criminals caught. Making their way from one digit to three, such numbers have little validity in terms of showing progress.
Patience is wearing thin as Karachiites wait for a solution. Newer, scarier death tolls flash on television screens every hour. Business owners either lack customers or fear for their lives too much to open their shops. Schools and universities face constant interruptions in what should be a continuous course of study. Black MQM bands and suo moto action by the Supreme Court may signify sympathy and remorse but, until something concrete arrives, Karachi is a city abandoned, left to make the best of a worsening situation.
Akbar Shahid Ahmed is a Washington-based reporter for the Huffington Post, writing on U.S. foreign policy. He has contributed to Newsline since 2008.
Next