Movie Preview: Cronenberg's "A Dangerous Method"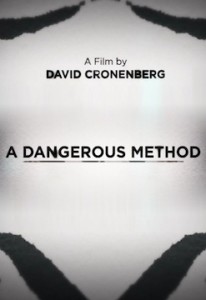 The Fly, Videodrome). No one has sprouted unholy appendages in a Cronenberg movie for years though, since he has done mostly psychological thrillers during the second half of his career.
His upcoming drama, now finished production, is also a psychological thriller in more ways than one. A Dangerous Method is the true story of Carl Jung (Michael Fassbender) and his mentor Sigmund Freud (Viggo Mortensen) and how their relationship becomes strained due to Jung's affair with a female patient, Sabina Spielrein (Keira Knightley). The story is interesting, but it's Cronenberg's involvement that makes it special. Last decade's A History of Violence and Eastern Promises were brilliant, offbeat thrillers that contributed to his increased mainstream popularity, but Cronenberg has been making exceptional films since the late seventies. A Dangerous Method is a fairly conventional project in the vein of his recent, more accessible films, but Cronenberg taking on a historical drama will produce results about as straightforward as Quentin Tarantino doing the same.
The role of Sigmund Freud was first offered to Christoph Waltz (Hans Landa from Inglourious Basterds) who inexplicably turned it down to star in Water for Elephants. Filling his shoes is the great Viggo Mortensen (his third time working with Cronenberg) and joining him is Michael Fassbender (Lt. Archie Hicox in Inglourious Basterds and Magneto in X-Men: First Class).
The trailer for A Dangerous Method (to be released in the UK in February 2012) appeared online in June after months of anticipation by fans such as myself. And while 2012, seems far off, there will be a lucky few who get to take in the director's latest creation next month: A Dangerous Method will be shown at both the Toronto International Film Festival and the Venice Film Festival in September 2011.
The trailer itself is enticing if slightly disappointing, since the final part uses melodramatic music to impress upon us that we're in for something very moving and serious. Knowing Cronenberg, though, this is probably not the case — he is never earnest in an uninteresting way, often employing irony and black humour, and his movies feature no Hollywood histrionics. In the build-up to A Dangerous Method, I recommend viewing The Fly, Dead Ringers, and for those with a very strong stomach and more than tenuous hold on their sanity, Naked Lunch.
And there's more from Cronenberg to look forward to: the Canadian director is currently working on an adaptation of the Don DeLillo novel Cosmopolis, with Robert Pattison (yes, that Robert Pattison) in the lead.
Watch the movie trailer for A Dangerous Method by clicking 'play':

[youtube]http://www.youtube.com/watch?v=664eq7BXQcM[/youtube]

Get a taste of Cronenberg's Naked Lunch below, served cold:

[youtube]http://www.youtube.com/watch?v=Q0fhzA_j6lQ[/youtube]
Next