Three aspirants for the office of prime minister, four former chief ministers and a few others eyeing the position of chief executive of the province are contesting elections from Khyber Pakhtunkhwa (KP).
The candidates for the prime minister's job are Shehbaz Sharif, Imran Khan and Bilawal Bhutto Zardari. The former chief ministers in the field are PTI's Pervez Khattak, ANP's Ameer Haider Hoti, JUI-F's Akram Khan Durrani and Qaumi Watan Party (QWP)'s Aftab Sherpao.
Besides Shehbaz Sharif, Imran Khan and Bilawal Bhutto Zardari, other party heads contesting from KP include ANP's Asfandyar Wali Khan, JUI-F's Maulana Fazlur Rahman and QWP's Aftab Sherpao. 
NA-3 Swat: Shehbaz Sharif vs the rest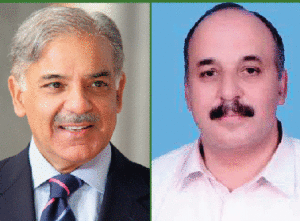 Though his elder brother, Nawaz Sharif, contested elections twice from KP and won on both occasions from Abbottabad district in PML-N's stronghold of Hazara division, it will be the first time that Shehbaz Sharif will be a candidate from the province. His party has chosen the NA-3 constituency in Swat for him primarily due to the fact that the PML-N provincial President, Amir Muqam, has been undertaking development schemes in the district. Banners appearing in the constituency declare Shehbaz Sharif as the future prime minister and ask the electorate to vote for him so that he could put Swat on the road to development like Punjab. 
Though the PTI candidate, Saleemur Rahman, won this seat with a huge margin in the May 2013 general election and is again in the field, the incumbency factor would go against him as he could not do much to solve the voters' problems because his party was in the opposition in the Centre. For a while, he had also developed differences with the party leadership, but later managed a reconciliation and was rewarded with the PTI ticket again. Saleemur Rahman's father, the late Dr Mahboobur Rahman, had also won this seat in 1988, but he was the PPP candidate at the time.
The ANP fielded Abdul Karim in NA-3 Swat, while the MMA first gave the ticket to Maulana Hujjatullah and then withdrew it as it decided to support Shehbaz Sharif. Maulana Hujjatullah was capable of causing an upset if the voters had made Saleemur Rahman accountable for his lacklustre performance as MNA and found it difficult to vote for a candidate from Punjab (Shehbaz Sharif). Though Maulana Hujjatullah refused to withdraw in favour of Shehbaz Sharif and insisted on contesting as an independent candidate, he cannot win without the MMA's backing.  This has made Shehbaz Sharif the favourite to win from NA-3.  
NA-8 Malakand: Bilawal Bhutto Zardari vs Junaid Akbar and Maulana Gul Naseeb Khan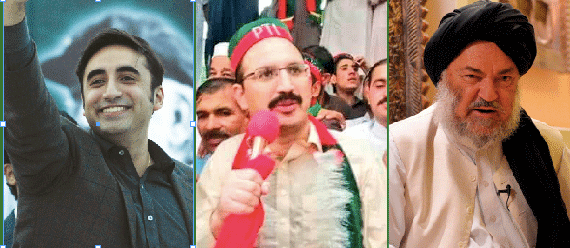 The PPP has taken a risk by fielding its chairperson Bilawal Bhutto Zardari from the NA-8 constituency in Malakand district, previously known as Malakand Agency. It is true Malakand was once a stronghold of the PPP and came to be known as 'mini-Larkana,' but that was many years ago. The party still has a vote bank in parts of the district, particularly in the Dargai tehsil where its candidate Mohammad Ali Shah Bacha, has been winning the provincial assembly seat, but it has now lost ground to other parties, initially to the Jamaat-i-Islami (JI) and now to the PTI. The grouping in the PPP ranks was a major reason for the party to field Bilawal from NA-8 to overcome the differences in the party. It remains to be seen if Bilawal can galvanise and unite his party workers to run a robust election campaign, but he doesn't have the stature of his grandfather, Zulfikar Ali Bhutto who established the PPP in the region, or his mother Benazir Bhutto. 
Bilawal will have to defeat two powerful candidates, PTI's Junaid Akbar and MMA's Maulana Gul Naseeb Khan, to win from NA-8. In particular Junaid Akbar, as the decisive winner in the 2013 general election will resist any outside contender from taking away his seat. In fact, both Bilawal and Maulana Gul Naseeb are outsiders as the former is from Sindh and the latter from Lower Dir district and Junaid Akbar could exploit the situation in his favour. Bilawal will be dependent on former MPAs, Syed Mohammad Ali Shah Bacha and Humayun Khan, the PPP provincial president and veteran party leader, Lal Mohammad Khan, to win the seat.
NA-35 Bannu: Imran Khan vs Akram Durrani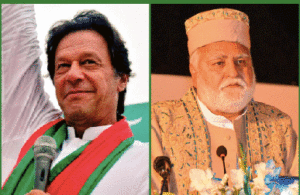 The PTI Chairman has taken a bold and surprising decision to challenge the JUI-F in its stronghold. The JUI-F has won recent elections in Bannu through Maulana Fazlur Rahman and Akram Durrani and challenging it in this district needed courage. Akram Durrani did record development work in Bannu when he was the chief minister of the province after the MMA victory in the 2002 general election. This enabled him and the JUI-F to add votes to the already solid votebank of the party in Bannu. However, the JUI-F and Akram Durrani aren't unbeatable and this calculation has prompted Imran Khan to contest from Bannu. 
The campaign is fast developing into a vendetta, as the JUI-F activists are describing it as a battle between the Islamic and the pro-West Jewish lobby represented in their view by Imran Khan. The PML-N and PMAP have already withdrawn their candidates, Akhtar Ali Khan and Malik Shaukatullah, respectively, in favour of Akram Durrani in a bid to defeat Imran Khan. This was done as part of a deal under which the JUI-F withdrew the MMA ticket from Maulana Hujjatullah in favour of Shehbaz Sharif in Swat. The contest in Bannu will virtually be one-on-one between Imran and Akram Durrani. Their running-mates for the four provincial assembly seats from Bannu would be required to contribute to the votes to be polled by Imran and Akram Durrani. The PTI candidates for the provincial assembly — Zahidullah Khan, Pakhtun Yar Khan, Shah Mohammad Khan and Malik Adnan Wazir — are strong in their respective constituencies and they could help Imran in polling more votes than the 25,340 votes polled by the PTI's Matiullah Khan from this constituency in the 2013 election against Akram Durrani's 77,015 and dissident JUI-F candidate Maulana Nasim Ali Shah's 43,553 votes. 
NA-23 Charsadda: Aftab Sherpao vs others
The QWP head, Aftab Sherpao, twice chief minister who also served as interior minister during General Pervez Musharraf's rule, has been winning this seat in past elections. This time one of his party members, Zafar Ali Khan, has challenged him after quitting the QWP and joining the JUI-F. He earlier served as Tehsil Nazim of Tangi in Charsadda district and built contacts with the voters. As the MMA candidate, he will bank on the religious vote and also take away votes from Aftab Sherpao, who remains strong in the constituency due to his patronage-style politics. It won't be easy defeating him unless a joint candidate was put up by the other parties against him. 
PTI fielded Anwar Taj in the constituency after days of indecision because Jehanzeb Dhakki was another strong candidate for the ticket. 
NA-24 Charsadda: Asfandyar Wali Khan vs Maulana Gohar Shah and Fazal Mohammad Khan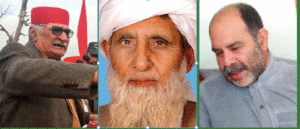 Asfandyar Wali Khan is making another effort to regain his ancestral seat. His main opponent will be the 2013 election winner, Maulana Gohar Shah, who also defeated him in 2002 and is again in the contest as the MMA candidate. Another important candidate is PTI's Fazal Mohammad Khan, the son of the late federal minister Nisar Mohammad Khan, who remained with the PPP and PML for years. 
In the 2013 polls in this constituency, Maulana Gohar Shah polled 53.492 votes and emerged the winner. PTI's Fazal Mohammad Khan with 40,148 votes was the runner-up while Asfandyar Wali Khan trailed in the third spot by polling 38,165 votes. 
The ANP had suffered a big defeat in 2013 after ruling the province as the senior partner in coalition with the PPP from 2008-2013. It has tried to recover from the shock defeat and revive itself, but the recovery has been slow. At this stage, the contest is neck-to-neck between the ANP, MMA and PTI. The MMA candidate, Maulana Gohar Shah,  cannot be under-estimated because he is being backed not only by his own party, JUI-F, and the JI, but also by QWP. The JI candidate, Arshad Khan, had received 22,595 votes in 2013. Besides, the recent decision by former provincial minister, Ihsanullah Khan, to join the JI to get the MMA ticket for contesting from a provincial assembly constituency, will also benefit Maulana Gohar Shah. 
NA-38 Dera Ismail Khan-I and NA-39 Dera Ismail Khan-II: Maulana Fazlur Rahman vs Ali Amin Gandapur and Faisal Karim Kundi
Maulana Fazlur Rahman filed nomination papers from two constituencies, NA-38 and NA-39 Dera Ismail Khan. His younger brother, Ubaidur Rahman, also filed nomination papers in both constituencies as a covering candidate. In NA-38, Maulana Fazlur Rahman's opponents are PTI's former provincial minister, Ali Amin Gandapur, PPP's Faisal Karim Kundi who was once Deputy Speaker of the National Assembly, former Senator Waqar Ahmad Khan who had a long association with PPP but has filed papers as an independent candidate, former provincial minister, Makhdoom Murid Kazim, and former MNA, Dawar Khan Kundi, who was affiliated with PTI in the previous assembly but later developed differences with the party leadership and is now in the field as an independent. PML-N's Akhtar Saeed is a minor candidate and could be made to withdraw due to Maulana Fazlur Rahman's close association with the Sharif family. In fact, the two have already made a few seat adjustments in KP and could formally enter into an alliance after the elections for forming a coalition government. Maulana Fazlur Rahman would have to make smart local alliances and get the JI supporters to vote for him to fend off the challenge from PTI candidates. 
In NA-39 the Maulana has to face PTI's Mohammad Yaqoob Sheikh, PPP's Nurang Khan who is son of late party leader, Haq Nawaz Gandapur and former MNA, Umar Farooq Miankhel, who is contesting as an independent candidate. Also in the field are PPP's Faisal Karim Kundi listed as an independent in this constituency, ex-Senator Waqar Ahmad Khan and independents Muhammad Akbar Khan and Qaizar Khan. It is obvious some of these candidates have filed nomination papers from both NA-38 and NA-39 for deal-making with the major candidates such as Maulana Fazlur Rahman, PTI's Ali Amin Gandapur and Mohammad Yaqoob Sheikh. 
NA-7 Lower Dir: Sirajul Haq vs Mohammad Bashir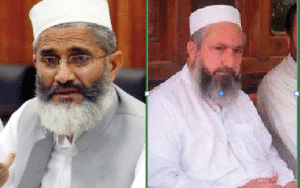 Jamaat-i-Islami chief Sirajul Haq will have to face the strong PTI candidate, Mohammad Bashir Khan, who was the runner-up with 45,066 votes in 2013. In that election, the seat was won by JI's Sahibzada Mohammad Yaqoob who polled 49,475 votes. The JUI-F candidate, Maulana Fazlullah, at the time was placed third with 22,552 votes. If the JUI-F voters vote for Sirajul Haq, now that the party has joined hands with the JI from the MMA platform, it will boost Sirajul Haq's vote-bank immensely and enable him to fend off the challenge from the PTI. Ironically, the JI and the PTI were allies in the coalition government in KP from 2013-2018, but are now criticising each other and competing against each other in many constituencies. 
The ANP has some votes in parts of NA-7 Lower Dir, but its candidate, Nazir Khan, will not be able to win if one looks at the past electoral record of the constituency. The PML-N has fielded Sobia Khan, its former MPA, on a woman reserved seat and made headlines for giving a ticket to a female candidate in one of the most conservative areas in the province. However, the party has no real support in the constituency and a female candidate will find it difficult even to campaign in a place where many women couldn't vote in past elections. PML-N's Farid Khan Yousafzai managed 5,818 votes only in the 2013 polls and Sobia Khan will make an impact if she can get that many votes. 
NA-31 Peshawar: Ghulam Ahmad Bilour vs Shaukat Ali
This is the Peshawar city constituency which was famously known as NA-1 and was renamed as NA-31 after delimitation. ANP's elderly politician, Ghulam Ahmad Bilour, even approached the court with the plea that it should remain NA-1. Bilour won many electoral battles in this constituency, including one in which he defeated Benazir Bhutto. He lost badly to Imran Khan in the 2013 polls, but made a comeback to emerge the winner when the PTI made a poor choice by fielding a weak candidate, Gul Badshah, in the by-election necessitated by Imran's decision to vacate the seat. 
This time it will be a straight fight between Bilour and PTI's Shaukat Ali, a former district nazim, as the other candidates are weak. Among them are PPP's Akhundzada Irfanullah Shah, who quit the PTI when he was denied the ticket and was immediately awarded the PPP ticket. The MMA has fielded Siddiqur Rahman Paracha. Bilour will have to work really hard to retain the seat as Shaukat Ali, due to the PTI vote bank, is capable of snatching it from him. 
NA-2 Swat: Amir Muqam vs Dr Haider Ali Khan and  Naveed Iqbal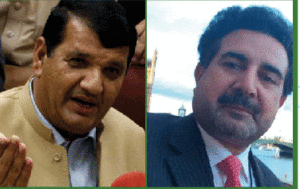 PML-N's Amir Muqam is contesting for two National Assembly seats, NA-2 Swat and NA-29 Peshawar, and two provincial assembly constituencies in Swat. He has better chances in Swat than in Peshawar and is, therefore, focusing more on NA-2 Swat and the provincial assembly seats from the district as he is aspiring to be the next chief minister. 
PTI's former MPA, Dr Haider Ali Khan, was fielded in NA-2 after the party's former provincial minister, Mahmood Khan, opted to contest for a provincial assembly seat. Dr Haider Ali was earlier associated with the ANP and was elected MPA on its ticket in 2008. In the 2013 election, he won the election as MPA on a PTI ticket. However, many voters aren't very happy with him and this could create an opportunity for Amir Muqam to claim the seat. The MMA candidate Naveed Iqbal, who belongs to the JI, is also in the race.  
NA-25 Nowshera: Pervez Khattak vs the rest
Former chief minister Pervez Khattak is facing several candidates in the NA-25 constituency in his native Nowshera district, but no one appears strong enough to defeat him. As PTI's chief minister in KP for five years, he did massive development work in Nowshera and provided jobs to many people. This enabled him to enhance his support base in Nowshera, where he is also contesting for the provincial assembly and has fielded his nephew and son-in-law, Dr Imran Khattak, for the second National Assembly seat, NA-26. 
The candidates facing Pervez Khattak in NA-25 include ANP's Juma Khan, MMA's Syed Zulfiqar Bacha, PML-N's Siraj Mohammad Khan, ANP dissident Ahrar Khattak, contesting as an independent, and former PTI MNA, Ayesha Gulalai. Juma Khan is contesting for the first time and will have to work hard to gain recognition among the voters. Zulfiqar Bacha stood as the PML-N candidate in 2013 and is now in the MMA. Siraj Mohammad was elected MNA on a PTI ticket in 2013, but developed differences with the party leadership and is now with the PML-N which lacks a solid vote-bank in Nowshera. Ahrar Khattak is contesting as an independent after being denied the ANP ticket and will harm the official party candidate. Ayesha Gulalai is candidate of her non-existent party, PTI-Gulalai, and has zero chance of victory. 
NA-18 Swabi: Asad Qaiser vs MMA 
PTI's Asad Qaiser had won from this constituency in 2013 by polling 48,576 votes against JUI-F's Ataul Haq Dervesh who got 28,672 votes. As Asad Qaiser had also won a provincial assembly seat, he kept it to become the Speaker of the KP Assembly. He vacated the NA-18 seat where a by-election was held in which Asad Qaiser's brother, Aqibullah, emerged as the winner with 43,333 votes. JUI-F's Ataul Haq Dervesh was again the runner-up with an increased tally of 32,300 votes. The PML-N and ANP candidates have been polling a reasonable number of votes from this constituency, but not enough to win the seat.
In the coming polls, Asad Qaiser is pitted primarily against MMA's Maulana Fazal Ali, a former provincial minister, who will get votes of not only his party, JUI-F, but also its ally, the JI. However, a JUI-F dissident, Maulana Khalil Ahmad Mukhlis, will chip away at some of the MMA vote. Mukhlis' breakaway JUI-Nazriati could also get some PPP votes as the two parties have made a local electoral alliance in Swabi. The other significant candidates in NA-18 are ANP's Mohammad Islam Khan and PML-N's Sajjad Ahmad. 
Asad Qaiser will be benefited by the votes that the influential Tarakai family could provide him, as it has now become part of the PTI after having contested the 2013 election separately from the platform of the Awami Jamhoori Ittehad Pakistan (AJIP). In the 2013 polls, the AJIP candidate, Shahram Khan Tarakai, had polled 14,495 votes and was placed fourth behind the winner Asad Qaiser, runner-up Ataul Haq Dervesh and PML-N's Iftikhar Ahmad Khan. 
Rahimullah Yusufzai is a Peshawar-based senior journalist who covers events in the NWFP, FATA, Balochistan and Afghanistan. His work appears in the Pakistani and international media. He has also contributed chapters to books on the region.
Next