Uniting for Social Change
A group of young, progressive individuals, concerned about the current state of affairs in Pakistan and disappointed at the lack of effort being made to resolve the country's multifarious problems, launched an initiative named, 'Hope Fest 2018.' The event took place at the National Museum in Karachi on June 24. A series of panel discussions on politics, climate change and women's rights in Pakistan formed part of the event, which also included music, dance and theatre.
The performances offered a cultural diversity. One of the participants, Ahtasham Khan from Gilgit, Baltistan formally started the proceedings with a short dance. He said it was his way of bringing "the culture of the North to life on a stage in the South." There were performances by Karachi University's Pashtun Student Council, as well as a group of students from Balochistan, who emphasised how misunderstood both their cultures were. A Baloch student, in a dispirited tone, went on to say, "They do not understand that even though we are suppressed, we are happy."
The event drifted from its initial light-hearted manner and took on a more serious tone, with panel discussions centred around Pakistan's politics. The panelists included the Pakistani lawyer-turned politician, Jibran Nasir, journalist Ali Arqam and the general secretary of the Women's Democratic Front, Alya Bakhshal.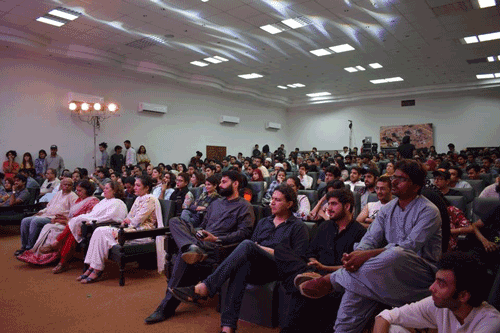 Candidate for one of Karachi's most hotly contested seats, NA-247, Jibran Nasir encouraged the youth in the audience to "engage with the system," while Alya expressed her concern for issues faced by innumerable rural women, who have not been able to obtain National Identity Cards, despite the fact that the system has been streamlined. Alya went on to say that, "the politically aware youth should take a stand on all matters that affect them."
Journalist Fatima Zaidi, spoke on the lack of education on politics for the youth. "As a consequence, politics is now based on ethnicity and religion," she remarked.
The most salient topic of discussion of the evening was feminism and women's rights. In the question-and-answer session certain existing misconceptions about 'Feminism' were clarified, followed by a short skit, titled Khamoshi Ki Cheekh (The Scream of Silence), presented by the Women's Democratic Front. The short play challenged the stereotypical role of women as daughters, wives and mothers in Pakistani society.
The event ended with performances by well known artists, Arieb Azhar, Sheema Kirmani, Ahsan Bari and Suhaee Abro.
When asked what he hopes to achieve through the event, host Muzzamil Afzal remarked, "I hope to unite progressive Pakistani individuals of different ethnicities to work towards social change."