Illustration by Munawar Abro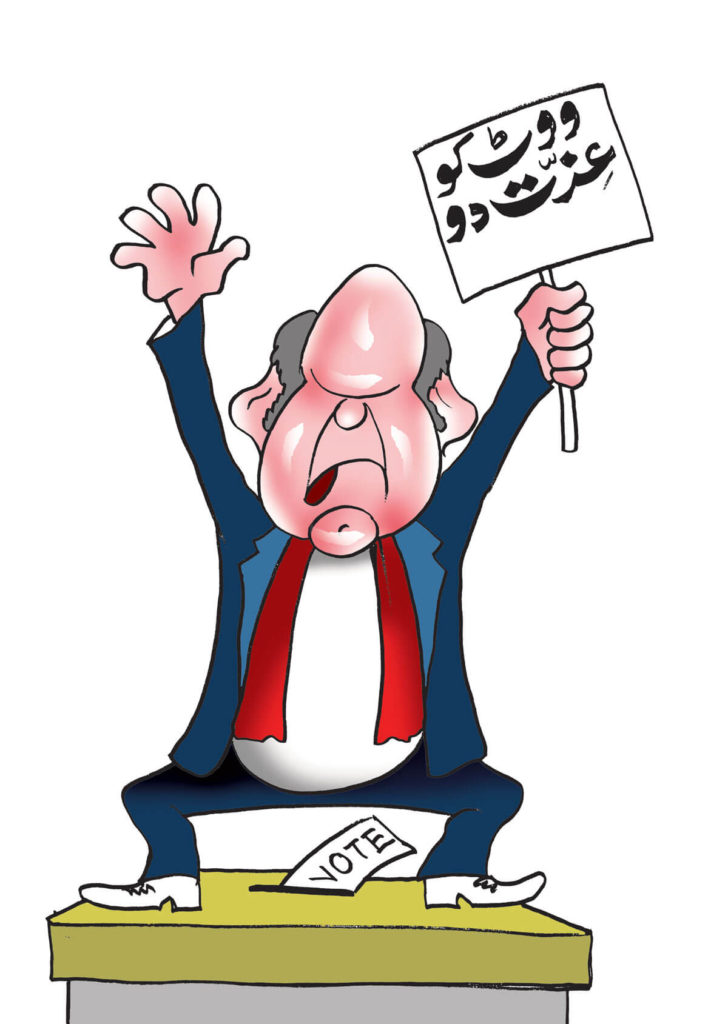 Rooted in the Islami Jamhoori Ittehad (IJI), or Islamic Democratic Alliance (IDA) of the late '80s, the Pakistan Muslim League-Nawaz (PML-N) came into being as the military establishment's wager on an antithesis for the Pakistan People's Party (PPP). 
Having traded election blows with the PPP in the decade following the 1988 elections, it was in 1997 that the PML-N established itself as Pakistan's largest party, in a landslide electoral victory that saw it bag a two-thirds majority — the first and only occasion in Pakistan's history that this has happened.
However, with great power came a great need to detach itself from its undemocratic past. This, along with the party's laissez-faire approach towards economic and security policies, brought it to a standoff with the military establishment, eventually culminating in the Pervez Musharraf-orchestrated military coup in October, 1999.
A decade of political exile followed during Musharraf's rule. In 2008, the PML-N lost to a PPP riding the sympathy wave of Benazir Bhutto's assassination in December 2007. Nawaz Sharif's party, nevertheless, managed to bag Punjab.
It was this five-year provincial rule that laid the foundation for the 2013 triumph, with Nawaz Sharif becoming prime minister of Pakistan for the third time. 
A convincing win, even if not on the same scale as 1997, meant that Nawaz was once again in a position to enact his vision for Pakistan. His neo-liberal economic policies necessitated trade with India — the second largest market in the world, next door — which is antipodal to the strategic interests of the military establishment. 
Meanwhile, a Supreme Court verdict on the Panama Case in July 2017, ousted  the three-time premier from his position as prime minister. While Nawaz has peddled the narrative of a judicial-military alliance against parliamentary supremacy in the year since his ouster, the new party leadership wants to toe a more reconciliatory line.
Following Nawaz's disqualification as not just the PM but also the president of the PML-N, it is now Shehbaz Sharif who has officially taken over the party. With the political divide between the Nawaz and Shehbaz families now common knowledge, the party has been doing its best to not let the internal rift surface.
The outburst — against Hamza Shehbaz — and  the exit of Zaeem Qadri reflects the change of leadership within the Sharif family and the PML-N. But while the transition from Nawaz to Shehbaz was natural and necessary, it is the question of who will lead the party next — Hamza Shehbaz, or Maryam Nawaz — that will make or break the PML-N as we know it.
This, in itself, depends on how each camp fares in the upcoming elections, in the jurisdictions outlined within the party. In that sense, the 2018 general elections will reveal as much about the clout of a Nawaz-less PML-N, as they would about its future existence.
Next