With the Pakistan People's Party (PPP) having been swept away from most parts of Punjab, the tussle to win the most populous province of the country, and in turn the federal government, looks likely to remain between the Pakistan Muslim League-Nawaz (PML-N) and the Pakistan Tehreek-e-Insaf (PTI).
The electoral strategy for both seems to be pretty straightforward: field 'electables' on a priority basis. Preference, hence, has been given to familial and financial clout. A majority of these are lawmakers who are experienced in the art of local electioneering.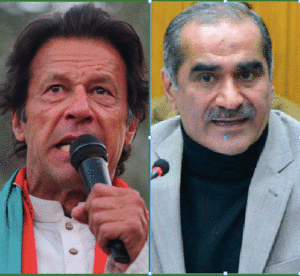 Imran Khan and Shehbaz Sharif, the two chiefs, have decided to avoid any head-to-head battles. The PTI chief has gone for Mianwali's NA-95 and Lahore's NA-131, where he will be challenged by the PML-N's Haji Obaidullah Khan Shadi Khel and former Railways Minister Khawaja Saad Rafique respectively. Rafique believes that he's in a stronger position than five years ago and maintains that he has delivered every time he has been given the opportunity.
Shehbaz Sharif hopes to win Lahore's NA-132 against PTI's Chaudhry Mansha Sandhu and, to a few raised eyebrows, Dera Ghazi Khan's NA-192 against Sardar Khan Leghari. He will contest polls for Lahore's provincial assembly seats PP-164 and PP-165 against Muhammad Yousaf Ali.  Shehbaz is expected to triumph in the Lahore seats because he is not facing any direct competition there. 
The PML-N has awarded the candidature of Lahore's NA-124 and PP-146 to its president's son, Hamza Shehbaz. He will have to overcome the challenges of PTI's Muhammad Nauman Qaiser and Punjab Assembly candidate Zaman Naseeb. 
Following Maryam Nawaz's refusal to contest NA-125, formerly NA-120 — one of Lahore's key constituencies, where both her father and mother have won in the 2013 and 2017 general elections and by-election respectively — she had been awarded a ticket for NA 127. In the 2013 elections, this seat was awarded to PML-N's Lahore head, Pervaiz Malik, who won with a convincing margin against a PTI candidate. With her inability to campaign due to her mother's illness, Maryam Nawaz, who is presently in London, decided to opt for a safer constituency.
She was also fielded for provincial constituency PP-173. However, following the judgement of the NAB court on July 6, she stands disqualified.  
Former Prime Minister, Shahid Khaqan Abbasi, will have to beat PTI's Sadaqat Ali Khan to win his home constituency NA-57 in Rawalpindi.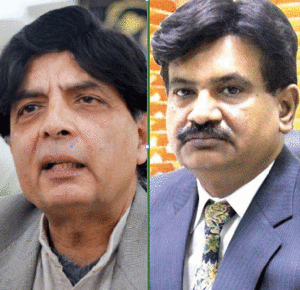 Meanwhile, Chaudhry Nisar, the estranged leader of the PML-N, is contesting as an independent candidate from Rawalpindi on two national and two provincial assembly seats. He will be facing PML-N's Raja Qamerul Islam on NA-59 and PP-10, Mumtaz Khan on NA-63 and Faisal Qayyum Malik on PP-12. On NA-59, PTI leader, Ghulam Sarwar Khan, is being touted as a major challenge. 
PTI's Nisar Ahmed faces the stiff task of outdoing Punjab's former law minister, Rana Sanaullah, in Faisalabad's NA-106. The same is true for PTI's Farrukh Habib, who will face Abid Sher Ali in NA-108.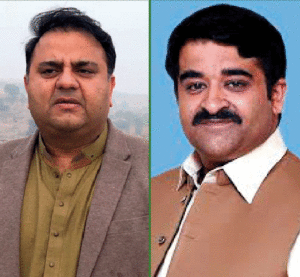 PTI spokesperson, Fawad Chaudhry and PML-N's, Raja Matloob Mehdi, go head-to-head in Jhelum's NA-67, with Mehnaz Aziz of PML- N, who is contesting the elections following her husband Daniyal Aziz's disqualification on charges of contempt, and Mian Muhammad Rasheed set to tussle in Narowal's NA-77.
PML-N is backing Mian Javed Latif (NA-121), Mehr Ishtiaq (NA-126), Malik Saiful Malook Khokhar (NA-135), Awais Khan Leghari (NA-191) and Ahsan Iqbal (NA-78) to help win their seats. 
Meanwhile, PTI has placed strong bets on Shah Mahmood Qureshi (NA-156), Ghulam Mustafa Khar (NA-181) and Ghulam Bibi Bharwana — who recently defected from PML-N — in Jhang's NA-115. PTI is also fielding strong candidates in Mian Aslam Iqbal (PP-151) and Muhammad Irshad Dogar for (PP-152) for the provincial seats.
Close battles are expected between Hanif Abbasi and Sheikh Rashid in Rawalpindi's NA-60, and in NA-62, another constituency from Rawalpindi, Sheikh Rashid will face Daniyal Chaudhry of PML-N.
Habib Akram, Executive Editor at Dunya TV, who has surveyed constituencies all over Punjab, believes the PTI and PML-N are running closer now than ever before in the province. 
"There will be stiff competition all over the province, because our surveys reveal that there isn't too wide a margin between the PML-N and PTI. It no longer looks like a case of 100,000 vs 30,000 votes," he says. 
"There are a few seats in Lahore where the PML-N is comfortable. Meanwhile, the PTI is comfortable in Attock and Chakwal. In Attock, Tahir Sadiq and Amin Aslam are the main candidates for PTI — even though the latter was not given a ticket but the former has been given one. In Chakwal, Sardar Ghulam Sadiq gives PTI the edge." 
Akram also expects Rawalpindi to be a tight race. "PTI won three seats in the city last time — Ghulam Sarwar Khan NA-63, Sheikh Rashid NA-62 and NA-60, Imran Khan himself," he says. "In Jhelum, Matloob Mehdi's family has always won. Right now there is an anti-PML-N sentiment over there — and not because of Fawad [Chaudhary]. " 
Akram believes the stiffest competition for the PML-N will be in South Punjab with defections from the party in the region.
Imad Zafar predicts that the PML-N will still win in Punjab. "The PML-N will likely retain the Punjab provincial assembly with a simple majority. Contrary to the 302 won by them in 2013, the numbers will be around 160 this time," he says. 
"In the National Assembly, the PML-N is expected to win 70 to 80 seats, the PTI 25 to 35 seats from Punjab and the independents and smaller parties around 30 to 35 seats. PTI holds a good position in south Punjab, while it will be a neck-to-neck competition in Rawalpindi and Faisalabad divisions."   
Will the independent candidates wield any influence on the final results? 
"I don't think independent candidates will play that big a role, because they are few in number. If you notice, the number of independent candidates is continuously decreasing over the years," maintains Habib Akram.
"Independents may not play a significant role in the making of the provincial government, but they are expected to play a major role at the centre, and their inclusion will decide which party is going to form the coalition government," says Imad Zafar.
Next