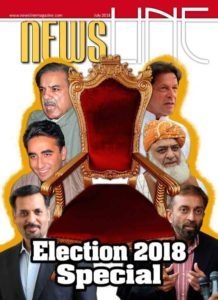 The suspense is finally over. The judgement in the first of the three references filed against the Sharif family in a NAB court is out. And it is extremely damning for both the father and daughter. 
Jail terms, fines and forfeiture of the Avenfield apartments — all of which seem impossible for NAB to implement for now. The convicted are presently in London, tending to the critically ill Kulsoom Nawaz. 
With a couple of weeks to go before the elections, their absence from Pakistan could prove a major setback to the PML-N on its campaign trail, which is badly in need of a boost. Younger brother Shehbaz Sharif has neither the vim nor the vigour to lift the party's sagging spirits. 
Nawaz has promised to return, but party stalwarts are not betting on it. The last time their boss was convicted, he opted for the luxuries of a palace in Saudi Arabia rather than the discomforts of Adiala Jail, and made a deal with a general. But he is said to be a changed man now — and may spring a few surprises. 
Meanwhile, his nemesis, Imran Khan, is on a new high. Should he be? Yes and no. Yes, because he has won a long and hard fought battle against corruption (Read Sharifs). And no, because the future scenario is not as clear as day.
If the PTI chief had hoped to a make a clean sweep, post Sharif's conviction, there are now several claimants to power.
There's the 'jeep' party, comprising several last-minute PML-N defectors led by the establishment's darling, Chaudhry Nisar Ali Khan. Why Imran harbours several of them himself — the "electables," who would want to extract their pound of flesh in return for helping the PTI notch up the winning tally. 
Then there are those religious outfits, who are being mainstreamed by the powers-that-be, who could play the role of spoilers.  And finally, there's the PPP led by the buoyant Bilawal Bhutto, whose vote bank in Sindh is still intact, but whom Imran refuses to engage with.
Political pundits are predicting a hung parliament and that could prove disastrous, given dissensions in the political ranks and vested interests at work. 
The lead-up to the elections has not been a smooth one. Marked by bitterness and rancour, and clouded by allegations of "pre-poll rigging" and "engineered elections," Elections 2018 may not herald another peaceful democratic transition or the tabdeeli one had hoped for.   
Rehana Hakim is one of the core team of journalists that helped start Newsline. She has been the editor-in-chief since 1996.
Next