June 20, 2018, would have been the day Sabeen Mahmud turned 44. A visionary ahead of her time, Sabeen was gunned down brutally on April 24, 2015 when she was leaving T2F at the end of a seminar on the troubled province of Balochistan.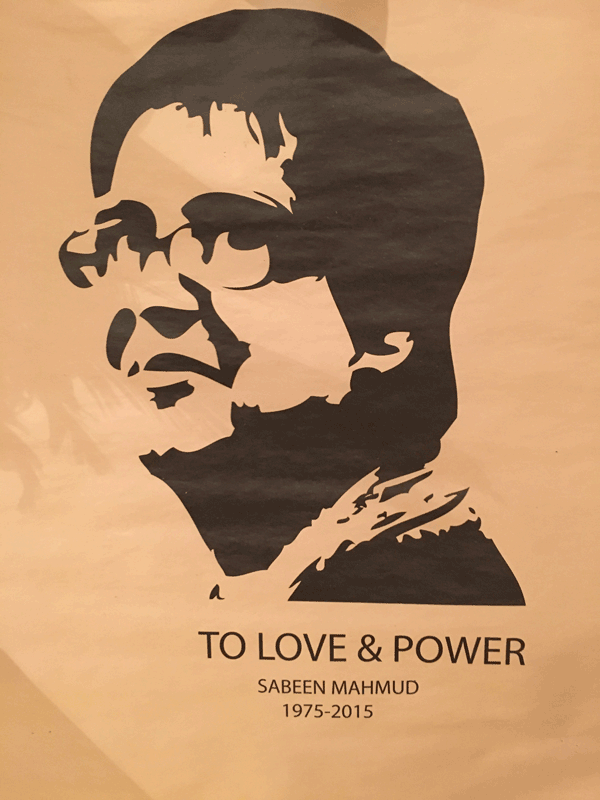 To mark the momentous occasion of her birth, T2F, which is now headed by Arieb Azhar, hosted, "Happy Sabeen Day," an event aimed at celebrating Sabeen's life. Held on the T2F premises between 6-10 pm, the event followed no definite schedule.
In his heartfelt tribute to Sabeen, T2F Director, Arieb Azhar shared not only his few encounters with Sabeen, but also the way they shaped him as a driven, self-motivated artist. "She may not be physically present with us," he said, "but her spirit still surrounds us."
However, he encouraged members of the audience who knew Sabeen personally as well as professionally, to share their stories, and as the crowd started to grow in numbers, so did the stories. A young woman, timid at first, eventually took the floor – and by storm – when she explained to the audience how T2F was her "safe place." The woman left the audience with a heavy heart, as well as immense admiration for Mahmud when she ended her anecdote by saying, "She helps me save myself every day."
Amidst the warm reminiscences, the audience enjoyed the performances of some of Pakistan's most underrated artists. Arieb impressed the crowd with his cover of one of Sabeen's favorite Bosnian songs and a rendition of Faiz Ahmed Faiz's "Hum Dekhain Gay." This was followed by a stunning classical dance by Suhaee Abro, a close friend of Sabeen's and also the star of the British, Oscar-nominated film, My Pure Land. She danced to the harmonious melodies of Irfaan Ali Taj's sitar.
The event concluded on a high note, with a series of exhilarating numbers by the renowned Pakistani singer-songwriter Zoe Viccaji, who said that she owed the start of her musical career to T2F. She mesmerised the audience with her rendition of "Ishq Kinara," "Mera Bichira Yar," and Bob Dylan's classic soundtrack, "Knockin' on Heavens Door."
Next