Donned in his signature waistcoat and shalwar kameez – in spite of the sweltering summer heat – human rights activist and lawyer, Jibran Nasir, spoke on his renewed commitment to contest the 2018 general elections despite having lost the last one. At a corner meeting held at a civil society member's residence in the Defence Housing Authority on June 26, 2018, the activist said he is contesting from both NA-247 and PS-111. "The reason I contested last time was that I had run out of options I would want to vote for," said Nasir. "So, I thought I would put (forward) myself as an option, and see how far I could go. "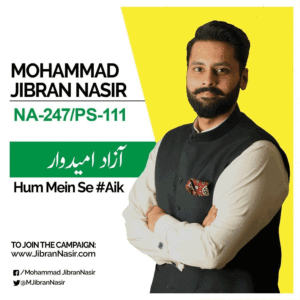 Nasir covered a range of topics regarding his candidacy, society's frustration with the politicians' inability to provide solutions to problems, corruption and the importance of mobilising voters. Giving a brief background of his own work as an activist over the past five years he said he was an avid supporter of the feminist movement and an advocate of minority rights. He was also a part of the extended legal team in the recent Khadija Siddiqui assault case and was one of the petitioners who approached the Supreme Court to take suo moto notice against Shahrukh Jatoi being cleared of all charges in the Shahzeb Khan murder case.
The lawyer-activist also spoke of the rampant inequity in Pakistani society, and stressed on the importance of relinquishing privilege to make room for an egalitarian society. Nasir's speech was followed by a question and answer session, in which he addressed queries from the audience regarding his plans for development and his solutions to some of the major problems the constituencies are facing — water shortage, corruption and failure to deliver.
His political manifesto included a 90-day plan whereby he and his team  create a two-way channel of communication for NA-247 — through sms, web and mobile app connectivity — so that all registered voters in the constituency can share their problems, which will then be compiled in the form of auditable data, and dealt with accordingly.
Nasir's team at the corner meeting included young volunteers, eager to run his campaign and pull in supporters. "I've not really been working for political campaigns, but this was something that offered hope, substance and promise," said Sana Farooq, a campaign volunteer.
Next