For Whom the Ballot Tolls
 A tough electoral battle is being fought between political parties on a number of national and provincial assembly seats in Balochistan, and top politicians, including party heads, are campaigning face to face, day and night. Most parties, instead of building a narrative for making education, health and clean drinking water their priority, are involved in mudslinging regarding corruption and corrupt practices. 
NA 261 Jaffarabad-Sohbatpur
As always, a pitched battle will be fought between the nominees of former prime minister, Mir Zafarullah Jamali and the Khoso tribe. Jamali, who is considered to be an expert in the election game, has been winning the seat after mustering the local tribes' support. This time Jamali has fielded his nephew, Mir Khan Mohammad and son Mohammad Omar in the race for PA seats, on PTI tickets. Former minister, Zahoor Khoso, faces Jamali on the BAP ticket, with the support of Jamali's nephews, Jan Mohammad, ex-speaker and deputy chairman Senate, and Faiq Khan, a former minister.  They are in the run for PA seats and are in alliance with Khoso against Jamali. Under the delimitation, the constituency comprises two districts, Jaffarabad and Sohbatpur, while Naseerabad district was separated and included in NA-260 Kachh-Jhal Magsi. The new arrangement favours the Jamalis if they stay united, but created some difficulties for the Khosos. There is another Jamali candidate, Mir Changaiz, son of former chief minister Mir Taj Mohammad, in the run on a PPP ticket. 
NA  272   Lasbela-Gwadar
A tough tripartite fight is expected between BAP President Jam Kamal, Sardar Akhtar Mengal and Aslam Bhootani, former Speaker, Balochistan Assembly. Under the delimitation, Awaran was excluded from this constituency and attached with Washuk-Panjgoor, while Gwadar was included in the constituency after separating it from Kechh. In the new arrangement, Jam Kamal and his family, who benefited from the old constituency, may face difficulty in mustering support from Gwadar, with its nationalist vote-bank. Jam is contesting on both PA and NA seats. Sardar Salah Bhootani is in the BAP fold and running for a PA seat on its ticket, but his brother, Aslam Bhootani is running as an independent  with full NP support. 
Jam also faces opposition from his friend turned foe, Wadera Hasan Jamoot, who was fielded by the PPP from his home PA constituency. Jamoot and the Bhootanis are covertly extending support to each other on the national and provincial assembly seats, to defeat Jam. If Jam is defeated on the PA seat, it will open up chances for Saleh Bhootani to become Chief Minister. 
Akhtar Mengal succeeded in winning the support of PPP, which has strong pockets of support in Lasbela. PPP's candidate, Ghulam Akbar Lasi, bagged 35,142 votes against Jam Kamal, who polled 56658 in 2013.  Akhtar Mengal may win the seat with the support of the PPP, Zikris in Pasni and his party candidate from Gwadar district. Mengal is also in the NA race from his home constituency, NA 268 Khuzdar, and the PA seat from Wadh, where he has the support of JUI-F. 
NA 263 Killa Abdullah
 A neck-to-neck fight is expected between arch rivals, PMAP's Mahmood Khan Achakzai and MMA's Maulvi Salahuddin Ayubi. The third candidate is Asghar Achakzai, the provincial ANP president, who is striving hard to cut a deal with the JUI-F. He is running for both NA and PA seats against the PMAP chief and his brother, Dr. Hamid Khan. Some factions of the Achakzai tribe are estranged from the PMAP, for not accommodating them in development activities during its four-and-a half years tenure and may support either the JUI-F or the ANP. However, Mahmood Khan, who won the seat in 2013 with a margin of over 10,000 votes against the JUI-F candidate, may retain his position.
NA 265 Quetta II
Under the new delimitation, the provincial capital has three NA seats. Earlier, there were two constituencies – one comprised the city and its periphery, while the other consisted of areas running from south-eastern Quetta through Nushki and Chaghi districts, up to the Iran border. Both seats were easily clinched by PMAP in the 2013 elections. 
This time, Mahmood Khan faces both PTI's Qasim Suri and BNP-Mengal's Haji Lashkari Raisani. The PPP and MMA also put up their candidates, Rozi Khan Kakar and Hafiz Hamdullah, both retired Senators. The constituency, comprising a mixed population of ethnic groups, mainly Punjabi, Urdu and Persian-speaking Hazaras, may be divided between PTI, PPP, PML-N and BNP. 
Mahmood Khan is running in the contest from three NA seats — two from Quetta and one from his native district of Killa Abdullah. His chances are brighter in NA 264 Quetta I and his home constituency.   
NA 266 Quetta III
It is a pitched battle between MMA's Hafiz Hussain Ahmad, ex-MNA and Senator and BNP-Mengal's Agha Hasan Baloch. The PMAP's late Rahim Mundokhail won in the 2013 elections. After his death last year, JUI-F's Usman Badini clinched the seat in the by-elections. BNP's Agha Hasan was runner-up with a difference of 7,000 votes, while PMAP's nominee was third with a margin of 24,000 votes. MMA has an edge over BNP, canvassing in the name of religion with  the support of both Baloch and Pashtoon-speaking populations. Hafiz Hussain Ahmad has defeated Mahmood Khan and the PPP's Sardar Fatah Mohammad Hasani from this constituency. The chances of the MMA candidate are brighter than those of the BNP-M nominee.
NA 260 Naseerabad-Kachh-Jhal Magsi
A tough battle, as always, will be fought between the Magsis and Sardar Yar Muhammad Rind, if Rind's rejection of nomination paper by the returning officer and election tribunal is reversed. Under changes in the constituencies, Naseerabad district was included in Kachh-Jhal Magsi, after separating it from Jaffarabad-Sohbatpur, benefiting the Magsis who have better relations with the tribes in Naseerabad. If Rind is allowed to contest the elections, a tough fight is expected between them, otherwise Khalid Khan Magsi, who has defeated Rind, will win easily. Asim Kurd Gaillu, who is also contesting both PA and NA seats, may benefit the Magsis by withdrawing from the NA contest. Rind and Gaillu are at loggerheads and will go all out to harm each other's interests in the elections.
NA 268   Chaghi-Nushki-Kharan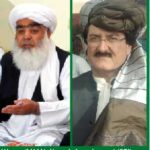 General Qadir Baloch of the PML-N won the seat in the 2013 elections, under the old delimitation. After fresh delimitation, Kharan was excluded from NA-270 Washuk-Panjgur  and attached with Chaghi and Nushki by creating a new constituency. Baloch, who belongs to Kharan, does not have much support in Chaghi and Nushki districts. There are also four other notable candidates, Hashim Notezai of BNP-Mengal, Sardar Umar Gorgaij of PPP, Sardar Fatah Mohammad Hasani and Usman Badini of MMA. Hasani is running independently after being denied a ticket by his party, the PPP. The BAP nominee for the Chaghi PA seat, Amanullah Notezai, is supporting his cousin Hashim, while BAP's nominee for the NA seat, Ejaz Sanjrani, has withdrawn in favour of Hasani. The BNP nominee has a bright chance of winning as compared to the two PPP leaders and PML-N candidate.
NA 257 Killa Saifullah-ZhobSheerani 
Once again, nominees of traditional rivals JUI-F and PMAP are face to face on this seat. In the last elections, Maulana Mohammad Khan Sheerani, the JUI-F's central leader, who has dominated party policies in Balochistan for years without any interference from the central leadership, won with 30,870 votes, defeating his arch rival, Maulana Asmatullah — head of the other group, JUI-I — by 3,358 votes. This time, Sheerani, who has been sidelined by the JUI-F leadership, is not contesting elections, while his confidant, Maulana Wasey, the former provincial minister, is in the arena. PMAP put up Nawab Ayaz Jogezai, the ex-provincial minister in the race. Despite a division in party ranks, the JUI-F won the seat in the previous elections. Now that the party is united, its candidate, Maulana Wasey, could win with a wide margin.   
NA 258 Loralai-Musakhail-Ziarat-Duki-Harnai
Maulvi Ameer Zaman, JUI-F former senior minister and federal minister, won the seat in 2013, with a lead of 7,657 votes against his rival, Sardar Yaqub Nasar of the PML-N, who bagged 23,374 votes. The PTI put up Qurban Gharshin, a newcomer, while the BAP fielded Sardar Israr Tareen, who won the seat in 2008. Yaqub Nasar has been winning this seat, due to his strong vote bank from Duki and Loralai. A tough fight is expected between PML-N and MMA nominees. After stretching the constituency from three to five districts, the MMA candidate has an edge over Yaqub Naasar, due to his party's vote-bank in the newly included districts of Ziarat and Harnai.
Next