Sialkot to Saint Petersburg
With the start of the FIFA World Cup on June 14, football fever has gripped Pakistani youth who avidly follow their favourite teams and players. One young Pakistani hit the jackpot: Ahmed Raza, a 15-year-old football fanatic from Sialkot was given the opportunity to share the pitch with his idol, the formidable Brazilian forward Neymar Jr. at the Saint Petersburg stadium in Russia; he conducted the official coin toss for the match between Brazil and Costa Rica on June 22. It was a dream made reality by soft drink giant, Coca-Cola. "I never imagined this could happen and I am so happy my dreams came true," said an overwhelmed Raza.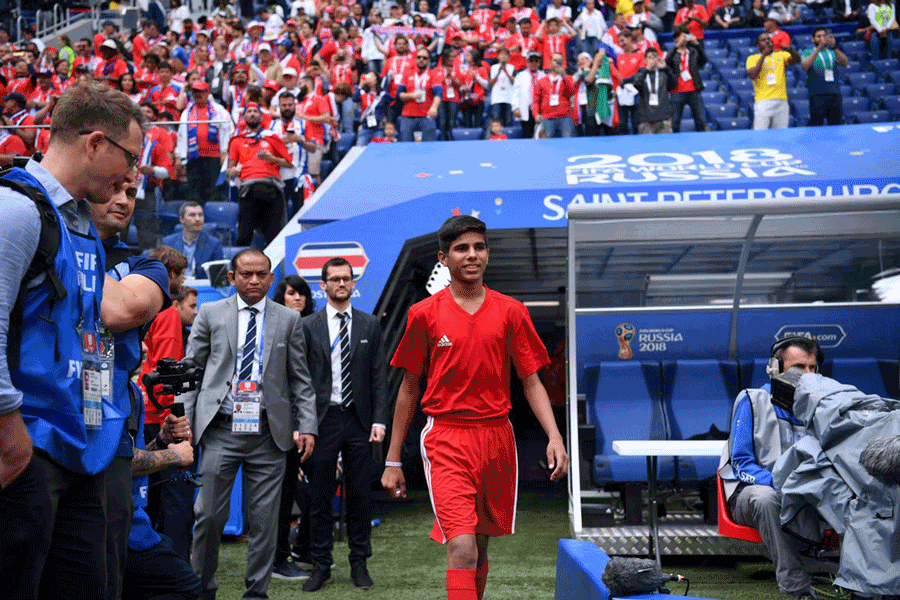 Raza, the son of Sialkot-based football stitcher Shabbir Ahmed, was accompanied by two Pakistani celebrities: two-time Academy Award winning filmmaker, Sharmeen Obaid Chinoy, and captain of the Pakistan National Football Team, Kaleemullah Khan.
Pakistan may not have made it to the World Cup, but their presence is everywhere in FIFA. The footballs manufactured in Sialkot – Adidas Telstar 18 — are used in the World Cup. Alex Dedov, Russian Ambassador to Pakistan, said that, "Pakistan is one of the most renowned countries in the world in the manufacture of sport equipment." A recent video, released by Russian state space agency Roscosmos is doing the rounds on social media. The video shows two Russian cosmonauts – Anton Shkaplerov and Oleg Artemyev –engaged in a makeshift game with Sialkot-manufactured footballs in zero-gravity conditions in the International Space Station (ISS).
Meanwhile, Raza was not the only Pakistani seen at FIFA related events. Singer, Qurat-ul-ain Balouch, featured in the official FIFA World Cup anthem, Colors alongside American superstar, Jason Derulo. Go Pakistan!
Next