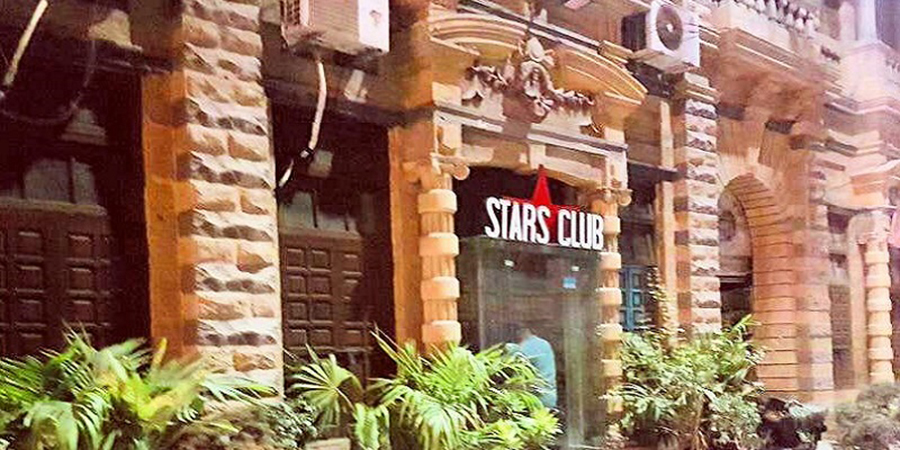 Beginning with its location in what is considered 'downtown' Karachi, not to mention its name, there is everything unique about the Stars' Club, which opened its doors some months ago, opposite what used to be the Hotel Metropole, where Café Grand once stood.
Steeped in history, the venue was in a decrepit state when Kashif Warsi, the co-owner of the Stars' Club, decided to revamp it and turn it into a popular arts and culture haunt, not just for diners, but for actors, musicians, authors, and any other celebrity who may wish to use the space to promote themselves.
What's more, while the refurbishment of the venue has been carried out keeping the old-world charm intact, it is not just the ambience — what with all the pictures on the walls of film stars from the sixties — that transports you back in time, but the music and the large TV screen playing vintage Pakistani movies.
We are told that people come here especially, to chill and watch these movies with their friends, or take part in one of the many offerings of the club, such as karaoke night, while also having a meal. The eatery often also hosts talks, book launches and live music sessions and has a day dedicated to ladies, during which drinks are on the house.
The offerings on the menu are a mix of local and continental cuisine. But more than the dishes themselves, it is their names that make the menu infinitely interesting and fascinating. A film-themed restaurant, the café celebrates Pakistani film to the extent that the entire menu is sprinkled with names that are inspired either by films of yore, or their stars.
To cite some examples, there is the Mastana Rings (onion rings), Nacho aur Nacho (cheese nachos), Zarka Hummus, Des Pardes Salad, Armaan Paneer, Kamal Ka Chicken Burger and Alfredo, Bravo, Charlie (fettuccine Alfredo).
After great deliberation, we decided to try Nacho Aur Nacho as a starter, which was quite tasty, and not overloaded with toppings. For our main course, we tried the Akmal Fish and Chips, which comprised boneless fillet lightly marinated in batter and fried crisp. From the description, I had visualised the English-style fish and chips, but what came was a completely desi version, full of masala, and not to our party's taste.
The other entrée we ordered was Afredo, Bravo, Charlie, which was delicious — the mushroom sauce just creamy enough and not too smothered in cheese. The other item our party of three ordered was Pyari Pyari Chicken Wrap, comprising peri peri chicken served with Mexican salsa, wrapped in pita bread and served with fries.
Unfortunately for my friend, who ordered it expecting it to be extra spicy, the salsa had been replaced with ketchup since she had requested that she didn't want any hint of coriander in her dish —apparently their salsa was already mixed with it. The result was too sweet for her taste, though I found it appetising enough.
For dessert, we tried the Barbara Brownie, which was not as exciting as its name.
On the whole, the concept of the eatery is great and it has quickly become popular for private parties, conferences, launches and discussions. However, a little more attention needs to be paid to the food, and in spite of its unusual location, it could become as popular as, if not more, than eateries on the other side of the bridge.
The writer is a freelance journalist based in Karachi. She also works at Hum television.
Next