Foot in Mouth
Many of Bata's customers were agog to see the poster of Bata's most recent ad campaign, first displayed in Packages Mall in Lahore, and later uploaded on social media. The poster depicted an attractive man striking an elegant pose, with the shockingly inappropriate punchline: 'Womanizer & comfortable with it.' Almost immediately, Bata Pakistan faced a backlash on social media, particularly on Twitter, for its "creative advertising," which many saw as outrightly misogynist. Furthermore, the global footwear giant was compelled to issue an apology after receiving severe criticism from all over Pakistan for its sexist advertising.
Ain't No Mountain High Enough
In May 2017, Samar Khan, a 25-year-old Pakistani biker and mountaineer, climbed an unscaled peak in Arandu, near Skardu, Gilgit-Baltistan (GB), and after trekking 6,250 metres to the top and pitching the Pakistani flag there, named it after herself  — the Samar Peak.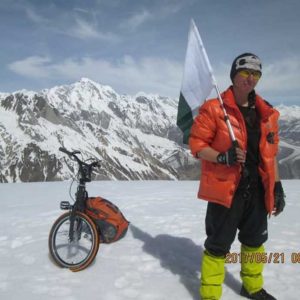 She arrived in Skardu in mid-May with a team of fellow mountaineers, Ali Ahmed Khan and Taqi Sarwar, and cycled to the base camp in Arandu area of Shigar district. From there, along with her team, she started the climb to Burbucho peak that had hitherto been considered unconquerable by trekkers and mountaineers. After six days, the team scaled the summit, and Khan became not only the first Pakistani, or the first woman, but also the first individual to do so.   
Earlier, while talking to media persons, the adventure enthusiast had expressed her desire to scale the peaks of GB, and create a precedent by being the first person to cycle there — and did just that.
Originally from Lower Dir, Khyber Pakhtunkhwa, and now a resident of Islamabad, this is not Samar's only feat. In 2016, Samar cycled on the Biafor Glacier after travelling from Islamabad to Khunjerab and Skardu.   
Real-Life Heroes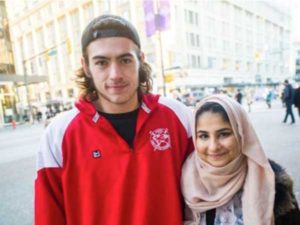 On December 6, 18-year-old Noor Fadel, was travelling on the Canada Line, a Vancouver train, when a man approached her without warning. He began hurling racial slurs, using extremely offensive language against her and then proceeded to slap her. Not a single person stepped in to help Noor. The assailant continued to shout that she should return to her own country and that he wanted to kill all Muslims. He then tried to force Noor's head towards his crotch, attempting, in the process, to tear off her hijab. While the other passengers just sat and watched, one of them, Jake Taylor, stood up and shoved Noor's assailant away. He then remained with her for the rest of the journey, and thereafter both met with the Transit Police. Fortunately, Noor had snapped a picture of her attacker, 46-year-old Pierre Belzan, who was later arrested and now faces a charge of sexual assault.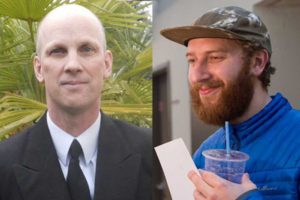 On 26 May, 2017 on a Max Light Rail train in Portland, Oregon, a self-professed white supremacist, stabbed Taliesin Myrddin Namkai-Meche, 23, and Rick Best, 53, and then proceeded to slash their throats, as they tried to protect two teenage girls from his aggressive anti-Muslim slurs. Both men succumbed to their injuries. Jeremy Joseph Christian, 35, wounded a third passenger as well, whose injuries, fortunately, were not life-threatening.
Probably terrorised and traumatised by what they witnessed, the women left the scene, and the police were compelled to send out an appeal to them to come forward and provide testimony against Christian. He was subsequently arrested and charged with double murder and hate crimes.
The two Portland heroes had much to lose: Namkai-Meche, was a Reed College graduate in economics, working for a local consulting firm, and Rick Best was an army veteran and father of four. The hate-fuelled attack shocked the Portland community, and was widely condemned. It has been seen by many as a sign of rising Islamophobia in the West.
Lady Braveheart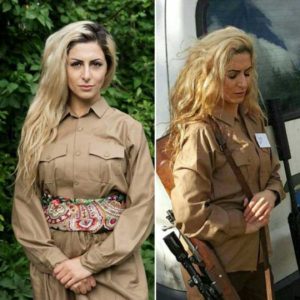 Meet Joanna Palani, the Danish student with a million dollar bounty on her head by the IS, for killing 100 of their comrades. In 2014, Palani then 23, was a student of political science at the Copenhagen University, but dropped out to join the Kurdish Peshmerga — the military forces in Iraq and Syria fighting IS militants. Born in a refugee camp in Iraq, she fired her first gun at the age of nine. Palani says she responded to the call to arms because of her Iranian-Kurdish heritage and also because she did not want IS terror to spread to Europe.
Trained as a sniper, Palani became a crack shot picking off, it is said, a 100 jihadis with her Russian sniper rifle. She also trained female fighters for the frontline. When she returned to Denmark in 2015, the Danish authorities banned her from returning to the region — a travel ban that is part of the country's anti-terror laws — but Palani defied the strict ban and rejoined her Kurdish unit fighting IS in northern Syria between June and October 2016.   
Now not only is she in hiding from the fanatical IS, but is also facing arrest in her adopted country, which labels her as a terrorist for breaking the law. She says she has lost everything for her cause.
Staging Harsh Reality
Inspired by Mukhtaran Mai's life story, a US opera, 'Thumbprint,' premiered in Los Angeles in June  2017. Although first staged in 2014, this year Mukhtaran Mai travelled from her remote village in Meerwala to the US to attend the opera for the first time. Mai later stated in an interview how emotional it was to watch her painful ordeal being recounted, but felt courage as the story progressed to show her defying the odds and her attackers, rather than enduring a life of shame and stigma.
But, 'Thumbprint' ends with Mai's rapists being sentenced to death, when in reality she said, all four of them, including the two village elders who ordered her rape, lived across her house, with immunity. She said she continues to endure their taunts and catcalls. In a strange twist of fate, the children of her rapists attend the schools Mai opened with compensation money she received. And some daughters' of the village elders behind her rape have sought refuge in a shelter she runs. She said, however, that it was tiring to be constantly pointed at for what was the most painful episode in her life and asks why people don't interview or point fingers at the people behind her village council-ordained rape.
A True Believer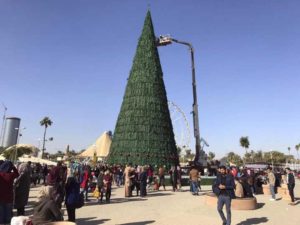 A Muslim businessman, Yassir Saad spent $24,000 (£19,000) to erect a giant Christmas tree in Baghdad to demonstrate solidarity with the Christians of the country and to help Iraqis 'forget their anguish' over the war against IS. The 85-foot artificial Christmas tree, with a 33ft (10m) diameter, was lifted upright with the help of a crane in Baghdad's al-Zawra Park.
Iraq's Christian community has been persistently persecuted since 2003. When IS took control of Iraq's second-largest, and once most diverse city, Mosul, extremists marked Christian homes and issued a threat: leave the city, convert to Islam, or face death. The very few Christians who remained in the city were also forced to pay a jizya tax.
King of the Jigri Jungle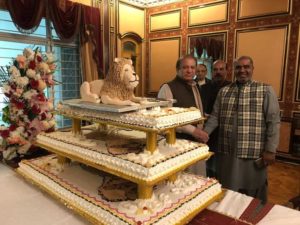 While our ex-Prime Minister Nawaz Sharif shares the same birthdate as Mohammad Ali Jinnah, there is little else he shares with our founding father, especially in the matter of humility. This was glaringly evident in a series of pictures of his Jati Umra residence that made the rounds on social media a few years ago. The pictures showcased a home gilded with gold, and a collection of stuffed adult lions. And to prove that even post-Panama nothing has changed in terms of conspicuous consumption, on his 68th birthday he was feted by sycophantic followers and friends with outlandishly huge bouquets of flowers,  extravagant gifts, including several cakes, one with a lion head and another a tiger head not to mention a three-tiered, 1000-pound cake, topped with a lion made of fondant.
Of course, no one except for his family, friends and close followers would have been privy to this information had former first daughter, Maryam Nawaz, not felt the irresistible urge to flaunt it on Twitter. Which lead to an instant backlash on the wastefulness and arrogance of the former first family. Another Twitterati peeve was a cake with an image of the Quaid at the centre, flanked by Nawaz Sharif and Maryam on either side.
The writer is working with the Newsline as Assistant Editor, she is a documentary filmmaker and activist.
Next