The Adventure is Out There
Find My Adventure, Pakistan's first online tourism service portal, with offices in Lahore and Karachi, was founded in February 2016.  The founding members – Syed Haider Raza, Khawaja Raza Abbas, Komail Abbas Naqvi, Shozab Naqvi, Husnain Malik and Ali Yousuf – are a group of friends who graduated from Lahore University of Management Sciences (LUMS), and left their corporate jobs to explore the unchartered union of technology and tourism.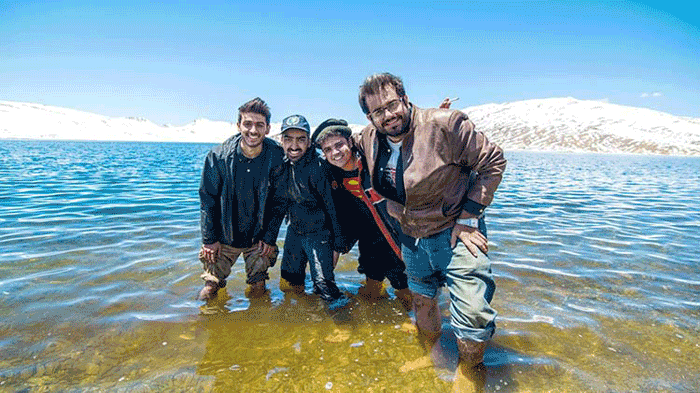 The young entrepreneurs tapped into the upsurge of tourism in Pakistan, and created a medium through which travellers can search and compare locations, reviews and prices, as well as book activities and trips from the numerous listings and pre-arranged tours all across Pakistan. Find My Adventure operates like a new-age travel agent, providing user-oriented facilitation of travel booking and planning.
The Find My Adventure team has made sure the venture is accessible to all income backgrounds, as Husnain Malik, co-founder and director of marketing stated, "Our travel experiences can be customised for any type of budget; our services have packages for backpackers, university students, low-income consumers, and our day-trips are fairly cost-effective too."
Having visited various places in Pakistan during their undergraduate studies, the Find My Adventure team are all avid travellers, and are committed to their journey in showcasing Pakistan's best. By collaborating with local vendors and small business owners, the founding members aim to portray the country's culture and heritage in a positive light. "We love working with all our vendors and are proud to play a part in helping them," said Malik. "We're planning on bringing local souvenirs onto our portal for online shopping, and starting ecological awareness campaigns in some of the more popular tourist regions, to bring to light the importance of environmental conservation. The support of local businesses in such ventures is crucial, and we are confident we have it."
A joint effort between Wormhole Productions, a production company and Find My Adventure, documenting traveller Rachael Parish's journey through Pakistan, produced a video which garnered over 100,000 views on YouTube, and more than 500,000 views on Facebook. The views, along with a following of over 75,000, and a Facebook rating of 4.8 out of 5 stars, Find My Adventure's online presence has established it as the premier online travel service amid growing competition.
While they are keen on expanding, the Find My Adventure team are adamant about not losing the unique model of personal interaction with customers that has set its service apart. "The tourism industry requires time and trust, and we feel personal interaction is most conducive to the delivery and facilitation of great experiences. We're working on more culturally immersive experiences facilitated through locals, as well as introducing a whole range of budget-friendly micro-trips and short activities."
One's Trash, Another's Treasure
GarbageCAN was founded by Ahmed Shabbar in 2016, shortly after his return from the United States to Karachi, his home. The social enterprise's main service focuses on tackling the mounds of trash on the streets of Karachi by either recycling it, or getting rid of the waste in an environmentally-friendly manner.
The physicist and mechanical and energy engineer came fresh off his successful work experiences at Reed College, where at 18, he was one of the youngest Pakistanis ever to work at the Reed Research Reactor — a nuclear reactor run entirely by students — and then went on to win NASA's Texas Space Grant Consortium. However, while one would have expected his not inconsequential achievements to have been lauded, Shabbar was instead subjected to institutional bias and paranoia: in post 9/11 USA, a Pakistani physicist who worked with a nuclear reactor could not be trusted.
Nonetheless, undaunted by the discrimination, Shabbar went on to pursue his second bachelors in mechanical and energy engineering, from the University of North Texas, and then shifted his focus to working on alternate and renewable energy. Keen to give back to Pakistan when he returned, Shabbar devised a project which provided both social impact and sustainability. Soon thereafter, he launched operations and gained a following of over 30,000 people, and an outreach of hundreds of thousands. Said Shabbar, "I came back in January 2016, and while driving around, began to wonder why there was this huge trash problem. Then I saw these Afghan street kids who were foraging items from the garbage dumps, and I followed them; I followed the trail."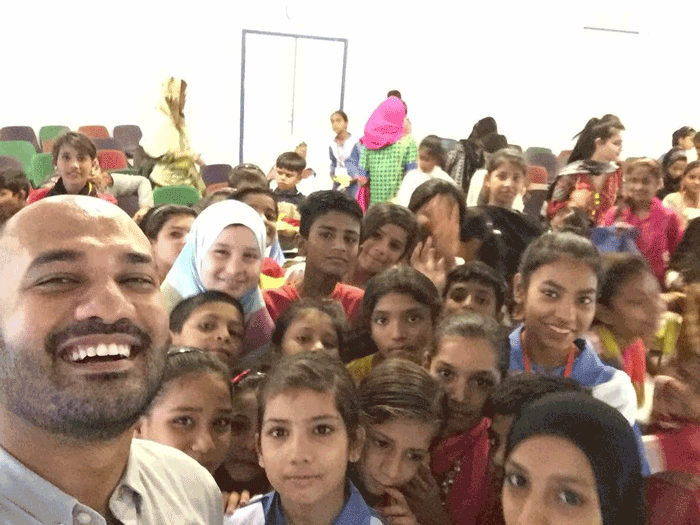 Shabbar learnt that the recyclable trash was transported and sold in Korangi and Jam Chakra — where garbage is regularly brought and discarded — and then in the Afghan settlements on the outskirts of Karachi.
"Lower income backgrounds and colonies are aware of the value of recycleable trash," Shabbar said. "Selling up to one or two kilos of trash provides the people that don't know where their next meal is coming from, a form of income." Ahmed Shabbar thought of combining cleaning up the city with a renewable, sustainable project – i.e having people collect the recyclables, selling them, or creating new products out of the trash. "I had not worked with waste management before, but at the nuclear reactor there was nuclear waste. Also I interned at a hospital where there was chemical and medical waste to deal with, and the project for NASA, involved pollution, as I was working on a system to remove carbon dioxide from the airstream."
Utilising the knowledge he had garnered from his work experiences, Shabbar created a business model which currently provides recyclable item pick-up services, from homes, places of work, industrial units, etc. with the cost varying based on the distance from GarbageCAN's storage facility to the pick-up location and the weight of the recyclables. Should the weight of the recyclable trash exceed 20kg, GarbageCAN offers to buy the trash.
While it does not operate as a non-profit, GarbageCAN does conduct awareness campaigns and interactive sessions with professional and educational institutions. The very first awareness session GarbageCAN conducted was with Deaf Reach,  a non-profit educational organisation that provides training and education for deaf children. Shabbar noted the students were incredibly receptive to the session and presentation, and it bolstered his aim to work with educational institutions. He went on to do so with SZABIST, Behbud schools, The Dawood Foundation and many more.
However, not all the campaigns were conducted seamlessly. GarbageCAN collaborated with Karachi University for six months, during which they cleaned parts of the university for their Convocation. However, later in the year, Shabbar was physically accosted within the university for cleaning up. "There is a literal waste mafia, who know the value of recyclables. They have their own yards of trash in kachra mandi and sell it forward for up to Rs. 50,000,Rs. 60,000," said Shabbar.
In spite of the setbacks however, GarbageCAN has continued to work with organisations such as SIUT, BBQ Tonight, and the Dawood Public School. The CEO, Shabbar, is also focusing on research and development (R&D), one of which includes plastic pyrolysis; one solution to solve the three problems of pollution, excess trash and energy shortages.
Health First
South Beach Clinics, a health and wellness centre established in 2009 in Karachi, sought to rebrand the idea and disciplines of alternative medicine and the concept of 'wellness' within Pakistan. Dr. Sarwat Imran, the leading certified healthcare professional at South Beach Clinics, established the division of Weight Loss Pakistan in 2012, working in the field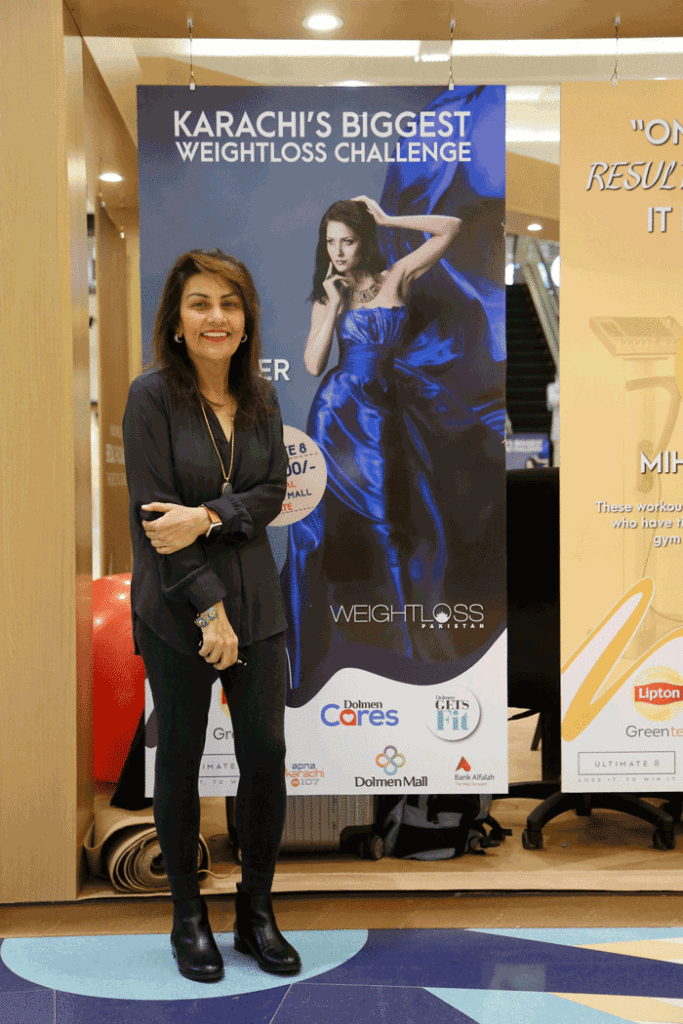 of nutrition, weight and obesity issues. The personalised health programmes the company offers are specifically designed to suit all genders, lifestyles, age and income demographics. With the success of Weight Loss Pakistan, Dr. Sarwat started another division, Welcorp, an intensive Corporate Wellness Programme launched in 2015, and So LoCal, a line of healthy and nutritious meals launched in 2017, for healthier, sustainable living.
So LoCal provides a range of eco-packaged and nutritionist-approved take-away or home-delivered meals that are home cooked in a quality-controlled environment. "The ingredients in the meals we provide in So LoCal are all locally sourced. We don't add anything that would be hard to access for the mass consumer." With its
four, eight and 12-week packages, So LoCal has created a long-term food schedule which trains its clients with portion control while simultaneously providing delicious meals for lunch and dinner.
After founding her own dental practice, Dr. Sarwat & Associates, the doctor diversified into health coaching, and completed her certification in New York, following which she launched Weight Loss Pakistan which now has a following of nearly 400,000 in several cities, including Karachi and Lahore.
Working alongside Tayyaba Khan, the UK-certified programme director and nutritionist for both, the South Beach Clinics and Weight Loss Pakistan, Dr. Sarwat set out to create healthier habits in the average Pakistani. According to her the most important part is the client's will to change: "Society is by and large inert,  and so to get rid of this inertia, they need to be mobilised."
Weight Loss Pakistan provides personalised weight loss, health and lifestyle change programmes with a professional consultancy and counselling. By tackling both the emotional and physical needs of maintaining an individual's well-being, the service works on a holistic model that is conducive to long-term health.
Welcorp offers corporate wellness solutions for both company and students. Welcorp's recent projects include a lecture at the Karachi Grammar School (KGS), where Dr. Sarwat and her associates spoke on eating disorders, stress in high school and corporate life. "Traditional speaking styles no longer work," Dr. Sarwat noted, and went on to detail the interactive session, in which she spoke to nearly a thousand students about different ways to incorporate "mantras (affirmations) of wellness into their everyday lives."
By merging both the divisions, So LoCal and Welcorp, Dr. Sarwat also tackles projects in evaluating and auditing kitchens in professional organisations. They analyse the food on offer, and provide a nutritional chart made by licensed software. Most recently, Engro's cafeteria underwent a 'nutrition makeover.' "The business provides a recipe book, visual rebranding and awareness about hygiene, and so, promotes wellness," said Dr. Sarwat.
The success of Dr. Sarwat Imran's venture into alternative medicine for a healthy lifestyle can be gauged by the reception to Weight Loss Pakistan's Ultimate 8 Weight Loss Challenge, a fitness challenge for the masses. The challenge stated that whoever lost the most weight within eight weeks would get Rs. 5,000 as a reward. The overall statistics: over 200 people from all over Karachi lost up to 1300 kg in total. "Having someone call in those on the challenge weekly to follow up on their weight chart, or having people come into the clinic creates accountability," said Dr. Sarwat. "But ultimately wellness comes from an individual's will to lead a healthy lifestyle."
Doctors at Your Door
Find My Doctor, Pakistan's first online healthcare site and mobile app, is on its way to revolutionising the medical industry in Pakistan – which is exactly what Saad Siddiqui, the app's founder and CEO, intends. Having graduated from SZABIST in 2015 in the Social Sciences Programme, Siddiqui merged his entrepreneurial skills with his social awareness to single-handedly establish Find My Doctor in January 2016.  The start-up began with an online directory of nearly 1,800 certified doctors within Karachi with details of their specialisation, qualifications, availability and fees.
Not long after the mobile app was launched, Siddiqui changed his business model to address the discrepancies that exist in medical services available – or otherwise – for  people from different income backgrounds. The aim: that Find My Doctor would provide solutions to the problems present in the healthcare community. "We ignore important services like education and healthcare. This is why I wanted to create something that is reasonable, and available at one's doorstep," said Siddiqui. Currently, the website offers bookings for doctors' appointments online or through a phone call. Following that, 'Doctors At Home,' a mobilised service with P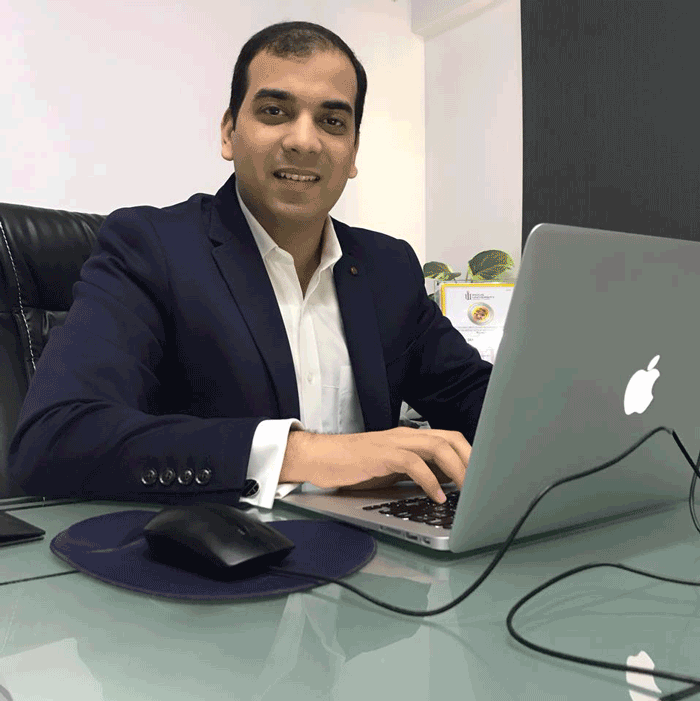 MDC certified general physicians, provide consultations at patient's homes. And alongside there is the home delivery pharmacy and lab testing.
Find My Doctor officially collaborates with Essa Laboratory, NIBD Hospital, National Medical Centre, Hussaini Hematology and Oncology (Trust) and the Hashmani Hospital for 'Lab Tests at Home,' and have their own team of phlebotomists on call, so every test carried out goes through a series of quality control checks. Determined to change the way healthcare is provided in Pakistan, Saad Siddiqui, as CEO, is intent on making sure every patient-practitioner's experience with Find My Doctor is a satisfactory one. "What is usually a two minute meeting between the patient and the consultant at a normal clinic or hospital, is vastly different with the Find My Doctor," said Siddiqui. "On average, there is a 15 minute consult, with the general physician at home." Find My Doctor charges Rs. 500 for an at home service (such as lab tests) and have an alternative payment plan through their   health card which is worth Rs. 599. Upon purchasing the card, one can request house-calls upto four times, and receive discounts on lab test and medicines.
And even with the competition rising in the market of online healthcare, Siddiqui refuses to increase his services' prices. Consultation service charges at Find My Doctor range from Rs. 1,000 — 2,000, whereas competitor apps are pricing their consultation charges at up to Rs. 4,000. "Find My Doctor is all about convenience," said Siddiqui. "And as a result we get calls from all over Karachi, and from all income backgrounds." Today the website and app have a following of nearly 40,000 people, a rating of 4.1 out of 5 stars on the Google Playstore, and 4.3 out of 5 stars on Facebook.
While the healthcare app's primary focus is on its services, Siddiqui has made sure its attention to social work for the community does not lag behind. In October, through a free health check up session arranged at Dolmen Mall in Clifton, Find My Doctor administered more than 4,000 check-ups with renowned doctors. With its initiatives such as the Road Safety Awareness Campaign, Winter Clothes Drive, and free check-ups, Find My Doctor works on educating the public and creating awareness about healthcare.
With its increasing popularity, Find My Doctor set out to raise funds for its expansion, and succeeded in doing so, obtaining an impressive $200,000, to enhance its set-up in other cities, such as Hyderabad, Sukkur, Islamabad, Rawalpindi and Lahore, and expand its range of testing services to x-rays, ultrasounds and more.
Next