Diplomatic sources confirm that COAS Qamar Javed Bajwa's November 6 meeting with Iranian President Hassan Rouhani, in Tehran, had a two-pronged agenda. One was to ensure cooperation over missile and space technology; the other, to address Iranian concerns regarding Pakistan's role in the Saudi-led Islamic Military Counter Terrorism Coalition (IMCTC).
General Bajwa's Iran trip came after news spread in diplomatic circles that Saudi Arabia is pushing Pakistan to increase its involvement in Riyadh's security. This was eventually reported by the media, shedding light on Pakistan's role in the IMCTC.
Iranian concerns can be traced back to December 2015, when the IMCTC was conceived by then defence minister and now Crown Prince, Mohammad bin Salman. It was immediately followed by the execution of Shia cleric Sheikh Nimr al-Nimr in the following month, prompting then COAS General (R) Raheel Sharif and then prime minister Nawaz Sharif, to mediate between both countries, in January 2016.
The more immediate concern for Tehran, however, stems from the visible increase in Saudi-Pak military drills, after Saudi Deputy Defense Minister Mohammad Bin Abdullah Al-Aysh's visit to Rawalpindi on August 9, 2017.
October 2017 was headlined by the Al-Saman 6, a three-week joint military drill with the Saudi Royal Land Forces, which focused on ambushing, combat patrolling, the use of live ammunition, and IED training. Al-Saman 6 was preceded by General Bajwa's meeting with Mohammed bin Salman on the sidelines of a 'counter-terror' conference in Riyadh.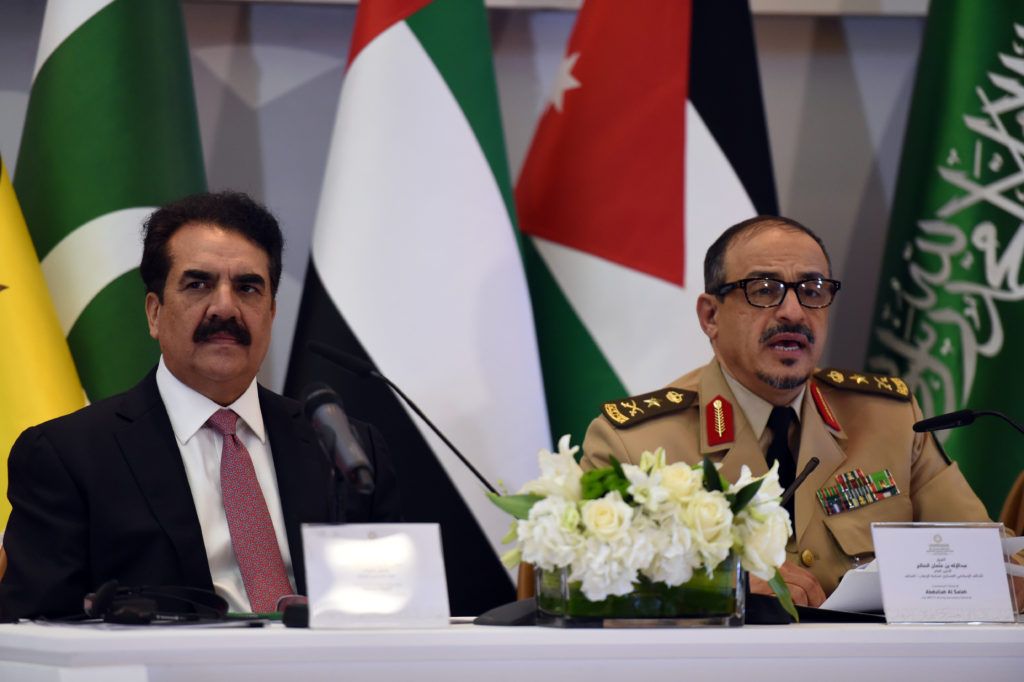 A Senate session in Islamabad on November 24, 2017, underscored that concerns regarding Pakistan's involvement in the IMCTC are not limited to Tehran alone. The upper house criticised both the civil and military leaderships for not taking the parliament on board when deciding on such a crucial matter.
"Why was the army chief sent to Riyadh before the Terms of Reference (TORs) had been finalised?" asked PPP's Farhatullah Babar. "TORs for participation in the alliance should have been shared with the Senate before any decision was taken," he added.
However, the IMCTC TORs issued on November 26, addressed these concerns.
"It is up to the member states to decide the extent of their participation in the coalition," reads a part of the TORs, underscoring the importance of providing necessary military capabilities, "to ensure that terrorist organisations are weakened, dismantled, eliminated and deprived of the opportunity to reorganise."
"The TORs would allow Islamabad to come up with a balancing act in its relations with Saudi Arabia and Iran," says former foreign minsiter Khurshid Kasuri. "When I was the foreign minister, this was an absolute constant. Yes, sometimes it's not easy because there are geopolitical developments that can be tricky, but not preferring one over the other is etched in Pakistan's foreign policy rulebook."
Security analyst Lieutenant General (R) Talat Masood, a former secretary of the Ministry of Defense Production, underscores that it is important to understand the difference between Pakistan's role in the IMCTC and its bilateral agreement with Saudi Arabia.
"Pakistan is contractually bound to guard the Saudi territorial integrity — that is our bilateral agreement. But the IMCTC isn't designed to cater to Saudi domestic affairs, but is a united front of Muslim countries to counter terrorism. So the two shouldn't be conflated," says Masood.
Even so, the fact that General (R) Raheel Sharif is commanding the IMCTC, means that Pakistan is regarded as much more than just a coalition member. Islamabad's collaboration with Riyadh, on military drills, nuclear technology and the presence of Pakistani troops in proxy wars in Syria and Bahrain, has brought the former general's role in the limelight.
A retired military official maintains that General (R) Sharif's participation in the IMCTC was personally requested by the then defence minister Mohammad bin Salman.
"Considering the ousted prime minister Nawaz Sharif's personal obligations to Pakistan, he was even willing to send Pakistani troops to Yemen," he says. "Nawaz Sharif was personally hopeful that Raheel would say yes to the IMCTC, to enhance Pakistan's involvement in the coalition. But of course the final decision was made by Raheel himself."
However, Lt Gen (R) Talat Masood says Raheel is working in a personal capacity and his command over the IMCTC shouldn't be seen as official Pakistani policy. However, he contends, "It is understandable why it might be interpreted as such."
It is due to this conflation, and question marks over the IMCTC's sectarian inclinations, that General (R) Raheel was considering quitting the coalition in July 2017.
Multiple military sources claim that the fact that Raheel has not quit, proves that there is no sectarian tinge to the IMCTC, and that he would not be leading it had that been the case. The former general's current role is to enhance the armed capabilities of the Saudi forces, which would eventually overlap with forces of other countries, as and when they join the coalition.
Shamshad Ahmad, a former foreign secretary of Pakistan, says the 'Muslim NATO' can actually help heal the fissures in the Muslim World.
"Instead of aggravating existing divides, the IMCTC can help overcome them," he says. "It should function like NATO, where member states are bound to protect another member state from any form of aggression.
"Look at what [US President Donald] Trump's decision regarding Jerusalem is threatening to do in the Middle East," continues Ahmad. "It is action to forestall these kinds of decisions and protect Muslim interests all over the globe that the IMCTC should vie to achieve."
Next