In Pakistan where Benazir Bhutto became not only the first female Prime Minister of the country, but the first in the Muslim world, seven successive governments since 1983 have brought no significant change in the status of women through the women's limited representation in the National Assembly (NA), the Senate and the four provincial assemblies. 
The 342-seat current NA includes the 60 reserved seats for women (and 10 for minorities), which are to be proportionally filled by those parties who gain more than five per cent of the vote. Of these, 33 reserved seats are for Punjab, 14 for Sindh, nine for Khyber Pakhtunkhwa (KP) and four for Balochistan. 
The 272 seats in the NA are filled through direct elections. For a party to nominate a woman for a reserved seat, the formula is complicated: one reserved seat against 4.5 general seats won by a party. 
Prior to the general elections, political parties are required to submit, in order of priority, the names of their female candidates for these reserved seats for the NA as well as for provincial legislatures. 
In May 2018, the Election Commission of Pakistan (ECP) introduced a few landmark decisions in the Election Act 2017 to ensure an increased inclusion of women in the legislatures and well as in the electoral process. All parties are now bound to allocate five per cent of the tickets for general seats to women. This is one of the mandatory prerequisites to acquire their election symbols.  
The new election provisions in the election rules are aimed at addressing the endemic socio-cultural and economic barriers that have traditionally restricted Pakistani women's political participation. The discriminatory trends are most visible in certain parts of the country, where women are forbidden from voting.  
The new rules would have been even more impactful had the original proposal of giving 10 per cent of the general seats tickets to women gone through. Parliamentary parties failed to agree on this. The Jamiat-i-Ulema-i-Islam-F (JUI-F) and the Jamaat-i-Islami (JI) opposed the 10 per cent women's participation suggestion proposed by other parliamentary parties. These two parties were determined to keep the cap on women's participation at five per cent. JI leader, Tariq Ullah, told Dawn that, "One should not be forced to take part in polls, especially women."
The immediate outcome of the five per cent quota for women for the general seats has been that a record number of women candidates from major political parties are contesting for legislative seats. It led to some major catfights in all parties, among some female party workers whose names did not make it to the list. 
The PML-N was the first to be hit by the protests when their list of women candidates on reserved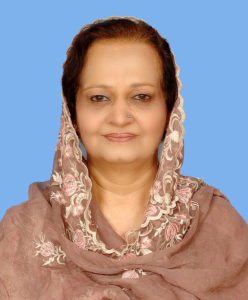 seats for the NA and the Punjab Assembly was revealed. Although the PML-N was only following its usual practice of nominating family members of the most senior party leaders, this time round the lists caused antagonism among the rank and file female party workers, who questioned the selection criteria for awarding the election tickets to the chosen few.   
Heading the PML-N reserved seat list for the NA is a mother-daughter duo: Tahira Aurangzeb at number one with her daughter, former federal information minister, Marriyum Aurangzeb, at number four. Shaista Malik, wife of former commerce minister Pervez Malik is at number two. Former foreign minister, Khawaja Mohammad Asif's wife, Musarrat Asif Khawaja and niece Shaza Fatima Khawaja have also been awarded tickets. Zahra Wadood Fatemi, wife of Tariq Fatemi, former special assistant to the PM on Foreign Affairs, has been given a NA party ticket once again.  
Three immediate female family members of former deputy speaker, Chaudhry Jaffar Iqbal, are also found among the top of the NA reserved seats list of 27: Zeb Jafar, his daughter; Maiza Hameed, niece, and Ishrat Ashraf, wife. Additionally Begum Ashraf has also been accommodated on the women's seats for the Punjab Assembly at number four. Rida Khan, daughter of the PML-N Senator, Mushahidullah Khan has been given a ticket for the second time; Kiran Dar, ex-MPA Punjab Assembly and sister of a Nasir Dar party member in the Kashmir Legislative Assembly, and Ayesha Ghous Pasha, former MNA and wife of notable economist, HafIz Pasha, were also gifted tickets.    
A long-term PML-N female party worker, Naseem Malik, complained on a television talk show that favouritism was obvious since about 12 nominated women candidates were either wives, or immediate relatives of senior party members and those closest to the party supremo. She said that while some of the women candidates were being given the MNA reserved tickets again, several of the first-time candidates called for an interview were total unknowns. Naseem and other diehard workers also questioned the performance of some female MNAs and MPAs of PML-N who had not spoken in the assemblies in years.  
According to the ECP rules, once priority lists are submitted, they cannot be altered after the last date of the submission of nomination papers. Thereafter seats will be allotted to the nominees as per submitted lists. However, strangely enough, three prominent PML-N women leaders have been excluded this time from both the reserved seats list as well from the general seats quota. They are Marvi Memon, Chairperson BISP, Laila Khan, former minister of state, and Anusha Rehman, former federal minister for information technology and communication. Rehman had the sole authority to issue party tickets to women in 2013. Apparently Maryam Nawaz wanted Rehman's name dropped for her alleged role in the Namoos-i-Risalat issue. Incidentally, Anusha Rehman played a major role in the passage of the Elections (Amendment Act) of 2017.
The original purpose behind the concept of women's reserved seats seems to have been forgotten by politicians. It was initially put in place to give an opportunity to experienced and qualified women to enter the political mainstream, who otherwise lacked the resources, under the current electoral system, to fight an election seat. The purpose was to bring deserving professional women into the assemblies to be heard and to play their part in beneficial law-making and enrich the parliament with their expertise and vision.   
Instead, women's reserved seats are being doled out to political families who toe the party line. One glaring example of this was when the Domestic Violence Bill was presented in the National Assembly; the first parliamentarians to protest against it were the PML-N women because their respective husbands and relatives were against it.
In the 2013 elections, PML-N had not issued a single ticket to women for the general seats. This time, in keeping with the 2018 mandatory elections laws, they have nominated 11 women, out of which nine will be contesting elections on general seats for the NA from Sindh against established politicians.
The PML-N list includes Mukhtiar Naz Dharejo of "Pakistan's Toughest Woman," fame who had challenged criminals in her areas. She will be contesting from NA-214 (Benazirabad II) against Ghulam Mustafa Shah, a senior PPP leader. Other candidates include a Hindu woman, Neelam Walgi — the first woman from Umerkot to contest the general elections against PPP's Nawaz Yousuf for NA-220. She is also contesting for the PS-52 (Umerkot) on the PML-N's ticket. Sorath Thebo, who served in the Sindh Assembly as PML-N MPA on a reserved seat between 2013-2018, will now be contesting from PS 83, Dadu, against PPP's Abdul Aziz Junejo. Asifa Riaz will be contesting, against PPP's Saleem Arain for PS 65, Hyderabad and Mariam Bai for PS-51 Umerkot against former culture minister Syed Sardar Shah of PPP.  
Similarly, the six women candidates fielded by the Awami National Party (ANP) for general seats of the NA and the KP provincial assembly are all contesting from Hazara division. Keeping in view past poll results, no one seems to have a chance of winning. Irum Fatima, who had contested in 2013 from NA-19, now renamed NA-17 the same constituency, was defeated in the polls by PTI's Raja Aamir Zaman.  
Accusations of favouritism against the PTI — the party of change — also emerged as soon as the party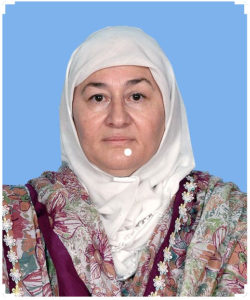 submitted a list of 18 'priority candidates' for the 33 reserved NA seats for women from Punjab. Topping the list is Dr Shireen Mazari, followed by Munaza Hasan and Andleeb Abbas. Some diehard PTI women activists protested vociferously and violently against the inclusion of several names. They were incensed at being denied nominations, especially since it is alleged there was no proper process followed before the allotment of the reserved seats for the NA and the Punjab Assembly. Reportedly, after the hue-and-cry, the PTI Chairperson reviewed the list himself and decided to amend it after concluding the objections had been valid. In consultation with his counsel, Babar Awan, Imran Khan is said to be making a new list of candidates as per the ECP laws. 
During the 2013 elections, similar accusations were levelled against PTI by several senior female party activists. They alleged that the reserved seats in both legislatures had been given to close relatives of the senior leadership. The 14-member list included the CM's sister-in-law, Nafeesa Inayatullah Khan Khattak and his niece, Sajida Begum, who were allotted reserved seats for the NA. Ayesha Gulalai's close association with PTI KP President, Asad Qaiser, was cited as the main reason for her being awarded a ticket, although she had joined the party only seven months earlier, after resigning from FATA's APML chapter. 
On a brighter note, this time the PTI has awarded six party tickets to women candidates on the general seats for the NA. Four women will be contesting for the first time from seats that have been traditionally contested by PTI men: Ayesha Nazir from NA-162 (Vehari), Fatima Tahir Cheema from NA-168 (Bahawalnagar-III), Khadeja Aamir from NA-173 (Bahawalpur-IV) and Zartaj Gul from NA-191 (D.G Khan-III).  
PTI political stalwart, Dr Yasmin Rashid, has been awarded the PML-N stronghold, NA-125 ticket (previously NA-120) again, which Maryam Nawaz was planning to contest from.  In September 2017, Dr. Yasmin, a reproductive health specialist and once President of the Pakistan Medical Association, had lost to Begum Kulsoom Nawaz in the by-election. The sixth candidate is Ghulam Bibi Bharwana, a seasoned parliamentarian, contesting from NA-115 Jhang-II. Previously she has won two elections, one as an independent candidate and the other on a PML-Q ticket. 
Some PTI men are strongly opposed to women being fielded as candidates in their areas. Meantime, PTI district vice-president, Razaullah Khan, and PTI leader, Taimur Raza of Mansehra district, have threatened to stage a sit-in with their workers outside Imran Khan's Bani Gala mansion unless their leadership withdraws the election tickets awarded to women candidates from their district. PTI has fielded Maria Fatima in PK-30 and Zahida Sabeel in PK-34 in Mansehra district. They claim their traditions do not permit the election of women and that the nomination of these two contenders was unacceptable to the workers. Further they have demanded the withdrawal of women candidates as they say they are un-electable and unless the party gives these tickets to winning aspirants (male naturally), the party will lose the seats.
A very important factor that will have to be kept in mind by all parties is that in order to ensure women's wider participation in the 2018 elections, the ECP has made it conditional that unless 10 per cent of the total votes cast are by women, the results will be considered null and void, and re-elections will be held in that constituency. Not widely reported, this is a revolutionary step. 
Compared to the PML-N and PTI, the 12 NA women candidates on the PPP's list are seasoned politicians, seven of whom will be contesting from MQM strongholds. Compared to other parties, PPP has had a better history of fielding women for direct elections. However, most of them are from the most influential political families of Sindh. 
Faryal Talpur, sister of PPP co-chairperson, Asif Ali Zardari, is contesting from PS-10 Larkana, while his other sister, Dr. Azra Pechuho, a physician, is contesting from PS-27, Benazirabad. Both have served as MNAs during the last term on reserved seats. Former Khairpur mayor, Dr. Nafisa Shah, daughter of former provincial chief minister, Syed Qaim Ali Shah and a central PPP leader, will be contesting from NA-208, Khairpur. Ex-PPP parliamentarian, Shazia Atta Marri, is contesting again from NA-216 Sanghar district, which she had won in 2013 from the Hur Jamaat of the Pir Pagara. She is also the daughter of Ata Muhammad Marri, an ex-MNA and deputy speaker of the Sindh Assembly.  
Shamsun Nisa Memon was awarded Thatta's NA-232 ticket. In a by-election earlier she had defeated Riaz Hussain Shah Shirazi, a member of the powerful Shirazi group of Thatta.  PPP has also fielded seven female candidates from MQM strongholds including Syeda Shehla Raza, former deputy speaker Sindh Assembly, who will be facing PTI Chairman, Imran Khan, from NA-243 Karachi East II. 
Despite all the criticism and the protests, it must be remembered that it is mainly due to the quota of reserved seats that women in Pakistan have had a chance to play an increasing role in the political process and served in political capacities in all the legislatures, however limited. In the 2013 elections, 147 women ran for NA seats and more than 300 for seats in the provincial legislatures from all over the country. This year women are expected to participate in unprecedented numbers after the introduction of special provisions in the new election laws.   
Since gender-segregated data of polled votes became available a few years ago, the 2017 Electoral Roll indicates, as per the ECP data, the total number of registered voters in Pakistan to be 97.01 million. The split between male and female voters is 54.59 million men (56.27%) and 42.42 million women (43.72%) respectively — a 12.55 per cent difference. In the 2018 elections, the ECP is estimating women's disenfranchisement to increase by over another million due to segregation, illiteracy, lack of awareness of their political rights as citizens, lack of NIC, and more particularly, an ingrained feudal and patriarchal mindset in the Pakistani society. The ECP, in collaboration with institutions and NGOs, is striving hard to address the issue of the female population's alienation from political participation. It remains to be seen how successful it will be.
The writer is working with the Newsline as Assistant Editor, she is a documentary filmmaker and activist.
Next