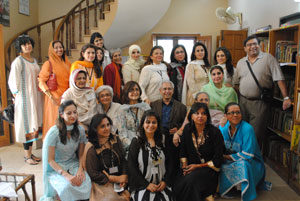 "My teachers thought I was distracted and lazy. I was not an easy student to have in class." Maha* echoed the sentiments of children with learning disabilities worldwide: dejection, humiliation and frustration. Luckily Maha's mother saw the signs early on and her friend Mona Qaiser – the director/educational therapist at READ (Remedial Education and Assessment) for 21 years – suggested Maha join READyslexics for tutorials. Maha credits her teachers and their reserves of patience, for her confidence and achievements today. She is now off to college and has opted for a university where they recognise her disability and are accommodating towards it. Today dyslexia is no longer something Maha is ashamed to associate herself with. It part of who she is.
Shad Moarif, a masters degree holder in Education/Counselling Psychology from Harvard University, returned to establish READ — the first institute of its kind in Pakistan, starting out with just three teachers. As READyslexics completed 25 years of existence, graduating students, clearly emotional about leaving their nurturing cocoon, proud teachers, enlightened parents and the media congregated on the premises of the school to celebrate the pioneer in education for children with learning disabilities.
There is one important fact to remember about dyslexic children: most children with the disability have average or above average intelligence, hence the stereotype attached to the disability, of being in any way inferior, is completely untrue. Dyslexia literally means "difficulty with words." Our brains are not all wired in the same way and since neurological patterns differ, so do processes of generating information. We have set patterns of teaching methodology at local schools, which do not adapt to each child's unique cognitive needs. Shad Moarif restates the importance of trained teachers recognising neurological pathways, signposts and landmarks in each child and "teaching children according to how their minds learn." This is called remedial teaching: it is both incremental and developmental. Shahina Alvi, CEO of READ, narrates an incident with a little girl who would incessantly say "I can't" while performing any task. One day Shahina suggested to the girl that they would have a little burial ceremony. They folded up the "I cant," written on a piece of paper, then dug a hole in the garden and buried it. Students at READ reiterate the commitment behind such gestures: "The teachers at READ never lost patience with me," says a READ alumnae.
There is now increasingly the need to take the expertise of READ to an institutional level, to disseminate information to a larger audience and, more importantly, it is time funds were allocated and partnerships formed with READ in order for this wonderfully evolutionary platform to flourish and reach out to a wider pool of children. The school functions on a rented premises and urgently needs a more permanent location to continue its work.
And if anyone needed to be convinced of the role rendered by READ, a glance at a child's words should do the job. "Kids with special needs are not sick or gross, they only want what we all want: to be accepted…," wrote Amal Kazmi of Class 4A. Food for thought?
* Certain names have been changed at the request of the subjects interviewed.
Maheen Bashir Adamjee is an APNS award-winning journalist. She was an editorial assistant at Newsline from 2010-2011.
Next