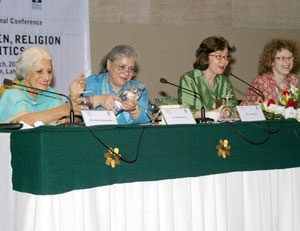 The conference on 'Women, Religion and Politics' on the occasion of 100 years of International Women's Day, organised by Heinrich Boll Stiftung and Shirkat Gah brought together scholars, activists, professors, politicians, students and eminent journalists from across the country and abroad: Turkey, Poland, Germany, Iran, Sri Lanka and the USA. Two days, March 17-18 at Holiday Inn, Lahore, were packed with back-to-back panel lectures, discussions and debate, followed by cultural evenings where the guests were escorted by the organisers to performances by the Ajoka theatre group Kala Maida Bhes and Dukh Darya at the Lahore Arts Council.
Politicians and activists from around the globe recounted personal experiences and hindrances faced in their home countries during their struggle against gender-based discrimination and for democratisation — pooling knowledge to chalk out solutions to stem the tide of extremism and fundamentalism. Magdalena Mosiewicz, a Polish journalist-turned politician who founded the Polish Green Party and became its first co-president talked about the conservative agenda of the Catholic Church, which had pervaded politics and even schools after the fall of the Soviet Union. She spoke of how the church seemed to foster tradition and hierarchy, hence dictating norms through its institutionalised and well-organised structure, including radio and TV.
Pakistanis were reminded of similar institutions in Pakistan, such as the Jamaat-e-Islami and other even more right-wing groups of its ilk, and their ever-growing outreach through madrassas and other mediums such as pamphlets, television and social media. With the statement by Farida Shaheed from her earlier speech, (director of research at Shirkat Gah) of "institutions having links across the polity" reverberating in our minds, many agreed with the conclusion by one of the speakers that "religion sells and it has become a commodity in the market."
Durre S. Ahmed (chairperson and senior research fellow at the Center for the Study of Gender and Culture in Lahore) emphasised the same idea and added that "Feminism is being used in semantic ways," while quoting the example of Farhat Hashmi, a dars (religious lectures) teacher with reactionary views. Professor Homa Hoodfar from Iran brought context to the discussion with her lecture on the history of the Iranian Islamic revolution — tracing the evolution of women's rights and spaces in Iran. Sheen Farrukh, journalist and activist, rightly pointed out how, in the last 20 years, there have been more women in the media but nevertheless, female stereotypes continue to thrive in Pakistan.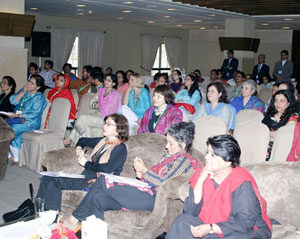 Sahar Gul, an activist and researcher later shared with us disturbing research conducted by her team, which documented messages being preached through various Quranic channels on cable TV. The exhaustive research looked at the behavioral patterns conveyed, pertaining to attributes of a good Muslim, rights of non-Muslims and dress of a "Momina," among others. The session elicited laughter from the audience at the absurdities that were being given airspace. She discovered that in most TV shows history was ignored, superiority of Islam was asserted and there was contradiction in views.
Lawyer, talk-show host and columnist Ayesha Tammy Haq later discussed "where ideas come from," and sourced Professor Pervez Hoodbhoy's talk at The Second Floor (T2F), raising an important question about our cultural evolution and the way our minds have been programmed. We have to use the telephone, internet and social media to spread the liberal perspective, urged Tammy Haq.
Neelum Hussain, a member of the Women's Action Forum spoke on dars (religious lectures) teachers and the inherent authority of dars, the language which is made to be obeyed and the political, anti-west agenda that goes with it. Ayesha Siddiqa presented her research 'Red Hot Chilli Pepper Islam,' earlier published in Newsline, reaffirming latent radicalism in the future generation. The two-day conference ended with a concluding note by Britta Petersen, a speaker at the event and the country director of Heinrich Boll Stiftung, followed by a musical performance by Zeb and Haniya and poetry recitation by renowned feminist poet Kishwar Naheed.
The convergence of liberals, zealous activists and a number of feminists led to riveting discussions, cut brutally short, alas, due to time constraints. Nonetheless, participants came away from the conference inspired by what they had imbibed. The purpose of this enlightening discourse — to address the content in vernacular and mainstream media, to introduce a liberal perspective into socio-political discourse, but most importantly to stem and somehow counter narrow-minded fundamentalist ideas that have been dominating and forming mindsets — certainly had those in attendance wanting to do more. Now to translate the enthusiasm into advocacy.
Maheen Bashir Adamjee is an APNS award-winning journalist. She was an editorial assistant at Newsline from 2010-2011.
Next