In 2011, "lawn" fabric forged a new trend in Pakistan's fashion scene: casual couture.
In 2011, "lawn" fabric forged a new trend in Pakistan's fashion scene: casual couture.
In 2011, "lawn" fabric forged a new trend in Pakistan's fashion scene: casual couture.
In 2011, "lawn" fabric forged a new trend in Pakistan's fashion scene: casual couture.
In 2011, "lawn" fabric forged a new trend in Pakistan's fashion scene: casual couture.
In 2011, "lawn" fabric forged a new trend in Pakistan's fashion scene: casual couture.
Previous
Next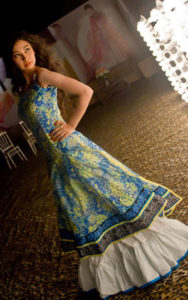 It's official — winter's out, lawn's in. Billboards of lawn exhibitions line our boulevards ambushing us with the season's hip and haute must-have prints featuring fabulous pouty models that give us a faux sense of what an average Pakistani woman will look like in them. The sacredness of lawn fabric in Pakistan is undeniable, for no other cloth could ever cut the soaring summer temperatures in the same way. It is the one commodity that becomes every woman's necessity come summertime, no matter how rich or poor — and for years it has remained affordable for the majority of them.
This year, lawn forges yet a new trend on Pakistan's fashion scene. It has been reborn as a more sophisticated option of clothing — casual couture if you will — with laces and embroideries, chiffon dupattas and satin pattis to give it a new status in the wardrobes of fashion-conscious women. It's not a bad idea, really, considering that lawn is the most popular choice of fabric for 10 months out of the whole year. By offering complementary embellishments with the usual printed fabric, thousands of women can own the same lawn outfit, but customise it to their preference and style — something that has revolutionised the conventional three-piece suit.
The concept of "designer lawn" has been brewing in Pakistan for a few years now. In 1997, Al-Karam launched Sana Safinaz's first line of lawn prints. Ever since then, Al-Karam has dabbled with the idea of designer lawn throughout the years, and celebrating its silver jubilee this year, it has decided to make it an annual feature as a way to rejuvenate its brand image. This year, the featured designer was fashion mogul Umar Sayeed, a name that doesn't require much elucidation in Pakistan. By launching his own lawn collection, Sayeed has, in a sense, designed for the general public — something he explicity says is not his preference or inclination, but felt that it was the right time considering he's been in the industry for nearly two decades. "So whereas not everyone can afford his evening wear, everyone has access to these outfits that are also designed by him," says director of Al-Karam textiles, Abid Umer.
Al-Karam is not the only textile company that has opted to take a designer on board this season. Orient Textiles, a brand new textile company launched this season by lawn veteran Iqbal Ibrahim, has signed Deepak Perwani as Orient's long-term brand designer. Not only has Perwani designed this summer's collection, but he will also be designing their forthcoming collections including the winter and men's lines. "We will continue working with him [Deepak] because the chemistry has really worked. People loved his designs and they loved our fabric. I understand his passion and he respects my vision and this is just the beginning for us," says Ibrahim. When asked about his decision to employ a designer from the get-go of their company's launch, Ibrahim says, "People used to wear lawn at home and casually, but suddenly it's become a fashion statement. So we decided we needed a fashion designer on board who would give us the best possible designs to make this statement. [We believe] our fabric is the best in the market, but then you need the best designs to sell it too."
Another newcomer to join the lawn fraternity is Bonanza, who despite being in the garment industry for several decades, only ventured into lawn this year, albeit without the backing of a high-profile designer. "The trend in Pakistan is that the family goes shopping together, and since we were predominantly a male shopping outlet, the ladies used to feel left out. Hence we decided to introduce lawn for them," says Dr Mohammad Iqbal, head of Bonanza's franchise and branding department.
The company used their own in-house designers to design this year's collection, but are not snubbing the idea of employing a designer for next year given the positive outcomes of this year's designer-labelled launches. When asked about the rumour that Ali Xeeshan had a hand in designing their collection this year, Iqbal says, "Our event manager Freiha Altaf advised us to make a few outfits for our installation mannequins as we didn't have enough space for a catwalk. Thus, she hired his services to design and stitch those four particular outfits for us, contrary to the misleading statements he has been making in the media. No doubt he is a young and talented designer, but if we are to use a designer's name at all, we would like it to be the name of a much bigger designer, because after all that's what seems to be bringing in the profits!" Bonanza is confident that it has left its mark in lawn circles this year: "We've beat our drum this year and created a lot of noise. I have a feeling that next year will be even better, especially with a great designer on board."
Aside from all the hype created by the high-profile designers of these lawn collections, textile companies are smartly employing another tactic to rope in the crowds — using endorsements from models and celebrities of Lollywood and Bollywood, to flaunt even the most ordinary prints in the most extraordinary way. Last year, Firdous created much buzz by getting Bollywood sirens Kareena Kapoor, Riya Sen and Diya Mirza to model their collection. What it cost them to hire their modeling services remains a mystery as they refused to divulge that information, but it seems as though Firdous realised that hiring three Bollywood actresses in one go may have been a little too ambitious and decided to go with just one Indian actress and one Pakistani talk-show host this time — Deepika Padukone and Shahista Wahidi. Also joining their bandwagon this year was Crescent lawn, who not only signed up Sushmita Sen as their model, but promised a "Bollywood surprise" at the launch to ante up the excitement. Obviously, hordes of eager media persons and invitees showed up, hoping to catch a glimpse of her at the launch. But alas, the successful gimmick was nothing more than a catwalk in tune to some of Sushmita's most popular dance numbers with the lawn outfits fashioned around the same lines as the clothes she wore in her songs — fun, but not exactly what the crowd was expecting. Other labels opted for local top models such as Iman Ali and Amna Ilyas to showcase their collections, while already famous people like Vaneeza Ahmed and Nadia Hussain preferred to endorse their lawns themselves.
However, while a celebrity's image does turn heads, it is most definitely the product's quality that will maintain the sales, especially with the increasingly stiff competition. But while some of the newcomers may be feeling the pressure of this saturated market, all textile bigwigs interviewed for this article unanimously agreed that the competition only meant bigger and better things for them. "I am very pleased with the lawn hype because this has been my business for so many years. The way women are chasing lawn — I think it's fantastic! No doubt the race is always going to be tough. There's 10,000 people running and only a hundred people winning, so the weeding out will happen for those who can not protect their brand with good quality. People may come in for the fashion, but they will stay back for the quality," says Ibrahim.
A classic example of this is Sobia Nazir, now in her fourth season of designing lawn, who has faced setbacks due to compromised quality. Last year, many clients complained of colour bleeds, rendering the clothes unwearable after the first wash. "These kinds of things happen all the time when dealing with cloth," explains Zafar Khan, Sobia Nazir's manager. "Sometimes people leave their clothes in warm water overnight, or give it to maids who don't know how to care for the cloth. We have labs that test the chemicals for quality control and our loyal customers returned to our exhibitions this year, regardless," he says. But in web-based designer and self-confessed lawn-addict Madiha Shafiq's opinion, the damage has been done. Shafiq has been exporting lawn prints to Pakistani women abroad since 2006 and says that although Sobia Nazir's prints were well liked and proved to be very popular, her clients preferred not to take a chance with her fabric this year and opted to play it safe with names they trust, particularly Gul Ahmed. I couldn't help but ask about her experience with lawn's most hyped duo, Sana Safinaz. "The thing about Sana Safinaz lawn is that people buy them for their prints and the name, but I don't think their quality is all that superior. And their exhibitions are so badly managed, I actually thought somebody might even open fire on the crowds this year. Personally I think they only print a certain amount on purpose — to get people talking about them. Certainly, given the result, it seems to be a successful marketing strategy," she says. Shafiq may have a good point as, most, if not all, lawn designers claimed their stocks had been "sold out" by the end of their exhibitions.
So will this lawn explosion continue or even grow in coming years? It is probably too soon to predict at this point, but it is worth noting that these exhibitions aren't only improving the sartorial taste of new consumers, but also boosting the country's economy and employment rates — not to mention the fillip to the designers' bank balances.
A survey of the various advertising methods and launch events gives a fair idea of how much money and labour must be involved in each launch. With each billboard easily costing between Rs 12-15 million, plus the fancy invitations, exorbitant set-ups, fresh juices, and swanky models in attendance, each of whom is given their own unique creation to wear to the event, lawn exhibitions are not the spontaneous, casual ventures one may imagine. But for all that goes out, what comes in makes it worthwhile manifold. Consider the statistics: Anywhere from 20,000 to 35,000 women frequent the well-known designers' lawn launches. Rarely do the customers leave with just one piece: at anywhere from Rs 1,800 to Rs 4,500 a suit, do the math. It isn't something to be sneezed at.
As for the voluminous and heavily embellished clothes that seem to reflect the prevalent trends vis-a-vis fashioning lawn, visible in practically all the catalogues, Shafiq predicts these styles are on the downswing. "I don't think the fancy lawn trend will last much longer in Pakistan," she says. "People are already getting tired of it seeing that it is not the most practical thing for bazaar-hopping or even working women. Lawn used to be a comfortable choice of clothing, whereas now it seems more appropriate for lunches and dinners to which you would normally wear chiffons or silks anyway. Abroad however, the trend may continue a little longer because they can wear such clothes year round for almost any occasion," she opines.
That may be true, but if the Bible-esque catalogues featuring finely detailed images of designs are anything to go by, chances are women, many of them novices in the lawn bazaar, will use them as a guide for their wardrobes for some time to come — and tailoring shops around the country are likely to be a testament to that.
Be that as it may, the other trend lawn has spawned, is the larger than life, in-your-face image of the Pakistani woman every textile mill doing lawn now sports on billboards around the country. Clearly, the 2011 Pakistani woman will not be defined only by the chaddar and chardiwari.
Next