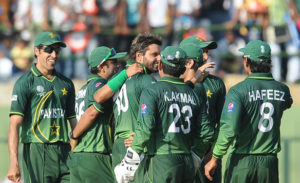 It is close to impossible to rationally assess Pakistan's performance in the World Cup after one of the most gut-wrenching defeats in our history. Long after the tournament is done and dusted, awards handed and champions crowned, every Pakistani who bleeds green will remember only one thing: India beat us in the semi-final.
There are many ways to explain the loss. The chief, and mostly overlooked reason, is that India has a better team than us. Their batting line-up is the most formidable in the world, so much so that it compensates for a bowling line-up that is adequate without being world-beating. In Sachin Tendulkar and Vrinder Sehwag, they have two legends opening the batting with a parade of big hitters to follow. This was a match India was expected to win, and they did.
But, as painful as it may be, there is plenty to analyse about why Pakistan lost. All discussion on that begins and ends with our fielding. Dropping Tendulkar once in the course of an innings is a luxury few can afford; to do it four times is a scandal. After a fielding performance as shambolic as ours, defeat is all but guaranteed. Yes, our bowlers were heroic, Wahab Riaz and Saeed Ajmal chief among them, but India's score of 260 turned out to be too much for our brittle batsmen. Umar Gul chose the semi-final to have his one off day for the tournament, and India cashed in on that.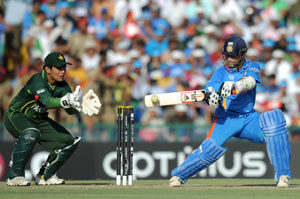 Pakistan's fielding has always been its Achilles heel. Trying to suggest ways to improve something we have never learned in the first place, is all but impossible. What we have never lacked, however, is wicketkeeping ability. From Wasim Bari to Rashid Latif, Pakistani bowlers always operated with the certainty that the man behind the stumps would snatch up any chances. That is no longer the case.
One website calculated that Kamran Akmal had fluffed 86 chances in the last four years. Such a high number is staggering enough; what is truly baffling is that Akmal continues to be chosen in the team. Those who point out that his batting is invaluable do not have a leg to stand on. One dropped catch in a match can be all but impossible to compensate for even with a superlative batting performance. If there is one lesson we learn from this semi-final defeat, or indeed from the World Cup as a whole, it is that there is no place for Kamran Akmal in the team.
Our batting too is uncertain. Pakistan played three opening batsmen in the tournament — Mohammed Hafeez, Ahmed Shahzad and Kamran Akmal — none of whom average more than 30 in ODIs. With averages as low as these, a poor start is all but certain. The middle order of Asad Shafiq, Younus Khan and Misbah-ul-Haq is solid but, as the India match showed, all three are accumulators who find it difficult to up the ante and take the fight to the bowlers. There may be a need to re-jig the batting order and find one slogger who can break up this middle-order monotony.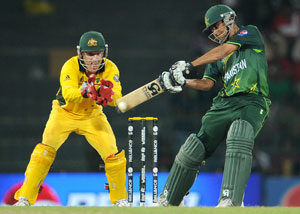 After the intensity of the semi-final, it is easy to forget that Pakistan actually played seven other matches over a month-and-a-half. In part, that was one of the chief problems with this World Cup. There were five weeks of throat-clearing followed by 10 days of frenzied action that rendered the matches that preceded it insignificant.
The format of the tournament was such that Pakistan needed only to defeat the three minnows — Kenya, Zimbabwe and Canada — to ensure a spot in the quarter-finals. That it did quite comfortably, although with a couple of batting scares against Canada. In fact, that match against Canada should have been seen as a warning sign. Our batting, when put under pressure, has the tendency to crumble. Even the unheralded Canadians could pressure them to an extent that our only response was to bat as if in a stupor or collapse recklessly. In that match it was our bowlers, Shahid Afridi chief among them, who ensured a humiliating defeat was averted.
Indeed, Shahid Afridi, who took an astounding 21 wickets in the tournament, was the linchpin of our success against even the top cricketing teams. Our group matches against Sri Lanka, New Zealand and Australia were only of academic interest as far as qualification to the quarter-finals was concerned but these games took on a meaning far beyond their notional significance. For Pakistan to make it deep into the tournament, it was vital we pick up wins against fancied teams, just to prove to ourselves and others that we could do it.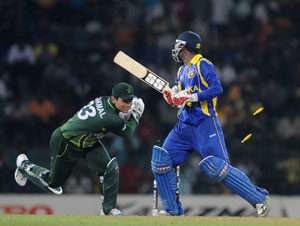 We ended up defeating Sri Lanka by 10 runs, a scoreline that flatters to deceive the Lankans. This was a match that Pakistan controlled, and only a slip-up at the end contrived to make it close. The batting was spearheaded sensibly by stalwarts Younus Khan and Misbah-ul-Haq, while Umar Akmal provided the impetus at the end. It was Afridi, once again, who led the bowling attack, although the man who stole Pakistani hearts, and Mahela Jayawardene's middle stump with a searing fast ball, was the mercurial Shoaib Akhtar.
The 35-year-old Shoaib Akhtar, a man who has infuriated as much as he has entertained, finally announced that he would retire from cricket at the end of the tournament. After his announcement, Pakistan didn't pick him for another game. Unfortunately, that meant that his last performance was a tear-inducing loose spell against New Zealand. In a shocking display of bowling, Shoaib Akhtar, Abdul Razzaq and Abdur Rehman were smashed for over 20 runs an over for the last seven overs of the Kiwis' innings. This gave New Zealand a score of more than 300, a score that was only possible because butter-fingered Kamran Akmal allowed centurion Ross Taylor two chances in the first four balls he faced. After the bowling collapse at the end, it was hardly surprising when the batting followed suit, leading to a humiliating defeat.
Where Pakistan redeemed itself, though, and gave its fans a glimmer of hope that we might go all the way, was in our final group match against the once-mighty Australia. The Aussies came into the match with a winning streak that spanned four world cups and 35 matches. Our invaluable spinners, Afridi chief among them again, and the pacer Umar Gul ensured that streak was broken. A clinical bowling performance left us with under 200 to score for victory, a target even our inconsistent batsmen were able to reach with relative ease. The win also meant that Pakistan finished top of their group, ensuring that they played the West Indies, the weakest team in the other group, in the quarter-finals.
Although we were always favourites to defeat the West Indies, no one could have predicted the comprehensive manner in which we did so. It was by far Pakistan's finest performance in the tournament. It seems almost redundant to say so, but Shahid Afridi was once again among the stand-out bowlers. This time he was joined by fellow spinners Mohammed Hafeez and Saeed Ajmal, with Umar Gul also turning in a fine spell. It all added up to a shocking West Indian collapse as they barely crawled to a score above 100. The target was knocked off, quickly and without alarm, by openers Hafeez and Kamran Akmal.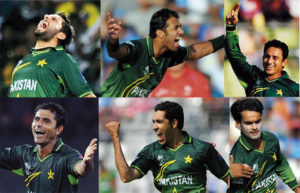 That was to be the high point of our 2011 World Cup odyssey. A semi-final against India beckoned in what many billed as the greatest match of all time. That proved a step too far, but time and distance should allow us to appreciate the strides the team made during the tournament and congratulate them on a campaign that was hard-fought, fraught with excitement and, above all, infused with entertainment. Shahid Afridi and his team did the country proud.
Nadir Hassan is a Pakistan-based journalist and assistant editor at Newsline.
Next