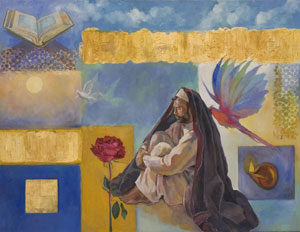 Walking into an exhibit invariably provokes certain questions. Why paint when one can take pictures? Why spend so much time crafting something by hand when one can photoshop it? What is it that drives a person to paint in the first place?
Then one sees work as evolved and eloquent as Rahat Naveed Masud's and feels that conversations upon conversations can emerge via these images that are truly worth a thousand words.
At first glance, Rahat's work speaks of identity, religiosity and spirituality. Her painting titled 'Square' simply and beautifully puts one in the Tawaf mindset. She breaks it down to the bare minimum, turning the whole beast of extremism into one act when man is alone with the creator shedding all that is worldly. The purity of that moment is embodied using gold leafing for the square form and a lovely fresh blue for the area surrounding it. The idea of internalising religion is so important in the phase that our country is going through that many artists today are pointing towards introspection through their work.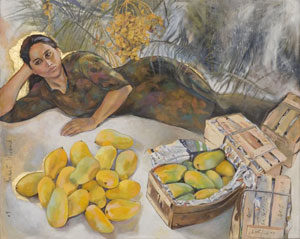 Rahat's work illustrates the really basic needs and dreams of a woman, the way she is built, her innate sweetness and the strength to persevere. The postures that the figures are shown in are mostly of the private, contemplative moments each and every one of us is inclined to steal from the humdrum of life. My favourite piece — a difficult choice, I must confess — was the one titled 'Bliss.' It shows a female lying under the open sky, her gaze pensive, her mind wandering in awe at the vastness of the world we live in — and beyond.
Rahat's work displays her comfort with painting and the fluency with which she treats her subjects is stirring. There is not a hint of pretence in her work; it comes straight from the heart and mind of an observant, sensitive and intellectual individual.
Next