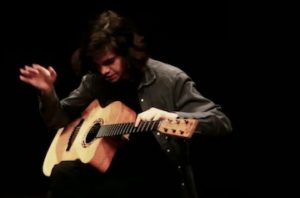 He looks up into the mirror and runs his fingers through his hair — sweeping his curls off his face. Scrutinising himself he stands back to dust his shirt, and then turns around to pick up his guitar — lying on the floor behind him — and walks out of the bathroom, towards the auditorium. Perched on a stool on stage, his fingers clasp his 'percussion' instrument and weave magic, pure magic, drowning out everything else. When the lights come back on, he looks up at the empty auditorium looming before him. And then in the distance he hears applause, and his doppelganger steps up clapping.
Firefly, the mini-film featuring the instrumental composition by Usman Riaz, speaks volumes about the budding musician. "I knew they wouldn't understand," says Usman about sharing one of his compositions with his bandmates in school. "No one my age is really interested in what I am doing. They told me it (my composition) was horrible, but it's okay." He exudes a calm self-confidence. While talented performers his age formed bands, Usman composed solo in an adopted genre — tapping. Usman's first recognised performance, live in front of almost 2,000 people at the Celesta International Cultural Arts festival in Lucknow, India, came quite by chance. "I went with my school to India and I modified the composition we were supposed to play and made it my own. It was fun." Following that, in 2009, EMI records discovered Usman in Karachi at the Base Rock Cafe, and immediately recognised the next musical prodigy — and Firefly, a mini-film on this prodigy was born, funded and produced by EMI (watch the video below). But this success and even appreciation comes almost as an afterthought to the young Jimmy Page's mirror image. "I always wanted to do something different on my own, an instrumental film piece like that, for example. I knew it would be well received but I didn't know it would be as well received as it was."
That Usman is decidedly unusual can be gauged by anecdotes about him, affectionately even if exasperatedly expressed by his father: "You see he is obsessive. He plays one piece over and over and over again and after a while you just tune him out." And indeed, by what he says himself: "My audition at the Berkeley School of Music was August 12, 3:15 PM, 2009" — the meticulous answer reflective of a precision present perhaps only in the make-up of a genius. His compulsions compel Usman to practice relentessly — "almost three hours a day, and that too every day, regardless of any consideration."
Having deferred a scholarship offer from Berkeley's school of music to explore what Pakistan has to offer, Usman attends the Indus Valley School for Art and Architecture and is studying Communication Design. "My teachers know of my talent and are very supportive. I focus hard in school and get all my work done, so I have the rest of the day free to practice," says the budding instrumentalist.
While Usman seems to have taken it to another level, music is in his blood. He remembers sitting through sessions, baithaks, his grandmother Soraiya Riaz — an eastern classical musician and Zia Mohyeddin's sister — held at her residence. Musicians and artists of all descriptions (sitar players, vocalists, poets and painters) would gather, and a young Usman, barely four or five years of age would attend, weaving his way through the crowd, absorbing everything like a sponge. "My grandmother saw me playing her harmonium when I was six and she convinced my parents to let me take classical piano lessons." And that is how Usman began training with his teacher, 'Mr' Haroon. "Music has to be true to who I am. I don't try to make music, it just happens," he says.
It is hard to associate the soft-spoken, shy, 20-year-old sitting before me with the musical genius one witnesses on stage. His metamorphosis is undeniable. Usman's album is called Flashes and Sparks and his recent collaboration with Ali Noor as part of Uth records has been released, where Usman composed the melody himself. Says he of his musical journey, "It is like a blank canvas here, there is a lot of ground to cover." And while the music sensation covers that ground, hopes are he will do Pakistan proud.
Click play to watch the guitarist Usman Riaz in Firefly:

[youtube]http://www.youtube.com/watch?v=4B2WBY2HRDg[/youtube]
Related article:
Maheen Bashir Adamjee is an APNS award-winning journalist. She was an editorial assistant at Newsline from 2010-2011.
Next