At a two-day conference on women, religion and politics in Lahore in March, a university professor from Istanbul talks about major changes taking hold in her country and says Ataturk's Turkey may well be a thing of the past.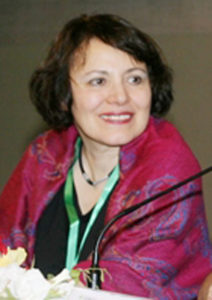 Yesim Arat, provost and professor in the department of political science and international relations at Bogazici University, Istanbul, Turkey, has several books to her credit including Patriarchal Paradox: Women Politicians in Turkey and Rethinking Islam and Liberal Democracy: Islamist Women in Turkish Politics. The esteemed professor presented a paradox with her talk: the expansion of religious freedoms that are accompanying potential and/or real threats of gender equality. What she said resonated with the audience, particularly the Pakistanis, engaged in a struggle to understand their own identity.
Turkey's experiment with secularism albeit "authoritarian secularism," is facing a formidable threat from increasing religiosity in the government and in the mainstream. The ban on headscarves, concurrently, has been a topic of heated debate in Turkey and Pakistan. The dynamic Arat addressed these questions and tackled the Turkish conundrum: 'intertwining of Islam and politics.'
The statistics she offered were an eye-opener, suggesting that Ataturk's Turkey may well be a thing of the past. According to the professor, some studies suggest that 82% of the population fasts, 56% go for Friday prayers and there are over 85,000 mosques in the country. Illegal Quran courses are expanding, Turkish imams are preaching whatever brand of Islam they espouse with no curbs and there is imminent danger of "adapted preferences," changing the liberal climate. In the context of globalisation, feminist voices appear dim. Sounds familiar? Aren't we in Pakistan faced with the same paradox? Should a democratically elected government tamper with personal freedom of religion amid growing extremism? With the murder of two liberal politicians, ostensibly on ideological grounds, this question becomes ever more relevant.
This article was a sidebar in a larger article in the April 2011 issue of Newsline: The Women's Room.
Maheen Bashir Adamjee is an APNS award-winning journalist. She was an editorial assistant at Newsline from 2010-2011.
Next