At a two-day conference on women, religion and politics in Lahore in March, Bushra Gohar, a member of parliament and the central vice president of the Awami National Party, gave a speech reminding women to stand up and make their presence felt.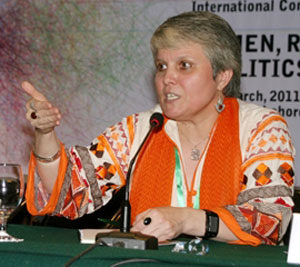 Bushra Gohar, the central vice president of the Awami National Party (ANP), and a member of parliament on the reserved seats for women, needed no lengthy introduction. Her speech was jocular and was interspersed with first-hand accounts of her drive to expand the role of women in politics. Gohar narrated an incident from the time when she was inducted in the ANP and insisted that music be played for her formal joining-in ceremony, the way it was for male members. The MMA had at the time banned music in the region, but upon her insistence, folk music was played. The parliamentarian also spoke of her experience in the National Assembly, where if you challenged the norm, "you were informed that you are out of your limit." She reflected back to her time as a human rights activist where she felt she was on a stationary bike, and subsequently her role as a politician that places her squarely among the movers and shakers. "I feel I am in a spin," remarked Gohar. On the more pressing issue of the Blasphemy Laws, the repeal of which Gohar had suggested in a private members bill last year, Gohar clarified that since the bill had not been tabled, there was no question of withdrawing it. Nonetheless, she remarked, "We should all question the politics behind this bill," and reminded us that it is time women stood up and made their presence felt, especially in decision-making bodies.
This article was a sidebar in a larger article in the April 2011 issue of Newsline: The Women's Room.
Maheen Bashir Adamjee is an APNS award-winning journalist. She was an editorial assistant at Newsline from 2010-2011.
Next