Movie Review: The Adjustment Bureau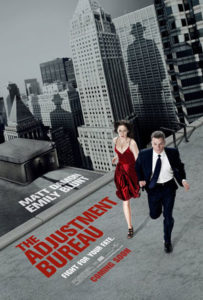 Remember the day you had to deliver a really important assignment and the Internet refused to work? Or the time you had to urgently get somewhere but your car keys suddenly disappeared and magically reappeared a few hours later once the emergency had passed? Those might have been pure coincidences, or they may have been the work of an 'adjustment bureau' — an underground organisation that secretly adjusts people's live to make sure the universe proceeds according to a 'plan' worked out by a certain 'chairman.' That is the concept propounded by director George Nolfi's debut film, The Adjustment Bureau, a movie that is not quite the thriller that its trailers make it out to be, but more of a love story that encounters obstacles of a sci-fi nature rather than clichéd ones such as long distance, infidelity, misunderstandings, etc.
David Norris (Matt Damon) is a rising young congressman on the brink of becoming New York's youngest senator when a scandal involving some personal photos ruins his campaign. While rehearsing his concession speech in what he thinks is an empty men's room, he meets Elise Sellas (Emily Blunt) a charming and enigmatic woman hiding from security for crashing a wedding. After engaging in some emotionally and intellectually stimulating banter that almost leads to a kiss, the pair is separated and each go their own ways. Inspired by his feel-good encounter with Sellas, David decides to ditch his professionally written speech and instead speak from the heart, winning back his supporters and another shot at election next year. Three years later, David bumps into Elise again and this time they exchange numbers. But uh-oh…their meeting again was not a part of the adjustment bureau's plan. Being together would mean that neither of them would achieve their goals hence putting their futures at stake. The adjustment bureau takes action and does everything possible to change the fate of this now blossoming relationship. Finding out about the forces that are trying to keep them apart, David and Elise embark on a mission to design their own fate — one that is not controlled by this adjustment bureau.
Sure the movie has more potholes than a badly constructed road, but the chemistry between Damon and Blunt is undeniable from the minute they meet. Even though the science fiction aspect is hardly mind-blowing, it intrigues you enough to want to know more about this parallel organisation that doesn't qualify as God, but isn't quite human either. The love story is perhaps the best part — it is neither exaggerated, nor is it annoyingly clichéd. The characters are as real as they come, and in a wardrobe that is worth mentioning with their crisp suits and pretty dresses. Definitely a light weekend watch.
This review originally appeared in the April 2011 issue of Newsline under the headline "Destined for Disaster."
Next