Movie Review: Blue Valentine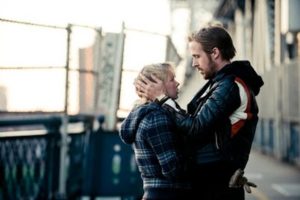 Blue Valentine is about life with all its unpredictability and disappointments, missed opportunities and unfulfilled ambitions, bills, responsibilities and the everyday grind. This wonderfully universal film says something about everyone, and to anyone who has been in more than one relationship. Blue Valentine is that fly on the wall in the relationship — witness to its ups and downs, frustrations and failures.
The first scene opens with Frankie (Faith Wladyka), the five-year-old daughter of Dean (Ryan Gosling) and Cindy (Michelle Williams), running in an open field, looking for her dog. The midday sun, with a quaint wooden house in the backdrop embodies the American dream, but as we are led inside things are not as perfect as they seem. Frankie and her stepfather Dean are immersed in their routinely childish antics, inseparable, but the coldness between the couple is almost tangible from the very start — although we cannot quite articulate the reasons for the impasse. Blue Valentine is a window into a relationship imploding before our eyes — in close-up shots.
The film is interspersed with flashbacks from the couple's courtship period, when they are falling in love. Dean, a dashing and charming mover is enamoured by Cindy after seeing her in an old persons' home, visiting her grandmother. In one scene they run into each other on a bus and Dean remarks, "In my experience, the prettier a girl is, the more nuts she is, which makes you insane." Cindy, an aspiring doctor, however, deals with a volatile, angry father and so she hesitates to jump straight in, saying, "How can you trust your feelings when they can just disappear like that." It's a chilly reflection of her own state of mind, coloured by her parents relationship. The director Derek Cianfrance has filmed the flashbacks on warm 16-millimetre film, while the 'present' is filmed on cold RED digital video, which adds to the experience.
In the present we see a couple we barely recognise. Cindy, thrown off-track by an unplanned pregnancy, is exasperated by her career as a nurse, while Dean, a free-spirited bachelor-for-life is now a balding drunk — this relationship is not what either bargained for. Blue Valentine does not give us all the answers, nor does it play the blame game, simply because when you sit back and examine a failed relationship, it is never easy to pin down reasons.
The movie rests on powerful, moving performances by both Williams and Gosling — both actors have been previously nominated for Academy Awards. The most powerful scene in the movie is when Dean suggests to his wife that they drive to a motel for a night to reignite passion. In a chintzy futuristic themed room, Dean's attempt to make love to his wife ends in her spending the night on the bathroom floor, while Dean is left knocking and waiting outside. Her cold response and her inability to reciprocate is the final telltale sign of a relationship that is irredeemable.
Director Cianfrance spent 12 years and reworked 66 drafts before he had what he wanted – and the movie is undeniably meticulously constructed in its true-to-life rendition of the estrangement. The director also asked both Williams and Gosling to improvise during the scenes, and their duet of 'You Always Hurt the One You Love' during their first date is an impromptu feat. In its themes, Blue Valentine will be familiar to viewers of Before Sunset and Revolutionary Road, two of the genre. And Blue Valentine squarely belongs in such august company.
This review originally appeared in the April 2011 issue of Newsline under the headline "True to Life."
Maheen Bashir Adamjee is an APNS award-winning journalist. She was an editorial assistant at Newsline from 2010-2011.
Next