Movie Review: The Fighter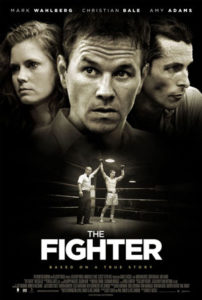 There is only one thing that separates The Fighter from the kind of run-of-the-mill sports movies like Bull Durham and Tin Cup that Kevin Costner specialised in. That is the acting of Christian Bale, who plays a crack-addicted former boxer from Lowell, Massachusetts. Bale lost a tremendous amount of weight to achieve the gaunt, almost wasted, look of the down-on-his-luck character. Combined with the direness of his circumstances, though, is a tenacity and roguish charm that always seem to give him the small break when he needs it the most.
The story of The Fighter will be familiar to fans of the Rocky movies. Bale is seeking a redemption of sorts by training his half-brother Mark Wahlberg. Based on a true story, The Fighter shows Wahlberg's character going from a welterweight in his hometown to a national champion. Wahlberg is a mediocre actor who has a knack for picking good roles and this is no exception. The in-your-face brashness of Bale, who won a Supporting Actor Academy Award for his performance, is nicely complemented by the subtlety of Wahlberg.
Although it is ostensibly a movie about boxing, the boxing-related scenes take up less than a fourth of the movie. What drives The Fighter is the dynamic between Wahlberg and his family. Melissa Leo, who also picked up an Oscar for this movie, is the true heavyweight of the family. She throws kitchen items at her hen-pecked husband. Along with Wahlberg, she also has another seven daughters, all of them masters of abuse and invective. Amy Adams, meanwhile, plays against type. Instead of all the various do-gooders she's played over the years, Adams is Wahlberg's foul-mouthed girlfriend whose presence threatens to split Wahlberg's family apart.
Ultimately what makes The Fighter work is Christian Bale. He is the ultimate cautionary tale as we watch him shiver through a cold-turkey recovery from his addiction and see him jailed for assaulting a police officer. This film is a departure from the kind of quirky movies director David O Russell normally makes, but in his casting of Bale he has ensured that The Fighter is a knockout.
This review originally appeared in the April 2011 issue of Newsline under the headline "Knockout."
Nadir Hassan is a Pakistan-based journalist and assistant editor at Newsline.
Next