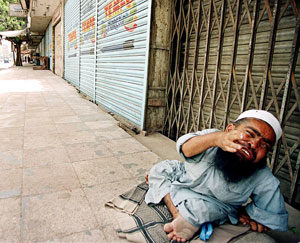 To add to Pakistan's horrific and ongoing saga of crime and disorder is another story that recently surfaced when a 20-year-old disabled man Sajad Chadar was rescued by the Khairpur police as he was being kidnapped. Chadar was the victim of a gang involved in the abduction of individuals with disabilities for purposes of trafficking to Iran and other Gulf countries where they are forced into beggary.
Following Chadar's recovery, other cases of a similar nature also surfaced. Mujahid Shaikh, a 25-year-old handicapped individual living with his family in a camp established for the flood-affected in Ranipur District, Khairpur, was kidnapped by Kashmir Jafri in August 2010.
Shaikh was taken to Iran, but managed to return to Pakistan. He now begs at the railway crossing in Khairpur, but remains worried about the fate of others like him who lived with him in Iran. "The kidnappers are ruthless; they did not even allow me to come back to Pakistan when my mother passed away. There are hundreds of people with disabilities, including children, living in the custody of Kashmir Jafri in Iran. Help them so that they can be released from bondage," said Shaikh.
Raham Ali Gopang, the 28-year-old handicapped nephew of Lal Pari Gopang, a resident of the Kumb Taluka of Kharipur, was kidnapped by trafficker Begoo Jafri and taken to Iran. When Lal Pari informed the police that the kidnappers had transported Raham Ali to Iran and were demanding Rs100,000 for his return, the police arrested Begoo, who confessed to the crime. Thanks to timely police intervention, within three days Raham Ali was brought back to Pakistan and reunited with his family.
A patient of epilepsy and paralysed in his right arm and leg, Raham Ali narrated in faltering sentences the trauma he was subjected to during his captivity in Iran. Though it was difficult to fully comprehend what he said, his body language and terrorised expression spoke volumes of his despair and fear.
On account of the spate of reports on the business of abduction and trafficking of special people, the police launched a major crackdown in the area and succeeded in arresting various other members of the nefarious gang. All the kidnappers are Jafri by caste, and belong to the Shikarpur district, and Kumb and Tando Masti, towns of the Khairpur district. However, the mastermind of the enterprise, gang leader Sarang Jafri, remains on the run from the police. Said district police officer Khadim Hussain Rind, "The accused admitted during interrogation that disabled people are being taken abroad for beggary. In fact, the police have been informed that 200 to 300 handicapped people have been trafficked to Iran where they have been forced into beggary at mosques and shrines."
Human traffickers operate in organised gangs and employ different methods to zero in on potential victims and transport them to the proposed destinations. Shockingly, often the very people who are ostensibly the caregivers of the handicapped victims are themselves guilty of complicity in their ordeal.
There is a standard modus operandus. After a disabled candidate has been identified — usually hailing from an impoverished family — the trafficker will develop a link with his parents or guardian, and entice them to partner with him in a business enterprise involving their son/charge. He offers them money — that too in advance — for their compliance. Given the information that has surfaced, it is clear that this often clinches the deal. Those arrested so far have disclosed that they were either personally involved in, or witnessed first-hand, several unholy deals between the trafficking ganglords and the supposed guardians of the disabled victims. Said Begoo Jafri: "I conducted the deal with Lal Pari, Raham Ali's aunt. I gave her Rs20,000 in advance and a guarantee of a 50% share of the take Raham earned through beggary. But after some time she started demanding more money, which I could not pay. Consequently, she approached the police and had me arrested."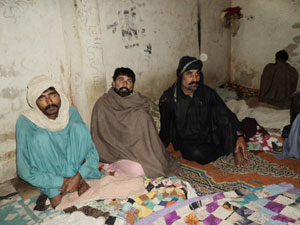 A similar statement was recorded by Baddarddin Lohar, who was arrested for kidnapping Sajad Chadar. "We met with Sajad's father and offered him Rs10,000 rupees in advance for handing Sajad over to us. We convinced him that in Iran his son could earn more than he earned here. His father took the money and disappeared. But as we were attempting to physically take Sajad, who was offering us resistance, we were caught," Lohar disclosed. Describing the set-up he belonged to, Lohar said, "We are the middlemen; the main dealer is Sarang Jafri who manages the transportation of the hostages to Iran, their accommodation there and the money earned through beggary."
Human trafficking is a global issue, but Pakistan is used as a transit and destination point for victims of human trafficking. The International Labour Organisation (ILO) estimates that 2.4 million people were trafficked worldwide between 1995 and 2005. The "Trafficking in Persons Report 2010" discloses that 12.3 million adults and children were trafficked in 2009, at a rate of 1.8 people per 1,000 worldwide. In 2007, the report stated that "800,000 people are trafficked across borders every year, of which about 80% are women and girls, and up to 50% are children."
Every year thousands of men, women and children are trafficked from Pakistan to the Gulf States and other parts of the world, most of them for commercial sex exploitation and forced labour. On the flip side, according to the estimates of the Federal Investigation Agency (FIA), a total of 3,434 illegal migrants were intercepted throughout the country in 2010, while in 2008 and 2009 the numbers were 10,703 and 5,601 respectively.
An FIA report revealed that more than 600 human traffickers are running their businesses in different parts of Pakistan and are using air, land and sea routes for their activities. According to the Pakistan Thematic Group on Human Trafficking (PTGHT), the coastline between Karachi and Gwadar is frequently used for human trafficking to the Gulf States.
The US State Department's "Trafficking in Persons' Report of 2010" states that during the year 2009, the government of Pakistan convicted 385 criminals under the Prevention and Control of Human Trafficking Ordinance 2002 (PACHTO). In 2009, Pakistan reported 2,894 prosecutions and 166 convictions under the vagrancy ordinances and various penal code sections which authorities sometimes use to prosecute trafficking offences. It is unclear how many of these prosecutions and convictions involved trafficking. It is confirmed that the government convicted at least three child traffickers, but it is unknown whether these convictions were for forced prostitution or labour and what the imposed penalties were. The government prosecuted at least 500 traffickers, 416 for sex trafficking, 33 for labour trafficking, and 51 for either sex or labour trafficking. Only one person was prosecuted under the Bonded Labour System Abolition Act, with no conviction. Unfortunately, despite the huge number of disabled people kidnapped and trafficked for forced beggary, neither has a reference been made in the US report of this crime, nor has the FIA registered even a single case of trafficking of disabled persons for the same purpose.
Persons with disability are the world's largest minority: about 650 million people. In other words, one out of every dozen or so people, live with a disability. According to the World Health Organisation (WHO), this figure is increasing with a growing population — and one with many more older people — and medical advances. Statistics from the Development Programme (UNDP) reveal that 80% of the world's individuals with disabilities live in developing countries. The World Bank estimates that 20% of the world's poorest people have some kind of disability, and tend to be regarded in their own communities as the most disadvantaged. Certainly, in Pakistan, the disabled community is one of the most vulnerable segments of the population.
Judge by the statistics: only 2% of the employment quota in Pakistan has been reserved for disabled people. "We are deprived of quality education in mainstream institutions and forced to seek admission in separate institutions, most of which are virtually non-functional. I was refused admission to the Degree College by the principal because of my disability," maintained Ghulam Nabi Nizamani, the secretary of Disabled Peoples' International, Asia Pacific Region.
Given their social exclusion and economic deprivation, individuals with handicaps thus live in a state of extreme insecurity. "It is the responsibility of the state to provide social safety nets that can protect vulnerable groups from exploitation. Unfortunately, we as a society have failed in responding to [these] basic needs," said human rights activist Iqbal Detho.
And as news of the abduction of handicapped individuals spreads, it creates fear and a sense of insecurity among this community.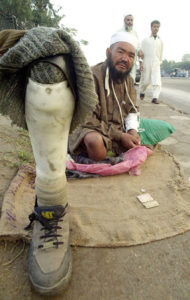 About six months ago, Dilber Khoso a 50-year-old special person was kidnapped from a town in Sanghar District. "Consequently almost all the disabled beggars in the area disappeared for fear of being kidnapped," said Mumtaz Mangi, the president of the All Sanghar Handicapped Association (ASHA).
When he was recovered, Khoso revealed he was also kidnapped by a gang belonging to the Jafri caste. He revealed that a young girl also accompanied the gang. Khoso contended that the gang members offered him money and promised to marry him to the girl if he joined them, but offered him no other details of the proposed business. When he agreed, they shoved him into a vehicle and offered him something to eat. Thereafter he became unconscious. "When I regained consciousness I realised I was being taken to Iran, and when we got there I was forced to beg in different cities. One day the Iranian police raided the house the other abductees and I were being held hostage in. Our captors managed to slip away. But after interrogation, the Irani police had me sent back to Pakistan."
While the police at home have managed to break some of the gangs in this heinous human trafficking ring, tragically there are many others still free and fully operative. As a result, thousands of individuals already challenged by the circumstance of their disabilities are subjected to abuse that violates all tenets of humanity and human dignity: enslavement and forced labour.
Next