"VBB is bringing to light an alternative image of Pakistan"
– Sehba Sarwar
Sehba Sarwar is a trained journalist turned writer, activist, poet and artist. Based in Houston, Sehba's formative years were spent in Karachi, where her family resided. She was nurtured in a home where activism was the norm — Sehba's late father Dr Sarwar initiated the student's movement in the '50s, her mother Zakia Sarwar is a well known educationist and her sister Beena Sarwar is a committed journalist and activist. Sehba's first novel, Black Wings a non-fiction work, was published in 2004. Subsequently, her short stories were published in And the World Changed and in Neither Night Nor Day, two anthologies of Pakistani writings.

Sehba's recent project, Voices Breaking Boundaries, has been her focus of late. VBB is the result of like-minded, opinionated and dynamic individuals from varying nationalities — an Argentinian writer who was born in New Delhi, an Ohio-raised poet who is married to an Indian, a first generation Korean-American writer and a Texas visual artist, besides herself — who have formed the grassroots initiative. "We wanted to create a collective that brought together people from all backgrounds, ages and income levels, and use the movement to tackle socio-political issues," explains Sehba.

The group was born out of a poem Sehba wrote against Nawaz Sharif's 1998 Shariah initiative, after which she created this forum through which they could debate global concerns and inform the larger public about issues that are not widely known outside the affected communities.

In January 2001, VBB worked with Himal South Asia and brought to Houston a collection of South Asian films that tackled issues of Partition and the independence of Bangladesh, women's issues and the nuclear buildup. The response was tremendous. The films drew not just South Asian audiences but people of all backgrounds and ages. VBB thereafter was registered as an NGO and Sehba has devoted her career to the cause. In an interview with Newsline, Sehba Sarwar talks about the VBB project and how she intends to reach out to Pakistan and other countries in South Asia.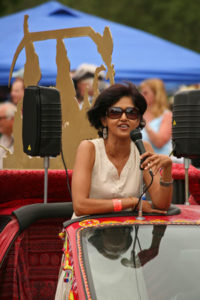 Q: What is the main aim behind Voices Breaking Boundaries?
A: We aim to give voice to the marginalised and tackle issues that are either controversial or are not largely discussed through all forms of art, including film, the visual arts, the spoken word and digital art.
Q: Is VBB's commitment to cross borders, sustain dialogue and incite social justice through art relevant in today's age of fear and terrorism?
A: In many ways, VBB underwent a shift after 9/11. Prior to that, our organisation's political work had been more general, but the collapse of the World Trade Centre as well as the erosion of civil rights in the US catalysed our organisation to do work that was very much about peace efforts. For the most part, though, we avoid the word "terrorism" because it is overused, and is subjective, but certainly our organisation and our work has been influenced by the new lines that have been drawn across the globe. There aren't any other organisations such as ours in Houston, or even in southwest USA at large, that are making connections between global and local issues, and aiming to bring together diverse groups of people and artists. Also, I think I am influenced by art in Pakistan, where the artist's role in society is to speak out. If we don't, who will? One cannot remain silent.
Q: What have you done in this regard?
A: In September 2002, we began a series called 'Words for Peace,' in which we had Arundhati Roy, Salman Rashid, Naomi Shihab Nye and Irena Klepfitz share their writings via speaker phone from different parts of the world. The readings were broadcast live long before people were using Skype — we just attached the phone to a microphone for the benefit of our seated audience. As the writers spoke, we had a screen, which beamed images of the subjects that were being discussed. We also had Bapsi Sidhwa read in-person (she's always been very involved with our organisation). Additionally, students performed, and visual artists and musicians shared their work. The event drew more than 400 people.
We've also created a whole new series called the 'Living Room Art Shows,' which are our biggest productions and draw more than 400 people a night. The multimedia shows are one-night productions held in residential homes around Houston — the home is converted into an art gallery/performance space for one night.
We've received major funds for this initiative, the biggest being from the acclaimed Andy Warhol Foundation for the Visual Arts.
Today, VBB's living room art shows have clear goals: connect and explore histories of marginalised neighbourhoods and communities via art, history and digital media; rouse engaging conversation on issues such as racism, religious discrimination, global peace and stereotyping; bring together diverse populations who may not ordinarily go to a gallery/museums, and finally increase local, national and global understanding as rich histories are explored and unlocked.
By bringing to light an alternative image of Pakistan, VBB aims to help US audiences better understand the commonalities between the US and Pakistan at a time when it is most needed. VBB is seeking funding to expand its living room art initiative to other cities/neighbourhoods around the US and the Americas, as well as take it to all of South Asia, including Afghanistan, India, and Bangladesh.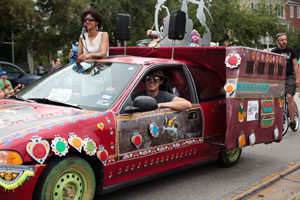 Q: The Art Car Parade in Houston is a celebration of diversity. Why did you chose Pakistani truck art for this event?
A: The truck-art project was organic. It was part of our living room art project that aims to juxtapose the joys, struggles and cultures of Houston and Karachi/Pakistan. Our Truck Art Car was exhibited at our living room art show in May 2010. The show aimed to draw parallels between the art car-culture in Houston and truck art in Pakistan. Though both art forms are known and celebrated globally, no project has attempted to link the two art forms. The Art Car Parade in Houston has been taking place for more than 20 years now, and each year 250,000 people gather in the city to view cars that have been decorated. This was the first time a car with a Pakistani truck art theme was entered.
Q: Did a professional truck artist help you paint and decorate the car?
A: For this particular piece of art, a fellow artist/friend/ex-student Eric Hester and I conceived different pieces of the car. He created the steel frame and I had the vision for the modern effect — the nine computer monitors that showed images and documentaries as the car moved through the parade.
I also spent time in Mauripur and near Gandhi Garden back in March 2010 collecting materials with which to decorate the car. Painter and cartoonist Khuda Bux Abro was very helpful in this adventure. We also used images of people who inspire us — poet Faiz Ahmed Faiz, rockstar Patti Smith and singer Iqbal Bano — from the Internet and then we stencilled them on the frame of the car. We also included a line of poetry from Faiz Sahib: "Lazim hay kay hum bhi dekhain gay," which Abro created for us in the Urdu script, and which we then made into a sticker, and stuck below the large TV screen in the back next to Faiz Sahib's image. We also used a line from Patti Smith and her husband Fred "Sonic" Smith: "People have the power."
Q: Did you take the car to other cities?
A: Unfortunately, the '93 Honda can't be driven distances any more since we've torn it up, removed the passenger door, taken out part of the top and added on a whole new steel section. People from different cities and neighbourhoods in outlying parts of Houston invite us to bring the car to their shows, but in order to transport the car further than say five miles, we'd need to get it towed.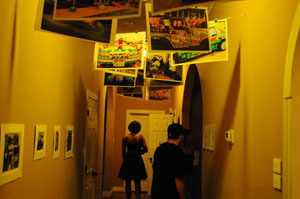 Q: What response did you get for this event?
A: The response of all Pakistanis in Houston, the larger Houston community and from those in Pakistan has generally been great. At the Parade itself, which took place the week of the failed New York Times Square bombing, one ignorant audience member shouted out to me: "Go back to your own country!" That was the week when anti-immigrant sentiments were running high. My mother in Karachi was very concerned, especially since she knew we were exhibiting the car with Urdu lyrics about revolution in front of thousands of mainstream Americans. But other than those yells, we were fine.
Q: What side of Pakistani culture do you aim to portray?
A: The alternative — material that the mainstream media doesn't share, related to the arts, culture and the women's movement and empowerment. There's plenty of negative coverage, so we don't bother with that. Our goal is not to paint Pakistan with a pretty paintbrush. Instead, we want to share an alternative narrative. For example, for our last show in November 2010, 'Women's Voices,' we commissioned Aisha Gazdar to make a short documentary on the Women's Action Forum. Through the film — which was shown on a small TV screen in the kitchen of the home where we held the show — audience members learned about the women's movement in Pakistan and the film was a stark reminder of the damage done by Zia-ul-Haq and the US involvement in the region at that time.
Q: You are a novelist and an artist and have written extensively on women's issues. How does VBB tie in with that?
A: My work has always very much been about women's issues, so it's no accident that VBB was founded by myself and a group of women. Even today, one of our series called 'East End Live Art' (which is based on the format of our early day shows) is run by a team of women artists — Samina Mahmood, Gunjen Mittal, Selina Pishori and Jacsun Shah — who coincidentally are South Asian or have a connection to the region. Each year, we have at least one show about women's rights. In November 2010, our living room art production, 'Women's Voices,' celebrated the work of two women artists/activists/educators: Sheema Kermani in Karachi and Alice Valdez in Houston. For the past decade, we've also run a smaller series called 'La Voz Femenina' (Women's Voices in Spanish).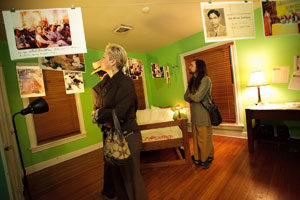 Q: What do you intend focusing on in the Pakistan Live Broadcast project?
A: Pakistan Live Broadcast today umbrellas the living room art shows and other work that I do in Houston to offer an alternative image of Pakistan and to draw parallels between the US and my first home. For instance in 2008, I made a video about the gun culture in Houston and drew parallels with Benazir Bhutto's assassination.
Q: Have you planned any initiatives for Pakistan?
A: We are going to do our best to bring productions to Karachi on a smaller scale. Since we work so much with video and digital art, the movement won't be too difficult. One of the challenges will be to find the right space to exhibit the work. One can't open residential homes in the same way in Pakistan, so we'd need to adapt to exhibiting in galleries.
Q: On another note, how close are you to completing your second novel Island?
A: I've written more than 150 pages of an early draft. The manuscript is largely based in Pakistan and delves into history through the lens of women.
Maheen Bashir Adamjee is an APNS award-winning journalist. She was an editorial assistant at Newsline from 2010-2011.
Next