Spiritual Sanctuaries: Lukas Werth Photographs the Thar Desert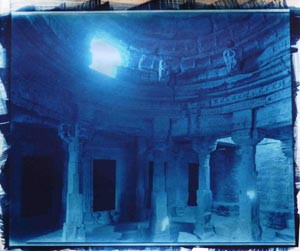 photography as an independent form of visual art capable of making statements relevant to the contemporary world. He combines this with his interest in anthropology to explore an artistic vision inspired by various anthropological perspectives.
For this exhibition, Werth chose the Thar desert of Sindh as his subject and he travelled extensively around many places in the interior Sindh, including Mithi, Nangar Parkar and Islamkot. Usually photographs of the Thar desert are brightly lit and colourful, focusing on the vibrant colours of the traditional dresses worn by the people there. In contrast, Werth's photographs take on a sombre tone and the use of natural lighting and sepia tones captures the essence of the dry, sandy dunes of the desert.
The exhibition also depicts how the spiritual and the scenic coalesce together. There are several photographs of temples and goddesses, but the one which immediately catches the eye is 'Dancing Devi.' Taken inside a temple, the image stands out in its use of lighting and a blue tint evokes the cool interior of the temple. Werth's careful use of lighting here creates interesting shadows with some parts of the temple veiled in darkness, while others are flooded in light.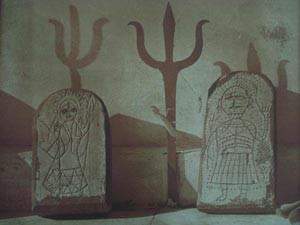 Despite the fact that the exhibition is aimed at drawing attention to the rugged landscape of Thar, the photographs which are the most engrossing are the ones taken indoors, or those focused on the spiritual aspect of life in Thar.
Related Articles:
This article was first published in the December 2011 issue of Newsline under the headline "Spiritual Sanctuaries."
Nudrat Kamal teaches comparative literature at university level, and writes on literature, film and culture.
Next