Crazy in Karachi: Exhibition at ArtChowk Gallery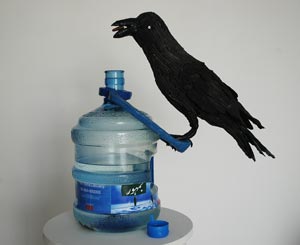 The artists included big names like Amin Gulgee, Naiza H. Khan and Riffat Alvi, as well as several other Karachi-based visual artists. Much of the work imbibes deeply from Karachi's urban culture and the troubled reality of this populous city. Sadia Jamal's 'Piercing Flight' shows birds' wings made of surgical blades and denotes the double-edged, double standards of a society in flux. Asad Hussain's 'Karachi Ka Kawwa' portrays a life-like stuffed black crow, with a bullet in its mouth (instead of a kankar/pebble), perched on a plastic water bottle, and Adeela Suleiman's 'Can't Go Through It Again' is a mobile-style hanging installation with dead birds as the repeated motif.
The depth and quality of work at this exhibit was an indication of the frenetic, multi-faceted artistic activity in this hub of art and culture we call Karachi.
This article first appeared in the December 2011 issue of Newsline under the headline "Crazy in Karachi."
The writer is a former assistant editor at Newsline
Next