Movie Review: Paranormal Activity III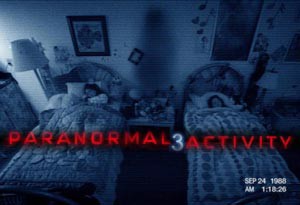 Paranormal Activity (PA) saga first began when PA1 hit theatres in 2007 after Paramount Pictures acquired the independent feature. Written and directed by Oren Peli, the movie was shot along the same lines as The Blair Witch Project in an effort to uncover the presence of a supernatural entity within the home. The audience was introduced to a young couple, Katie and Micah, who after having moved to suburban San Diego, California, begin to sense an evil presence in their home. As the movie progresses, one learns that Katie has felt this presence since childhood.
A decidedly brilliant move on the writer's part for the second instalment was to write it as a prequel to the original, connecting the events of the first movie to the second. In PA2, Katie's sister, Kristi's house gets burgled and, soon after, unusual supernatural events begin to traumatise the residents of the house. The movie delves into the history of the demonic spirit that chooses to target the two sisters in particular and the possibility of a deal being struck between the demon and someone in the family.
For the third instalment of PA, directors Henry Joost and Ariel Schulman take the saga even further back, to 1988 — 18 years prior to the events of the first two films — when young Kristy (Jessica Tyler Brown) and Katie (Chloe Csengery) were living with their mother, Julie (Lauren Bittner). In typical PA fashion, the movie is shot as though it is being filmed by one of the characters themselves, in this case Dennis (Christopher Nicholas Smith), who is Julie's boyfriend.
Tyler Brown's portrayal of the young Kristy as a gentle, polite child interacting with her imaginary friend, Toby, is so perfect that it's quick to draw one into the story. The jolts and thrills — important traits of any horror movie — begin slowly and build up so that one can't help but fight the constant urge to scream.
A particularly terrifying scene in the movie is when Dennis's friend, Randy is taking care of Katie and they begin to play the Bloody Mary game in the bathroom. They turn the lights off and the screen becomes quite dark, creating a moment of anticipation and fear as they start chanting the words to the game. Randy is stricken with pain soon after and a black figure obstructs their way, barring them from leaving or running away.
The conclusion of the movie is closer to the style of the classic horror, The Exorcist, rather than the subtle scares PA fans might be accustomed to. However, it only serves to bring something different yet spine-chilling for audiences.
This article originally appeared in the December 2011 issue of Newsline under the headline "Resident Horror."

Related Articles:
Next