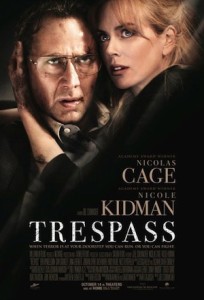 Nicolas Cage and Nicole Kidman collaborate once again with multiple-genre director Joel Schumacher (Lost Boys, St Elmo's Fire, A Time to Kill) who directed Cage in 8MM (1999) and Kidman in Batman Forever (1995), but now, years later, the older actors are reduced to working on this a box-office flop, and looking rather puffy and strangely botoxed. Hopefully this is it. More collaborations would be over-kill.
In Trespass, the lavish mansion of diamond-wheeler-dealer Kyle Miller (Cage) and his bored and ignored wife Sarah (Kidman) is invaded by a gang of hoodlums, despite heavy security. While their teenage daughter Avery (Liana Liberato) flouts her curfew to attend an inappropriate party, the looters hold the couple hostage demanding their cash and diamonds, threatening death when the girl returns home, unaware of the drama unfolding within.
Suspense arrives after the thieves lose their stocking-covered look and Sarah recognises one of them as Jonah (Cam Gigandet) who helped install the security system recently. The film flashes back to the long lusty looks exchanged between mistress and hired-help as he emerges after a gutsy swim in the couple's swimming pool, posing the elemental question, did they or didn't they?
Kyle puts a spanner in the works and tries to bargain with the thugs when they discover the locked safe in his office. He tries to negotiate in brave, loud tones that eventually minimise to a subdued monotone when the thugs kick him around some more. His pleading wife gets the same treatment. The movie soon unveils more information on the identity of the thieves. Soon you wonder if Kyle knows of his wife's disloyalty. Was she unfaithful? Will the alleged lover save her hide? Will the daughter die? Will the thieves get the money?
If you're stuck with Trespass unwittingly, you could ignore the poor reviews and watch it anyway just to squirm at the lacklustre plot and not squirm because of the minimal suspense, and then recall the days when Cage and Kidman were cast in better movies.
Or just read our top five reasons not to watch Trespass:
The movie screams television: cinematic feats and thrills are negligible, while filming is mostly confined to the Miller mansion. Most action unfolds in the form of threats of bodily harm to the confined couple, who are pushed and shoved around their home.
At the very least, bad movies need to have beautiful people: Once-beautiful doesn't cut it. And puffy and over-botoxed is not a look that was "in" during 2011, or ever.
Cheesy acting: Cage and Kidman appear to be on set by force, and the thugs are abysmal.
It's a yawn fest: You'll find better action and intense emotion on Pakistani current affairs talk shows where guests lob burning insults and the host pours fuel on the fire.
No one else wanted to see it: Trespass broke the US record for the fastest transition of a movie from theatre to home video: just 18 days.
The writer is a former assistant editor at Newsline
Next