Launch of Urdu Translation of Arundhati Roy's Essays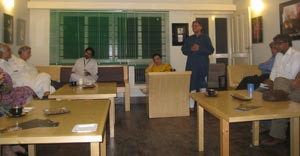 (Broken Republic), a translation of Arundhati Roy's essays by Asif Farrukhi, was launched on November 21 at the Silent Reed, a new and perfect venue for literary enthusiasts to gather.
"Think of it as a place that serves tea but is not a tea house," remarked Zubeida Mustafa, a former assistant editor at Dawn and a highly regarded freelance journalist.
Shahbano Alvi, the owner, who is also the founder of Ushba Publishing International, the publishing house that launched the translated version of Roy's book, used the venue to hold the event as she believes that it was the ideal place for a formal discussion forum on books. Regarding the name, she explained that it was chosen because reed, a type of wood, is used to make musical instruments such as flutes hence the title refers to the possibilities of creating sound from silence — not to mention its clever play on words.
A compilation of three essays by the fiery Indian writer and social activist, Farrukhi said that Roy's second essay in the book was the most crucial as it raised several imperative questions about the author's visits to areas occupied by the Maoists. Shikasta Jamhooriat is now available at leading bookstores in Pakistan.
 This article was originally published in the December 2011 issue of Newsline under the headline "Literary Hub."
Next