Porsche Designed BlackBerry P9981: Is This What RIM Needs to Survive?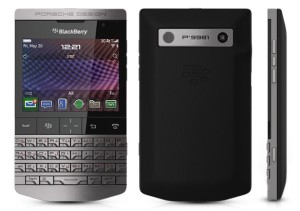 The BlackBerry is losing market share around the world. More businesses are considering the iPhone, and Google's Android is now the most popular mobile operating system in the world.
The year has been so bad for RIM, the Canadian company that designs and manufactures the BlackBerry, that industry watchers and financial pundits see 2011 (in which service outages, a poorly received PlayBook tablet and fierce competition have hurt the company) as the beginning of the end for the mobile phone giant.
But that has not stopped the company from trying to grab headlines with special product offerings and a little glitz. In October, RIM announced a partnership with Porsche Design. So the Canadian company that introduced the world to the "always-on" mobile Internet device has teamed up with a German automotive icon known for sexy performance cars. The result is a beautiful, luxury BlackBerry for those who appreciate high-end styling and crave exclusivity.
Here's the product description from BlackBerry.com:
"The Porsche Design P'9981 smartphone from BlackBerry is instantly identifiable as a Porsche Design product. The exclusive material choices for this unique smartphone include a forged stainless steel frame, hand-wrapped leather back cover, sculpted QWERTY keyboard, and crystal clear touch display. This customized Porsche Design P'9981 comes with an exclusive Porsche Design UI and a bespoke Wikitude World Browser augmented reality app experience. It also includes premium, exclusive PINs that help easily identify another P'9981 smartphone user."
Watch the videos below to get a peek at the P'9981.
RIM is proud of this phone (scheduled to be available before the end of 2012), and the company explains the partnership in a press release:
"This collaboration stems from a shared belief that form equals function," said Todd Wood, SVP for Industrial Design, Research In Motion. "The Porsche Design P'9981 is a truly modern luxury smartphone, where the timeless style of Porsche Design meets the unmatched mobile experience provided by BlackBerry."
That's all good PR. But there are many BlackBerry customers out there that will have much to say about "the unmatched mobile experience" after this year's highly publicised outages. Besides, is a high-end phone (reported to be priced at $2,000) that is aimed at a tiny fraction of mobile phone buyers enough to sway BlackBerry users around the world to stick with the phone as it endures this perfect storm?
Click play to watch these videos on the P'9981

Here's a short 30-second product preview:

[youtube]http://www.youtube.com/watch?NR=1&v=sfYQSbMilnI[/youtube]

Here's a critical review by MobileGazette:

[youtube]http://www.youtube.com/watch?v=U6YQhtI-iPM[/youtube]
Next